Grades: San Antonio Spurs vs. Houston Rockets – Game #2
The San Antonio Spurs notched their first win of the season with an exciting overtime victory over the Houston Rockets. Rookie phenom Victor Wembanyama played a pivotal role in San Antonio's thrilling comeback.
The game was tight for the first two and a half quarters. The Rockets began to pull away late in the third quarter and held a 10-point lead with a minute left in the period. The Spurs responded with a 10-2 run to close the gap and set up a back and forth finish to regulation.
Wembanyama authored the biggest shot of the fourth quarter, a leaner in the lane to tie the game with 20 seconds remaining. In overtime, the Frenchman added four more points and four more rebounds as the good guys did just enough to get the win, 126-122.
Stats: Spurs vs. Rockets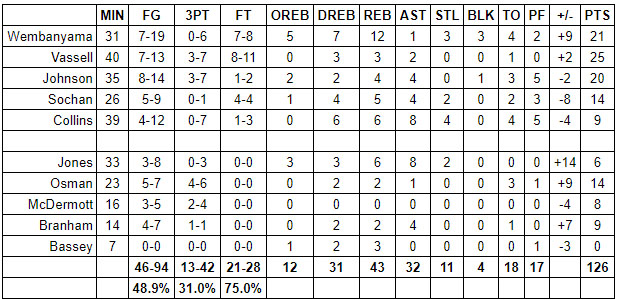 Spurs vs. Rockets – Final Grades
Victor Wembanyama
In the first half, Wembanyama was playing too fast. His shot-selection was iffy and he was too jumpy on defense. In the second half and in the overtime session, Wembanyama was awesome on both ends. He picked his spots wonderfully on offense and was a menace on the defensive end. His rim protection changed the game and the rookie was San Antonio's best offensive weapon when it mattered most. Seeing how much Wembanyama cares about winning and how well he plays in tight situations … man, this is so sweet.
Grade: A
Devin Vassell
Vassell put together a really rugged, gritty outing. He missed a couple open shots but he more than made up for it with hard-nosed drives to the hoop that were the key to him getting to the line 11 times. There were a couple questionable shots on offense and his defense could have been better — but Vassell continues to look like a player in the midst of taking a step forward in his career.
Grade: A-
Keldon Johnson
Good stuff from Johnson tonight. His play in the halfcourt setting wasn't always the most aesthetically-pleasing but he hustled relentlessly and his energy and enthusiasm were contagious. Johnson battled on the boards, made a few smart passes and was really impactful in transition. His defense once again looked a lot better than anything we saw last season.
Grade: A-
Jeremy Sochan
Sochan's statistics look impressive but there were some issues. His running of the offense was haggard — and that's an issue when he's starting at point guard. I also thought he was a step slow on the perimeter defensively. That said, there were definitely positives. Sochan hit clutch free throws to help seal the game. His finishing was much better. He also took care of the ball reasonably well and was consistently in the passing lanes.
Grade: B-
Zach Collins
It wasn't a memorable night at the office for Collins. He was 0-for-7 from three-point range and totaled four turnovers and five fouls. His post defense was sub par and his rim protection was nothing to write home about. Collins muscled out some big buckets, though, and his effort level remained high even when things weren't going his way.
Grade: C
Tre Jones
Jones is excelling as the backup point guard. It's night and day when he steps on the court. His ability to push the pace and make quick decisions is instantly noticeable. Against the Rockets, his passing was great, he took advantage of driving lanes and his effort on defense was commendable. 
Grade: A-
Cedi Osman
Osman couldn't have planned a much better start to his Spurs career. His 14 points off the bench were vital and his 4-for-6 shooting from deep was very much needed. Although there were a couple misconnects between Osman and his new teammates, he's looking much better than advertised. Let's hope he keeps it up.
Grade: A-
Doug McDermott
With the Spurs down ten points, McDermott hit a three-pointer to end the third quarter and then hit another three-pointer to start the fourth quarter. A couple minutes later, a McDermott layup helped keep San Antonio's momentum going. He didn't do much of anything outside of that scoring barrage — but that was a very important barrage.
Grade: B+
Malaki Branham
Branham was quietly really important in this game. There were a few times where the offense stalled and it was Branham who took it upon himself to create something out of nothing. He also had a couple of the best passes I've ever seen out of him.
Grade: A-
Charles Bassey
McDermott's three-pointer to end the third quarter was made possible by an offensive rebound by Bassey. Add in a couple defensive rebounds and Bassey did well in his seven minutes.
Grade: B+
Pop
I liked that Pop made it a point to get Wembanyama more involved. The rotation was fine; his decision to stick with McDermott paid off. I still like the starting lineup. Sochan as the point guard is obviously going to be a work in progress — but I agree with Pop that it's worth the effort.
Grade: B+