Grades: San Antonio Spurs at Los Angeles Clippers – Game #3
The San Antonio Spurs played their first road game of the season and things didn't go as planned, to put it kindly. Capitalizing on San Antonio's sloppiness, the Los Angeles Clippers stomped the Spurs by 40 points, 123-83.
In the first quarter, the Clippers had seven steals. By halftime, the Spurs had turned it over 15 times. Add in a few listless individual efforts and San Antonio never made it a competitive affair.
While it was a disappointing showing, this was a good reminder that to win a road game against a quality opponent, this young Spurs team needs to play a sharper, smarter brand of basketball.
Stats: Spurs at Clippers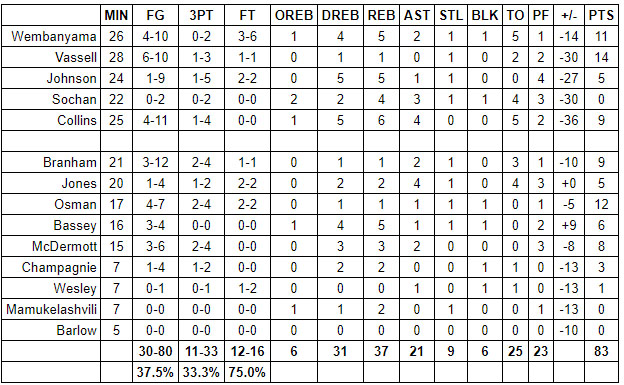 Spurs at Clippers – Final Grades
Victor Wembanyama
Unfortunately, Wembanyama was a big part of San Antonio's turnover problem. In the first half, his four turnovers matched his point total. I thought he was getting a decent amount of touches — he just wasn't valuing those touches as much as he needed to. But, hey, he's a 19-year-old who has to learn what he can and can't get away with in the NBA. Other than his sloppy play, Wembanyama had a few impressive plays on both ends of the court … but it's safe to say he won't look back fondly at this game.
Grade: D+
Devin Vassell
The good: Vassell was the only starter who shot the ball straight. His eight points in the second quarter kept San Antonio's offense on life support. The bad: Vassell was too passive early on, especially with the Spurs struggling to score. He took only three shots in the first quarter even though San Antonio only scored 17 points in that period. Vassell only gave a minimal amount of effort on defense.
Grade: C
Keldon Johnson
Johnson hit a three-point to score the game's first points. After that, everything was downhill. He ended up missing his final eight shots from the field. His defense was also poor and his overall decision-making left a lot to be desired. The one silver lining for Johnson was that he didn't have a turnover on a night when his teammates combined to turn it over 25 times.
Grade: D+
Jeremy Sochan
Yikes. I don't have a positive contribution to report for Sochan. He was scoreless in 22 minutes. He had more turnovers than assists. His defense wasn't impactful. Sochan's energy level wasn't high enough and he was too passive with the ball in his hands.
Grade: D-
Zach Collins
Collins is another starter who didn't perform well. He had a few quality passes but those passes were overshadowed by his five turnovers. In addition to an inefficient offensive display, he was lackluster on defense — particularly in the paint. Collins' ability to hold his ground down in the trenches has been suspect to start the season.
Grade: D+
Malaki Branham
With the Spurs desperate for an offensive punch, Branham could have come to the rescue. Sadly, that didn't happen. Instead, he was 1-for-8 from two-point range. The Clippers were able to block or alter a handful of his shots, which remains an issue early in his career. He also dealt with his own bouts of sloppiness.
Grade: C-
Tre Jones
You know the scope of the turnover bug infestation is particularly nasty when Jones turns it over four times in 20 minutes. He's one of the steadiest hands in the league in that regard but he too succumbed to the Clippers swarming defense. Add in iffy defensive play and Jones was part of the problem on this night instead of part of the solution.
Grade: C-
Cedi Osman
I'm not sure the Spurs would have hit double-digits in the first quarter if Osman didn't inject the team with vivacity. He came off the bench with a bundle of energy, knocked down a pair of first quarter three-pointers and was also flying around on defense. Osman continued his strong play in the second quarter. All told, he was probably the best player on the team on this dreary evening.
Grade: A-
Charles Bassey
Another player who did well was Bassey. His physicality in the lane was a breath of fresh air. He was strong on the boards and his bounciness was very helpful on both ends. The pairing of Wembanyama and Bassey looked promising. Hopefully we get to see more of that going forward.
Grade: A-
Doug McDermott
McDermott was fine. He's starting to move better and was able to get open on the offensive end. McDermott's defense wasn't a pretty sight but he wasn't the worst of the bunch.
Grade: B
Julian Champagnie
Although he didn't get in until garbage time, it was good to see Champagnie hit a three-pointer after his struggles in the preseason.
Grade: Inc.
Blake Wesley
Wesley had an impressive dunk attempt that he got fouled on.
Grade: Inc.
Sandro Mamukelashvili
Mamukelashvili looked super mobile during garbage time. That's notable for a 6-foot-9, 240-pound human being.
Grade: Inc.
Dominick Barlow
Barlow posted a five trillion in his first minutes of the season.
Grade: Inc.
Pop
Welp, this will be a teaching opportunity for Pop. Out on the road, you have to take care of the ball to beat good teams. I don't think any of his playcalling or any of his rotation decisions had much of a positive or negative impact on this game. The players weren't sharp enough for any of that to matter.
Grade: C