Grades: San Antonio Spurs vs. Sacramento Kings – Game #12
In a contest full of runs, the San Antonio Spurs saw the Sacramento Kings go on a game-clinching run in the fourth quarter. The 129-120 defeat was San Antonio's seventh straight loss and they're now 3-9 on the season.
Before even half the first quarter was gone, the Spurs had an 18-point lead. Unfortunately, the Kings were able to climb out of that hole by the end of the first quarter. Sacramento made a run in the second quarter but San Antonio responded to tie the game at halftime, 62-62.
In the third period, the Kings went on a run to go up by 14 points midway through the quarter. But, as was standard in this game, the Spurs rallied and took the lead by the beginning of the fourth quarter.
With seven minutes remaining in regulation, Keldon Johnson knotted the game with a three-pointer. Unfortunately, the Kings then went on a 9-1 run to take control and the Spurs never truly threatened again.
Overall, I thought it was a good effort — especially since the Spurs were without Devin Vassell and Tre Jones due to injury. The Kings are a good team that played really well. The Spurs fought hard but clearly lacked the knowhow to pull out the victory in the fourth quarter.
Stats: Spurs vs. Kings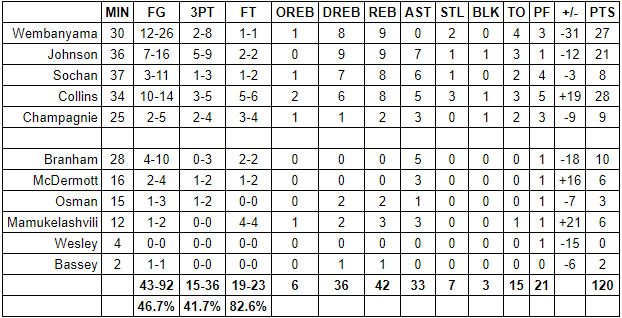 Spurs vs. Kings – Final Grades
Victor Wembanyama
The good: Wembanyama made sure he was involved on the offensive end. He ran the court hard, got good position and wasn't bashful about taking shots. He hit half of his 14 shot attempts in the first half and played a vital role in San Antonio's hot start. The bad: Too many of Wembanyama's shot attempts didn't come within the flow of the offense. That resulted in the offense stagnating from time to time when he was on the court. Better shot selection and more patience would have helped. Defensively, Wembanyama had his moments but he could have been much more active.
Grade: C
Keldon Johnson
Johnson playing well was a main reason why the Spurs had a chance to win the game. Offensively, his 5-for-9 three-point shooting was very important, as was his passing. Johnson has been passing really well lately and he totaled a team-high seven assists versus the Kings. Defensively, he did really good work on the boards. Johnson's individual and help defense weren't anything to write home about, though. And it also hurt the Spurs that he was 2-for-7 on two-pointers while also getting to the line just two times. 
Grade: B+
Jeremy Sochan
Sochan gave good effort on defense — but he could usually be found getting torched by De'Aaron Fox (43 points and seven assists) or another King. His perimeter movements just weren't quick enough to hang. Offensively, he was okay. Sochan's ball-handling was better and he made some smart passes. He also took relatively good care of the ball. That said, his actual playmaking was extremely lacking. 
Grade: C+
Zach Collins
Collins was without question the best player on the court for the Spurs. He jumpstarted San Antonio's attack by scoring 17 first half points on 7-for-8 shooting from the floor. From physical interior moves to feathery three-pointers, Collins was doing it all. His passing was excellent and he made wise decisions. Defensively, his competitiveness was palpable. Collins had a few mistakes on defense but when the Spurs got a stop, he was typically in the mix.
Grade: A
Julian Champagnie
In his second straight start, Champagnie was better. He still has a lot of room for growth but he didn't look like a fish out of water tonight. In the first quarter, Champagnie was really good. He was 2-for-2 on threes in the opening period and also handed out three assists. Unfortunately, his offense the rest of the game was mostly unsightly. Champagnie had trouble dribbling and had a couple of ugly misses. His defense also got worse as the game progressed. But, hey, after his extremely slow start to the season, this halfway decent outing is definitely a step in the right direction.
Grade: B-
Malaki Branham
The good: Branham was 4-for-7 on two-pointers and hit a couple notable buckets when it appeared as if the game was slipping away from the Spurs. His playmaking and passing were also plusses; he finished with five assists and no turnovers in 28 minutes. The bad: Branham's lack of footspeed on the perimeter was a glaring liability on defense. Offensively, he missed all three of his three-pointers and was bothered more than usual by aggressive defenders.
Grade: B-
Doug McDermott
McDermott did what he's supposed to do. He knocked down a three-pointer, moved well without the ball and his gravity helped create shots for others. Defensively, McDermott was getting blown by right and left … but that was the case for most of his teammates.
Grade: B
Cedi Osman
In the first half, Osman was pretty darn bad. His decisions offensively were wonky and his defense wasn't good. To his credit, Osman played better in the second half. He made quicker, better decisions on offense and stuck to the gameplan better on defense.
Grade: C
Sandro Mamukelashvili
Mamukelashvili was a bright spot for the Spurs. In his first real minutes of the season, his hustle and relentless movement paid immediate dividends. Defensively, he was all over the court and was disrupting the proceedings from a variety of angles. Offensively, his electricity seemed to jolt his teammates. A combination of vivacity and confidence made the offense flow better. I think it's safe to say Mamukelashvili played well enough to earn another test drive in the rotation.
Grade: A
Blake Wesley
In an interesting move, Wesley got four minutes at the backup point guard position. He didn't do much on either end during his time on the court. We'll see if Pop keeps giving Wesley minutes while Tre Jones remains sidelined.
Grade: Inc.
Charles Bassey
Bassey got a couple minutes before Pop looked elsewhere to get a better perimeter defender on the court.
Grade: Inc.
Pop
I don't think Pop could have done a lot more than he did. I liked the rotation's new wrinkles, particularly giving Mamukelashvili a chance. Wembanyama got his touches, which hasn't always been the case this season. The bottom line is the Spurs were in it in the fourth quarter against a playoff team playing at a high level without the services of Devin Vassell and Tre Jones.
Grade: B+