Grades: San Antonio Spurs at New York Knicks – Game #8
For the second straight game, the San Antonio Spurs suffered a blowout loss. This time, it came on the road at the hands of the New York Knicks. The defeat dropped San Antonio's record on the season to 3-5.
Six minutes into the game, the Spurs were already down by double digits. Things never really got better from there. The Knicks led 33-16 at the end of the first quarter and waltzed to victory. The Spurs made a couple of mini runs but nothing substantial. When the smoke cleared, New York had a 126-105 victory.
What went wrong for the good guys? Well, the Knicks hit 19-of-42 from three-point land, shot nine more free throws and turned it over only three times. The Spurs won't win games in which they don't defend the three-point line, don't force turnovers and don't play aggressive enough to get to the line. So, yeah, it was another learning experience for the youngsters in silver and black.
Stats: Spurs at Knicks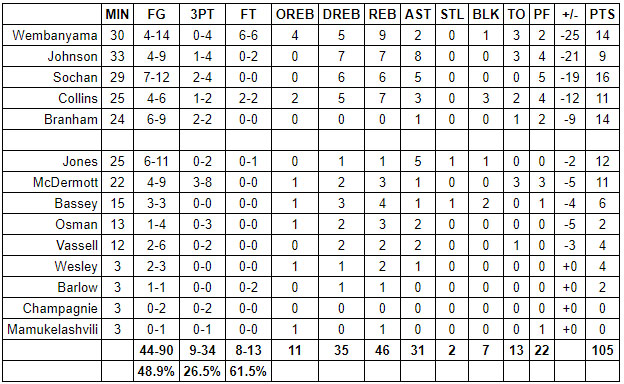 Spurs at Knicks – Final Grades
Victor Wembanyama
Wembanyama wasn't good in the first half. He was 0-for-5 from the field. Even worse, he wasn't moving much on defense. There was simply a lot of standing and watching by the rookie in the first two quarters. In the second half, Wembanyama played much better. In 15 minutes, he was 4-for-9 from the floor and had five rebounds. Unfortunately, it was too little, too late. Wembanyama needs to be more assertive on offense and he can't lose focus on defense. He's young; he's learning.
Grade: D
Keldon Johnson
It was an interesting game from Johnson. On one hand, it's fair to criticize him for not looking to score more. With Wembanyama struggling and no one else stepping up, Johnson calling his own number more would have been helpful. Then again, it's difficult to be too mad with Johnson because he was passing it so well. He had eight assists to go along with his nine points and seven rebounds. It's good to see Johnson grow as a playmaker. But against the Knicks, more points and much better defense would have been appreciated.
Grade: C
Jeremy Sochan
I don't have any issues with how Sochan played. He took care of the ball, passed it well and ran the offense with confidence. Scoring-wise, he spread the defense by knocking down 2-of-4 three-pointers and finished much better in the lane. Defensively, I liked a lot of what I saw. He pressured out on the perimeter and also helped out inside. This was one of Sochan's better games of the season.
Grade: A-
Zach Collins
The good: Collins was efficient on offense. He took advantage of his touches by taking the right shot or finding an open teammate. Defensively, he guarded the rim well and he provided timely help defense. The bad: Collins had a couple clumsy fouls and could have been tighter with the ball. His perimeter defensive rotations were also a step or two slow.
Grade: B-
Malaki Branham
Branham looked better. His defense was still sub par but it was better than we've seen in recent outings. To become even an average defender, he's going to have to anticipate more and rely less on reaching and scrambling. Offensively, he hit both of his threes and exhibited a healthy amount of confidence off the dribble.
Grade: B
Tre Jones
I'd prefer if Jones would call his own number a little less often but otherwise he played well against the Knicks. His pushing of the pace and his passing resulted in improved flow on the offensive end. Jones was also hustling on defense and in loose ball situations. 
Grade: B
Doug McDermott
McDermott's shooting off the bench is becoming one of the most reliable weapons for the second unit. He's back to moving fantastically without the ball and it seems like his release gets quicker each season. Against the Knicks, he did have some flaws, though. McDermott's defense left a lot to be desired and he also had three turnovers and three fouls in only 22 minutes.
Grade: B-
Charles Bassey
Bassey was really good. Offensively, he played with authority and his athleticism made a notable difference. He hit all three of his shots from the field and is now 10-for-10 from the field in his last four games. Bassey rebounded well, got a couple of blocks and ran the court hard. He did about all he could in his 15 minutes of playing time.
Grade: A-
Cedi Osman
This might have been Osman's first forgettable game as a member of the Spurs. Defensively, he wasn't good. His rotations were slow and he got caught watching the ball at times. Offensively, Osman missed all three of his three-pointers and his decision-making wasn't as crisp as usual. San Antonio's bench has come to rely on him so Osman's off night was actually glaring.
Grade: C-
Devin Vassell
After missing two games with a groin injury, Vassell came off the bench for the Spurs. In 12 minutes, he never really looked comfortable. He hit a couple shots but most of his attempts weren't from within the flow of the offense. Vassell also seemed to be going at half speed on the defensive end.
Grade: C
Blake Wesley
Wesley's speed jumped off the screen in garbage time.
Grade: Inc.
Julian Champagnie
Even though he's struggling, it's good to see that Champagnie isn't afraid to shoot.
Grade: Inc.
Dominick Barlow
Barlow continues to pass the eye-test as a legitimate NBA player.
Grade: Inc.
Sandro Mamukelashvili
As usual, Mamukelashvili was in perpetual motion during garbage time.
Grade: Inc.
Pop
Pop could have done a better job of getting Wembanyama going. The playcalling as a whole was too repetitive. I also didn't really understand the logic of playing Vassell off the bench. I'd rather the Spurs wait until he's healthy enough to start rather than trying to make him fit with the second unit.
Grade: D+