Grades: San Antonio Spurs vs. Toronto Raptors – Game #6
The San Antonio Spurs saw a game slip through their fingers on Sunday against the Toronto Raptors. The Spurs led throughout the contest before collapsing in the fourth quarter and then losing in overtime by a final score of 123-116 to fall to 3-3 on the season.
In the first half, San Antonio played really good defense and had it going on the offensive end. At intermission, the good guys were up by 19 points, 54-35. While their defense started to crack in the third quarter, the Spurs were still up 17 points in the opening minute of the fourth period.
Unfortunately, Scottie Barnes' 17 points in the fourth quarter supercharged Toronto's offensive attack and the Raptors came roaring back. With 1:19 remaining in regulation, a Keldon Johnson three-pointer put the Spurs up by five points. But a Barnes dunk and a Barnes three-point tied the game. After two free throws by Johnson, Raptors tied the game in the final seconds off of an offensive rebound.
In overtime, the Raptors had all the momentum and scored eight of the first ten points to essentially end things.
Overall, I thought this was a good learning experience for the young Spurs squad. Playing without Devin Vassell, one of their trusted go-to players in the clutch, San Antonio failed to hold onto their lead against Toronto. Getting a big lead was a positive sign — now the Silver and Black just need to figure out how to close teams out.
Stats: Spurs vs. Raptors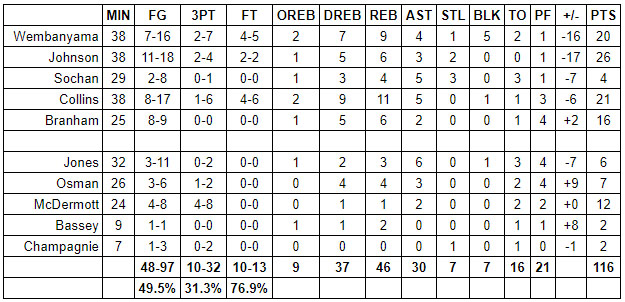 Spurs vs. Raptors – Final Grades
Victor Wembanyama
The good: Defensively, Wembanyama was a monster. He blocked five shots and altered countless other shots. His perimeter defense looked solid and he rebounded well. Offensively, he limited his turnovers, authored perhaps his best passing game of his young career and his scoring in overtime kept hope alive. The bad: Wembanyama's shot-selection could have been better, particularly from deep. That said, his main negative for this game was that the rookie looked tired — particularly in the fourth quarter. Once he got tired, he wasn't as quick on defense and settled too much on offense. Wembanyama has work to do on his stamina — but that's not a surprise for a 19-year-old big.
Grade: B+
Keldon Johnson
Johnson actually played really well. Offensively, he was extremely efficient and finished without a turnover for the fourth straight game. He had a couple of his better passes of the season and his fourth quarter scoring almost propelled San Antonio to victory. Johnson's offensive attack is as under control and steady as we've ever seen from him. Defensively, he gave good effort but his impact was inconsistent and got worse as the game progressed.
Grade: A-
Jeremy Sochan
The good: Sochan played the passing lanes really well. His reaction speed on defense was creating chaos, particularly in the first half. Offensively, his court vision was better and his aggression level was fine. The bad: Sochan's ball-handling was sub par and his decision-making was iffy. His finishing at the rim was poor and he too often overdribbled when attacking the rim. Sochan's man-to-man defense was okay at times but could have been better.
Grade: C+
Zach Collins
Collins did a whole lot of good on Sunday. He limited his mistakes by turning it over only once and committing just three fouls. He rebounded very well, his passing was a plus and his finishing was strong. Collins providing San Antonio with a burly inside presence was a key during the fun times. His negatives: Collins' ability to hold his ground in the paint faded as the game progressed and his perimeter jumper was inaccurate.
Grade: A-
Malaki Branham
After going 1-for-7 in two straight games, Branham bounced back with an 8-for-9 showing. His jumpers off the dribble were as silky smooth as silky smooth gets. When he confidently made a move, it was money. However, Branham wasn't too impressive outside of putting the ball in the basket. His defense was a step or two slow and his self-assuredness was too wishy-washy. Branham was better but he has a lot of room for improvement.
Grade: B
Tre Jones
This was clearly Jones' worst game of the season. It was a very un-Tre-Jones-esque night at the office. He called his own number too often, particularly in important situations. His passing wasn't as crisp as usual and he was too sloppy with the ball. Jones also had trouble handling the ball against pressure and he was too often a liability on defense.
Grade: C-
Cedi Osman
Osman was rock solid once again. Sadly, though, his most notable play was when he accidentally knocked the ball away as Wembanyama was coming down with what would have been a game-sealing rebound. Other than that accident, Osman shot with confidence, attacked the rim with aggression, defended with vigor and reliably made the right passes. His impact on the defensive end wasn't felt very much but it wasn't for a lack of effort.
Grade: A-
Doug McDermott
McDermott's three-point shooting in the first half played a leading role in the Spurs getting out to a big lead. He extended Toronto's defense and single-handedly caused crevices to form. McDermott wasn't as disrupted in the second half. That said, his defense remained passable throughout.
Grade: A-
Charles Bassey
Bassey's hustle positively impacted a few possessions but more tangible production in his nine minutes of playing time would have been helpful.
Grade: B-
Julian Champagnie
Champagnie is pressing. He had ill-advised shots and passes. His defense was jumpy at times, too. Champagnie had a couple quality plays but the Spurs need him to perform with more possession-to-possession consistency for him to earn a permanent spot in the regular rotation.
Grade: C
Pop
Wembanyama needed more interior touches in the fourth quarter — and some of that blame lands on Pop. The play-calling in the second half was less than stellar. Pop never found a combination that could initiate the offense when the Raptors were pressing. Defensively, the Spurs could have mixed it up more than they did when Toronto got rolling. Pop had his troops playing well for most of the first three quarters but he definitely played a role in sudden demise.
Grade: C