Grades: San Antonio Spurs at Phoenix Suns – Game #4
The San Antonio Spurs pulled out a stunning victory over the Phoenix Suns on Tuesday night. The win was Victor Wembanyama's first on the road and improved San Antonio to 2-2 on the season.
The Spurs started off really slow offensively, which allowed the Suns to quickly sprint to a comfortable lead. Phoenix led 27-18 at the end of the first quarter and 63-45 at halftime.
In the third quarter, the good guys didn't make up a whole lot of ground. They trailed by as many as 20 points in the period and were still down 16 points with 35 seconds left.
However, the Spurs didn't give up. San Antonio kept grinding and grinding to force their way back into the game. With a minute left in the fourth quarter, the Spurs were down five points. That's when Wembanyama hit a midrange jumper and then got a follow dunk on the next possession with six seconds remaining to get the Spurs within a point.
Instead of calling a timeout, the Suns inbounded the ball to Kevin Durant. The Spurs trapped the future Hall of Famer, Keldon Johnson ripped the ball away and hit a game winning layup with a second left. San Antonio's only lead at 115-114 ended up being the final score.
All in all, it was a great win. The Spurs could have given up but they persevered and stole one down the stretch. Well done.
Stats: Spurs at Suns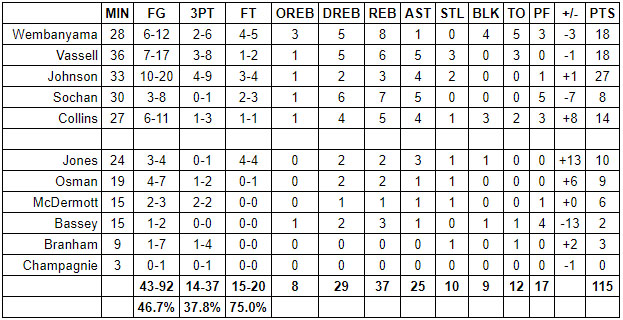 Spurs at Suns – Final Grades
Victor Wembanyama
Wembanyama played poorly in the first half. He didn't make his first shot until a few moments before halftime but before that he had time to turn it over four times and miss five shots. Thankfully, it was a completely different story after intermission. In the second half, Wembanyama was awesome. He was 5-for-6 from the field, including 2-for-3 on three-pointers. He also had three offensive rebounds and three blocks after halftime. He picked his spots well offensively and was a terror on defense. In the final minute, Wembanyama came up with two huge baskets to put the Spurs in position to sneak out of Arizona with a win. It seems like he plays better and better when the pressure increases — which is obviously one of the best possible traits you could wish for in a 19-year-old franchise player.
Grade: A
Devin Vassell
Vassell was mostly quiet for three quarters. In the fourth, he led the Spurs with ten points and hit a couple of momentous shots. Vassell's shot-selection was questionable at times and his efficiency was lacking but his defense was consistently good, he passed the ball well and he did good work on the glass.
Grade: B+
Keldon Johnson
Johnson was both quietly and loudly the hero for the Spurs on this night. Prior to his clutch steal and layup to complete the unlikely comeback victory, Johnson kept San Antonio in the ballgame. The Spurs looked ready to circle the drain in the third quarter but he hit three three-pointers on his way to 12 points and three assists in the period. I thought Johnson had the perfect amount of aggressiveness and never tried to do too much. As evidence, for the second straight game, he finished without a turnover. Johnson efforted on defense throughout the game, which paid off handsomely in the closing seconds.
Grade: A
Jeremy Sochan
Much better. It's still not the most aesthetically-pleasing point guard play in the history of basketball but Sochan looked much more comfortable. His passing was really good and — just as importantly — he avoided mistakes. Sochan's ball-handling still has a lot of room for improvement but he's trending in the right direction. Defensively, he had a handful of very good possessions. That said, Sochan's consistency on that end could have been better.
Grade: B+
Zach Collins
A lot of good stuff from Collins. He utilized power to score in the paint. He knocked down a three-pointer. His passing was a plus and only turned it over twice despite being in the middle of the action. On defense, he boxed out well, blocked three shots and avoided needless fouls.
Grade: A-
Tre Jones
Jones was great off the bench. He sparked the team whenever he hit the floor. His energy on offense was palpable. Jones pushed the pace and found open teammates. Defensively, he was even better. His on-ball defense was stout and he was a pest when helping. In fact, the Spurs looked their best defensively when Jones was able to roam and interrupt.
Grade: A
Cedi Osman
This was another strong game for Osman. He's showing no fear or timidness. Osman comes off the bench and gets right to work. His shooting stroke looks smooth and he takes it to the rack with power. His defense also continues to be better than advertised. Osman isn't a super athlete but he has a nose for the ball and is seemingly doing everything right at the moment.
Grade: A-
Doug McDermott
McDermott did his job: space the court by knocking down three-pointers. His movement away from the ball was also helping to keep the Suns occupied. Defensively, I thought he was a bit better than usual.
Grade: B+
Charles Bassey
Bassey could have played a cleaner brand of basketball. While it wasn't always his fault, he seemed to always find himself in the middle of chaos on Tuesday night. It also didn't help that Bassey had four fouls in 15 minutes.
Grade: C
Malaki Branham
Branham was super aggressive on offense … but the results were forgettable. He hit only one of his seven field goal attempts even though he was usually open. There were also a few instances where Branham's lack of high-end athleticism negatively impacted him and the team.
Grade: D+
Julian Champagnie
Champagnie got his first real minutes of the season. Pop inserted him into the rotation but he wasn't able to move the needle in his three minutes of playing time.
Grade: Inc.
Pop
Honestly, in real time, I thought Pop waited too long to reinsert Wembanyama in the fourth quarter. However, in retrospect, it worked out perfectly. I thought the rotation was fine for the most part. Less Bassey might have been helpful against these Suns but otherwise it's difficult to complain. Playcalling-wise, Pop was fine. More touches for Wembanyama would have been nice … but that's probably something we'll always be able to say for the next 20 years.
Grade: B+