Grades: San Antonio Spurs vs. Minnesota Timberwolves – Game #9
The San Antonio Spurs lost their fourth straight game, a 117-110 defeat versus the Minnesota Timberwolves. After getting blown out in two straight contests, this loss to Minnesota was actually a step in the right direction.
The Spurs led 27-22 after the first quarter and were up for almost the entire first half. Unfortunately, things fell apart in the third quarter. The Timberwolves flummoxed the Spurs with a zone defense, which played a major role in Minnesota winning the quarter 34-19.
The T-Wolves entered the fourth quarter with a 17-point lead. Midway through the period, Minnesota was still up by 16 points. However, that's when the good guys made their run. A Devin Vassell three-pointer got the Spurs within six points with 4:19 remaining. Despite their gallant comeback attempt, the Spurs couldn't quite get all the way over the hump.
All in all, the Spurs played well. Their defense showed signs of life. Their offense hit some rough patches but looked fine for much of the first half and in the fourth quarter.
Stats: Spurs vs. Timberwolves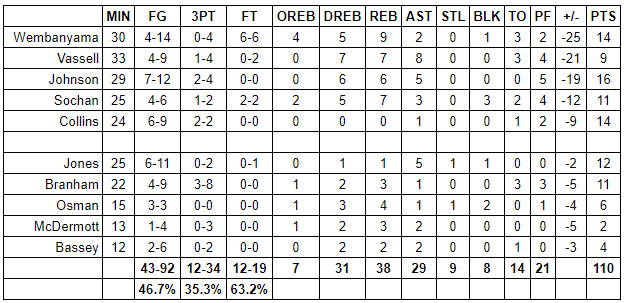 Spurs vs. Timberwolves – Final Grades
Victor Wembanyama
Following a couple rough outings, it was great to see Wembanyama bounce back with a very strong performance. He totaled 29 points, nine rebounds, four assists and four blocks in 35 minutes. There were a few undisciplined defensive possessions and a couple sloppy passes but other than that the rookie was really good. He picked his spots well offensively, flashed superior court vision and displayed a crazy amount of defensive versatility. Wembanyama also did very well in the fourth quarter when the Spurs were trying to claw their way back into it.
Grade: A-
Devin Vassell
After missing a pair of games with a groin injury and then coming off the bench for a game, Vassell was back in the starting lineup and it looked like he had never left. He scored a very efficient 29 points by hitting 6-of-11 three-pointers and getting to the free throw line nine times. Vassell also handled playmaking duties well while only turning it over once. His defense vacillated between okay-ish and good. Overall, though, the best news of the night was that Vassell appeared to be near 100% healthy.
Grade: A-
Keldon Johnson
Against the Timberwolves, Johnson wasn't doing enough on either end. On offense, he was 2-for-10 with one assist. On defense, he was efforting but the results were sub par. Johnson isn't getting as many touches this year as he got last year but he has to remain active and engaged. This game, he aimlessly floated too much.
Grade: D+
Jeremy Sochan
Ouch. There were a few stretches where it appeared that Sochan forgot how to play the game of basketball. Specifically, dribbling rules and regulations seemed to have escaped his mind. As a result of those struggles, Sochan ended up turning it over six times. The rest of his outing, though, was actually pretty good. He rebounded well, made some good passes, played the passing lane with vivacity and was scoring with efficiency. But, yeah, a starting point guard who forgets how to dribble is not something that can be overlooked.
Grade: C
Zach Collins
The good: Collins was 5-for-6 from the field, including 4-for-4 from two-point range. His passing was really good and he only turned it over once. The bad: Two rebounds in 24 minutes? That's simply not good enough. Even worse, a couple questionable referee decisions put him on tilt and he ended up with five fouls due to being frustrated.
Grade: C
Tre Jones
Jones was rock solid. He was a pest on defense, competed on the boards and pushed the pace relentlessly. Offensively, I liked his shot-selection and the way he distributed the ball. When Jones was on the court, the Spurs looked like a real, professional basketball team.
Grade: A-
Malaki Branham
Branham didn't have a night to remember. He scored okay going to the basket but was 0-for-4 from deep and didn't provide much playmaking. His defense was mostly bad but he did scoop up a few loose balls. All in all, Branham needs to play with more confidence — and knock down open three-pointers.
Grade: C-
Cedi Osman
Osman is, sadly, coming back down to earth. He hesitated on a couple possible three-point attempts. He had a couple positive defensive possessions but also had a few bad ones. I liked that Osman played hard and was moving with purpose but his production was negligible.
Grade: C-
Doug McDermott
McDermott provided some spacing with his three-point shooting and his movement without the ball. His defense was palatable for the most part. When the Timberwolves were hurting the Spurs with the zone, McDermott in theory was the perfect player to make them pay for that strategy. In reality, that didn't happen.
Grade: C+
Charles Bassey
Bassey was a ball of energy during his 11 minutes on the court. His rim protection was great, his exhibited excellent timing and energy on the boards, and his court sense made him an asset on the offensive end. This is how Bassey has to play to keep his spot in the rotation for the duration of the season.
Grade: A-
Pop
Pop's utilization of Wembanyama was really good. The big Frenchman got a healthy amount of touches and plays called for him. The rotation was fine for the most part. More Jones probably would have been helpful, though — especially with Sochan's ball-handling struggles. Pop also deserves some credit for the grittiness the Spurs played with in the fourth quarter … even when it appeared as if all hope was lost.
Grade: B+