Will DeMar DeRozan Become a Three-Point Shooting Threat This Season?
In the final preseason game, DeMar DeRozan gave fans of the San Antonio Spurs something to talk about by going 3-for-3 on three-pointers. After last season when it became painfully obvious that DeRozan must shoot threes more often in order to improve the spacing on the offensive end and his value when the ball isn't in his hands, a glimpse of competent three-point shooting was a sight for sore eyes.
His first made three-pointer of the game against the Memphis Grizzlies was a shot he had to shoot with the shot clock running down.
Later in the game, he shot and made two more three-pointers without hesitation. 
What made these three-pointers even more notable than usual is the fact that none of them came from the corner. In DeRozan's career, he shoots 36.3% on threes from the corner but only 23.3% on three-pointers from anywhere else. Based on that statistic, the chances of him taking three non-corner three-pointers and making all three was about 1%.
Putting DeMar DeRozan's Three-Point Shooting Explosion in Perspective 
For Spurs fans, DeRozan's three-point barrage was shocking. In the final 2,569 minutes he played last season, including the playoffs, he hit two three-pointers. That was a span of 74 games. For him to knock down three three-pointers in 29 minutes against the Grizzlies was eye-opening, to say the least.
Could DeRozan's trio of triples be the breakout performance he needed in order to become more confident about shooting threes? I wouldn't hold my breath. DeRozan has gotten hot from three-point land many times in his career. In fact, he's made at least three three-pointers in a game 31 times in his career dating all the way back to 2012, including two games of six made threes, three games of five made threes and five games of four made threes.
While DeRozan has always been a poor three-point shooter, last year he basically stopped shooting them once his percentage went down the drain. Comparing last season to his previous seven seasons shows the drastic change in strategy.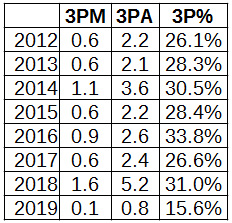 The table, which shows DeRozan's three-point shooting per 100 possessions, illustrates just how much the Toronto Raptors instructed him to shoot threes in the year prior to him joining the Spurs. They made DeRozan three-point shooting a priority and his coaches demanded that he fire away from deep.
In San Antonio, Pop didn't push him to shoot threes. No one seemed to mind that DeRozan had just erased that aspect of his game.
Will DeMar DeRozan Shoot More Threes in the 2019-20 Season?
After the Spurs were eliminated by the Denver Nuggets last season, Pop was asked if he thinks DeRozan needs to shoot more three-pointers going forward. Considering DeRozan shot only one three-pointer during the seven game series, it was an appropriate question. 
"I think that is something we really have to discuss and think about because that's what the league is all about now," said Pop. "You end a game and the first thing you look at is three-point shooting and it covers up a whole lot of warts." 
"It's not very interesting, not much fun," he added, "but that's the way the league is."
I wouldn't classify that response as more than lukewarm support of the idea. I think Pop will want DeRozan to shoot more threes, but — right or wrong — he's not going to demand it and prioritize it like the Raptors did.
During the preseason, even after factoring in his three-point eruption versus Memphis, DeRozan only attempted 1.9 threes per 100 possessions. That means DeRozan was still below his rate from his last seven years in Toronto. 
It's safe to say with confidence that DeRozan isn't going to approach the 5.2 three-point attempts per 100 possessions he shot in 2017-18. We would have seen changes in the game plan during the preseason if that was the case. 
Could DeRozan get back to shooting more than two threes per 100 possessions? That's a more reasonable goal but it's far from certain. His three-point shooting rate in the preseason makes that an iffy proposition. In all likelihood, that 3-for-3 night was just a teaser that Raptors fans had become accustomed to after seeing it more than 30 times throughout the years.