Final Spurs Summer League Stats And Grades
The San Antonio Spurs summer league team won four games and lost four games during their 2019 run in Salt Lake City and Las Vegas. All in all, I consider it a success. The Spurs got a good look at their young players, avoided injury and saw intriguing skills from a number of the prospects. Below, find the Spurs summer league stats and grades for each player.
Spurs Summer League Stats For 2019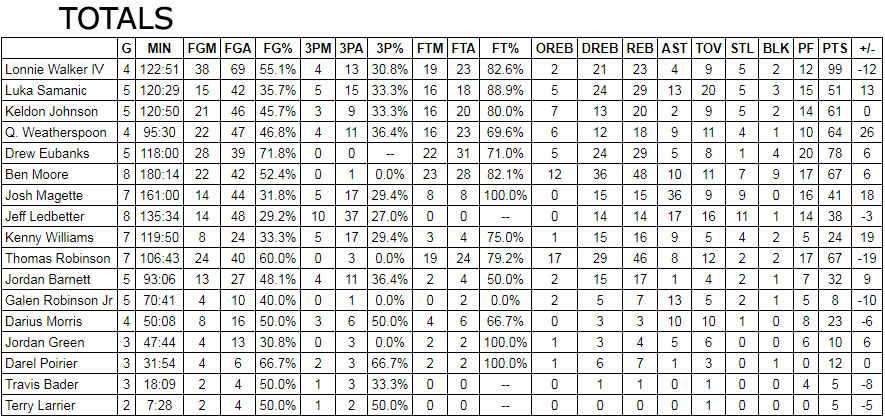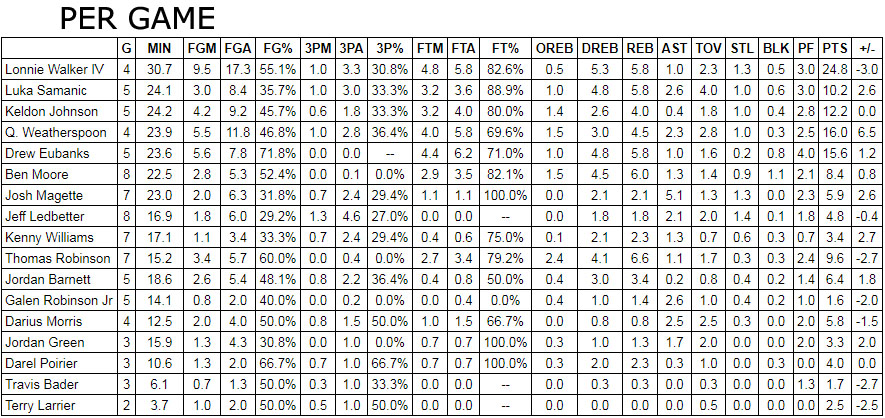 Spurs Summer League Grades For 2019
Lonnie Walker IV
The skill that will make or break Lonnie Walker IV as an NBA player is his ability to score the basketball. With that in mind, Walker's play in summer league has to be considered a roaring success. He averaged 29 points per 36 minutes — and he made it look easy. Considering he averaged 21.8 points per 36 minutes in G League last season, this was a big step in the right direction.
Walker did most of his damage on the offensive end via jumpers off the dribble. He also exhibited extreme potential at driving all the way to the basket and finishing at the rim with rare athleticism. He finished summer league with a two-point percentage of 60.7%.
On defense, Walker also did relatively well individually. Team-wise, he was more inconsistent but there were flashes of real ability in that aspect of the game. Rebounding was another area where Walker showed promise. After averaging only 3.9 rebounds per 36 minutes in the G League, he upped that number to 6.7 during summer league.
On the other end of the spectrum, Walker's assist numbers were really underwhelming. While he's never been a player who racks up a lot of assists, averaging only 1.2 assists per 36 minutes in summer league leaves a lot to be desired — and undoubtedly played a role in the team not always thriving when he was on the court. 
Overall, Walker definitely did enough for Pop and company to take notice. He appears ready to at least be given an opportunity to win a spot in the rotation. His dynamic scoring talent gives Walker star potential if he can continue improving at this rate for a year or two. 
Grade: A-
Luka Samanic
It wasn't always pretty for Luka Samanic in summer league play but I was impressed by his tools. After the draft, we knew this Croatian bigman was a raw prospect with a lot of tools but not a lot of consistent production. That remains the case, however the important thing is that his tools remained intriguing even when judged against other players vying for a spot in the NBA.
Samanic's quickness and fluidity definitely passed the eye-test; there just aren't many big men around who can move their feet as well as he can. His stroke from the perimeter is natural and he looks every bit like a prospect who can grow into becoming a legit three-point threat. Samanic jumps well, has reasonably good timing going for blocks and his first step going to basket is impressive.
The tool that really stood out that wasn't apparent from his European tape was passing. He has really good court vision for a big, high passing IQ, and top notch instincts and timing when hitting the open man. Samanic made passes from a stationary position above the three-point line and passes on the move in the lane that are rarely seen, even from skilled, experienced NBA big men.
All that said, Samanic definitely has areas of improvement. While he's a capable ball-handler, it's a nearly guaranteed turnover right now when he tries to dribble in a crowd. His strength, or lack thereof, needs a lot of work. He hit only 37% of his two-pointers mostly due to being bumped off of his spots by defenders. His defense in general and his rebounding specifically suffered due to a lack of strength. Additionally, Samanic's effort and focus were too inconsistent for a professional. He needs to learn how to not let externalities such as a missed call or an unfortunate turnover impact his subsequent possessions.
Grade: B
Keldon Johnson
It'd be an understatement to say Keldon Johnson's scoring came in bunches. He had 29 points in one game, 19 points in another game and only 13 points in the three other outings. When Johnson was confident and involved, he looked like a competent offensive player. If he wasn't specifically involved in the sets, Johnson would blend into the background to a fault.
Offensively, his jumper looks fine; it's a little slow and his release point isn't especially high but I don't see any red flags in that regard. Not blessed with great size or great athleticism, Johnson sometimes panicked and resorted to low percentage floaters when on the move. However, when he took his time, concentrated on his footwork and was more physical, the results were much better.
Defensively, there was a lot to like. Johnson's hustle was relentless and his energy was palpable. He's already good at navigating around screens, he's sturdy in the paint and he's a natural born communicator on that end. He got in some trouble when he trying to defend his man too closely, however he did well when he backed off in order to use his notable length rather than his questionably quickness.
Net net, Johnson played better than I was expecting. It's not difficult to imagine him as a capable 3-and-D wing in the NBA. And he exhibited enough all-around tools to keep the door open that he could be even more than that one day. 
Grade: B+
Quinndary Weatherspoon
The Spurs really couldn't have expected much more out of their second round pick during summer league. Quinndary Weatherspoon was very productive, in virtually all aspects of the game. Scoring-wise, only Walker was more prolific. Weatherspoon used his strong 6-foot-4 frame to get into the lane and finish among the trees or earn himself two free throws.
Weatherspoon's jumper looked good and he flashed playmaking skills with the ball in his hands. While he didn't play a lot at point guard, he was arguably the team's best player at breaking down a defense and finding an open man.
Defensively, Weatherspoon's feet were quick enough for him to extend his coverage far beyond the three-point stripe. His strength also helped him in the paint, where he was able to provide help defense and corral contested rebounds. 
To nitpick, Weatherspoon was sometimes slow to give up the rock, which led to a high turnover rate. He also gambled on defense more than the real Spurs would appreciate. But overall, the 49th pick in the draft looks like a legitimately good prospect. If he can build on this level of play in Austin, it'd be time to really get excited.
Grade: A
Drew Eubanks
Last season, Drew Eubanks played very well in Austin, did good work during his stints in San Antonio and he was able to follow that up with a quietly strong summer league showing. He didn't dramatically improve his status but he successfully held onto the momentum and looks like a possible NBA player down the road.
Offense is where Eubanks exhibited the most promise. His soft hands, strong body and powerful athleticism give him a high ceiling as a finisher. And while he didn't attempt any three-pointers (even though he was seen working on threes earlier in the summer), he hit a couple perimeter jumpers and his touch on his jump hook is promising. I thought his passing and overall awareness were at good levels for a center.
Defensively, Eubanks could have been better. He ferociously defended the rim at times but missed a whole lot when going for blocks. Like his block rate, his rebounding rate was also underwhelming. At the same time, Eubanks fouled too much. He didn't look especially comfortable defending out on the perimeter but he did hold up well when one-on-one in the post. 
All in all, I'm in favor of keeping Eubanks as one of two players on a two-way contract. He has an NBA body and a sufficient amount of talent to make it. It's a work in progress but an NBA career is an achievable goal for Eubanks. 
Grade: B
Ben Moore
There's a lot to like about Ben Moore. He has a high basketball IQ, he hustles nonstop, he's unselfish, and he has impeccable timing. Looking at the stats, Moore did a bit of everything — and did so efficiently.
Unfortunately, there are a few flaws that make him an iffy prospect. First of all, Moore just doesn't have the physical characteristics of an NBA player. If he were taller and longer — or more athletic — it'd be a whole lot easier to chart out his path to becoming a successful pro. As it is, he's an underwhelming athlete with underwhelming size.
Secondly, his lack of three-point shooting really hurts him. It'd be possible to overlook his physical shortcomings if he could knock down threes at a medium to right rate. As it is, he only took one three in more than 180 summer league minutes.
Since he's not really a fit on San Antonio's roster, giving him even a two-way contract might be too much. That said, if he ends up in Austin, that'd be a win for the organization as he has more potential than more G Leaguers.
Grade: B
Josh Magette
While Josh Magette didn't do well putting the basketball in the hole, his ball-handling and ball-security were assets for the summer leagues squad. With turnovers an issue with just about every other player on the roster, Magette's 4-to-1 assist-to-turnover ratio was a breath of fresh air. Unfortunately, his 160-pound frame made it nearly impossible for him to compete on the defensive end. Add that to his impotent scoring and I don't view him as a serious NBA prospect.
Grade: B-
Jeff Ledbetter
Jeff Ledbetter appears to be a good teammate, a scrappy defender and a fearless shooter. In the first quarter of the second game in Utah, Ledbetter went 4-for-5 on three-pointers. But that means he was just 6-for-31 (19.4%) in the other 27 quarters of summer league. Ouch.
Grade: C
Kenny Williams
Coming out of North Carolina, Kenny Williams had the reputation of a vicious defender and an inept offensive player. That's basically what we witnessed during summer league. His anticipation and elite quick-twitch reaction speed make him a strong defender. However, there's a long road that needs to be traveled before he's anywhere near acceptable on the offensive end.
Grade: C+
Thomas Robinson
If I was handing out grades for effort, Thomas Robinson would get an A. He was doing everything he could to prove he's a modern big man and not an antiquated bruiser of yesteryear. While it was commendable, it turned out to be unconvincing. While Robinson can finish, rebound and throw around his muscles, he simply lacks a feel for the game that is required in today's NBA. His instincts on both ends are too iffy to overlook, especially since he's already 28 years old.
Grade: B-
Jordan Barnett
Jordan Barnett can run and jump. It's no issue for him to elevate high above the rim and finish with an enthusiastic flush. He also appears capable of becoming a mediocre three-point shooter. Unfortunately, that's about it for Barnett. His mobility out on the perimeter on defense is really lacking — to the point that I'm not sure he classifies as a wing. On offense, he can't do much ball-handling, passing or anything else that involves perimeter skill.
Grade: C+
Galen Robinson Jr.
As a senior in college, Galen Robinson Jr. averaged 8.0 points per game, so it shouldn't be too surprising that he scored an anemic 4.1 points per 36 minutes in summer league. But, regardless, to call him a non-scorer is being kind. What Robinson can do is play an unselfish brand of ball where he finds the open man and makes the right pass consistently. He might make it as a backup point guard on the G League level.
Grade: B-
Darius Morris
Across the board, Darius Morris was rather productive statistically. But his astronomical turnover rate made him nearly unplayable. For a 28-year-old to have that much trouble securing the ball in summer league points to the end of his NBA days drawing nigh.
Grade: C
Jordan Green
Jordan Green had a few unselfish passes and he's not a terrible athlete. His upside is a deep bench player on a decent G League team, though.
Grade: C+
Darel Poirier
If it weren't for a twisted ankle during the middle of summer league play, we probably would have seen more of Darel Poirier. What we saw might be enough to warrant a training camp invite. He's a 6-foot-11 big with three-point range who is at least decently athletic. It's extremely unlikely he makes the Spurs this season but it wouldn't be a bad idea to take a second look.
Grade: B-
Travis Bader
Travis Bader has good form on his jumper but he looked overwhelmed on defense.
Grade: Inc.
Terry Larrier
Last year, Terry Larrier suffered a torn ACL for the second time. The fact that he flashed a bit of athleticism is good news for him.
Grade: Inc.