Date of Birth

March 4, 1983 (39)
About spurs_fan_in_exile
Location:

Hellhole of Houston, Tx
Favorite Team:

San Antonio Spurs
When the invaders came they brought our greatest fear. Not of them, but of us. They stripped away our hopes of what humanity could be, shined a light on the ugly reality of what we were. We saw that humanity would not stand as one. Those willing to fight would have to stand alone. But still we stood.

They came in wave after unrelenting wave, barely any attempt to avoid our fire. It was like no matter the death toll it was all just a game to them. Maybe victory was just a second thought to the little bastards. What they wanted was to see the moment when we broke, when we'd see that no matter how desperate our defense they had already won. But still we stood.

And now the invaders are gone. Seems as though they are forgotten already. What of us that fought and remain? Do we deserve the same fate as the foe we battled?
Never Forget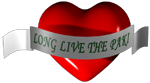 Total Posts
Total Posts

11,146
Posts Per Day

1.71
Visitor Messages
Total Messages

1
Most Recent Message

09-02-2009
General Information
Last Activity

12-25-2021
Join Date

11-16-2004
13

Friends

Showing Friends 1 to 10 of 13
09-16-2016
09-04-2016
09-08-2014
02-20-2014
12-13-2013
03-19-2013
02-01-2013
12-19-2012
11-12-2012
11-01-2012
10-15-2012
08-28-2018
12-13-2016
11-10-2016
09-16-2016
09-15-2016
09-11-2016
06-22-2016
06-21-2016
04-21-2016
04-13-2016
04-07-2016
03-09-2016
03-02-2016
02-10-2016
02-05-2016