Grade: San Antonio Spurs vs. Brooklyn Nets – Game #30
The San Antonio Spurs dropped a whacky one to the Brooklyn Nets on Monday night. With two minutes remaining, the Spurs trailed by ten points and the game appeared to be all but over. But, out of nowhere, San Antonio scored ten consecutive points capped by a buzzer-beating jumper by Dejounte Murray to send the game into overtime.
Unfortunately, the good guys weren't able to carry momentum into the extra session and ended up losing by a final score of 124-113. 
Overall, I thought the Spurs played pretty well given the circumstances. Their defense was stout for stretches and the offense created quality shots on a semi-consistent basis. The Nets needed career-best games from role players Bruce Brown and Nicolas Claxton to get the win. Brooklyn improved to 23-13 with the win, while San Antonio fell to 17-13.
Key Stretch
After the Spurs authored a hellacious 10-0 run to close the fourth quarter, the Nets responded with an 8-0 blitz to open overtime. While the Spurs got within three points with two minutes remaining, Bruce Brown assisted Kyrie Irving on a three-pointer and then hit a shot in the lane to put Brooklyn back up by eight points and end San Antonio's hope for another miraculous comeback. 
Key Statistic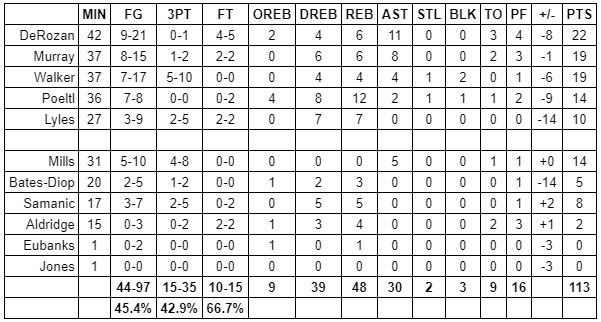 Spurs vs. Nets: Final Grades
DeMar DeRozan
The Nets were switching a lot, collapsing on DeRozan's drives and being physical with him. While he was still able to score 22 points and hand out 11 assists, it was rough sledding all night. Nothing came easy, so give DeRozan credit for continuing to scratch and claw. That said, his slowness on the perimeter made him a liability on defense (even when he was trying his best) and he lost focus too often when whistles didn't go his way.
Grade: B
Dejounte Murray
The good: I thought Murray's playmaking was solid for the most part. He was usually making the right decisions. His energy level was high right out of the gates and his effort on both ends was commendable. The bad: Murray made a handful of costly mistakes. From ill-advised rotations on defense to forcing too much at times on offense, the point guard needed to play a cleaner brand of basketball for the Spurs to win this game. 
Grade: B
Lonnie Walker IV
This was a roller coaster of a game for Walker. His three-point shooting kept the Spurs in it; the threes he created himself were especially important. He also had a couple of his better passes of the season and was better than usual in terms of help-defense. On the other end of the spectrum, his offensive attack featured a few frustratingly feeble forays to the hoop. His individual defense also wasn't much to write home about. Walker was close to putting together a strong outing but there were enough loose ends that left me wanting more from him. 
Grade: B
Jakob Poeltl
I can't really blame Poeltl for much of anything in this game. His focus and tenacity on defense were there, even though he was scored on, over and around more often than usual. The Austrian was strong on the glass, scored with a variety of flip shots and heady rolls to the rack, and competed on both ends. 
Grade: B+
Trey Lyles
Lyles' numbers don't look particularly bad but given the way the Nets were defending him, he needed to do more. Brooklyn put smalls on him and were quick to rotate off of him … but Lyles too rarely took advantage. On defense, he was more of a liability than an asset. No offensive rebounding and no lane-clogging on defense made it questionable whether he deserved his minutes. 
Grade: C
Patty Mills
Mills shot it straight, his creation skills were better than usual and his perimeter defense was usually a plus. He had lulls where he wasn't doing much but, then again, the Nets were really trying not to rotate off of him. 
Grade: B+
Keita Bates-Diop
I don't think Bates-Diop was especially terrible but it's difficult to justify the minutes he received. On defense, his length was handy at times but he wasn't often on the ball, so his impact was somewhat limited. Seeing him knock down a three-pointer was good to witness but the Nets rarely paid attention to him. All in all, I thought Bates-Diop was okay-ish but I wouldn't go as far as to say this should earn him minutes going forward. 
Grade: B-
Luka Samanic
Another game, another set of positive signs from Samanic. Given his size, I was really impressed with his perimeter defense. Other than one unwise foul, he did really well. Samanic moves his feet exquisitely and he's strong enough to hold his ground. Offensively, he didn't hesitate to shoot when open and flashed an exciting amount of athleticism when he was on the move. The youngster is still really green but this was without a doubt another step in the right direction. 
Grade: B
LaMarcus Aldridge
Aldridge never got anything going. Offensively, he looked unsure of where to set up shop. Defensively, he wasn't moving well enough to do a whole lot of good. He helped a little bit on the boards but that was the extent of his positives. Everything else was ugly to watch. 
Grade: D+
Pop
I thought the Xs and Os from Pop were good enough. That said, I didn't like other areas of his coaching performance. Rotations-wise, while I realize the options are limited, I thought Lyles and Bates-Diop played too much. Considering the small lineups the Nets utilized, I would have preferred faster lineups in general and more Tre Jones specifically. Even Samanic's athleticism would have given the Spurs more upside. Additionally, I thought Pop was too hard on Murray. He was screaming at him all night to the point that Murray was obviously distracted. Pop coaching his point guards hard is a good thing usually, but with as short-handed as his team is right now, getting into the head of one of his own players wasn't the wisest of moves.
Grade: D+
Next Up
The Spurs turn around right away and play the New York Knicks tomorrow night in the AT&T Center. The Knicks are actually over .500 at 18-17 so this won't be the automatic W your parents and grandparents are accustomed to when that squad comes to town.