Grades: San Antonio Spurs at Oklahoma City Thunder – Game #10
The San Antonio Spurs suffered arguably their most disappointing loss of the season on Sunday night when they fell to the Oklahoma City Thunder by a final score of 99-94. After losing this very winnable contest against a rebuilding team that entered with a 2-6 record, the Spurs are now 3-7 on the season. 
The good guys actually started out the contest playing great basketball, as they led by 14 points after the first quarter and by ten points at halftime. The third quarter, though, was disastrous. The Thunder outscored the Spurs 34-14 in the period, with San Antonio hitting only 7-of-25 field goal attempts and none of their nine three-point tries.
The Spurs rallied back to grab a short-lived advantage in the fourth quarter but another offensive drought allowed the Thunder to pull away. All in all, San Antonio played solid defense but their second half offense sputtered too much to come away with a win.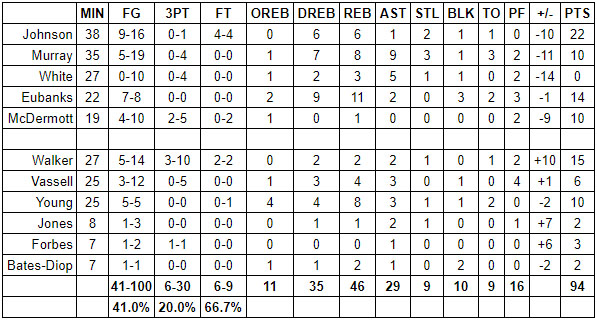 Keldon Johnson
The good: Johnson's determined drives to the rim were oftentimes the team's most reliable weapon in their arsenal. He made mistakes on defense but the effort was there. The bad: He passed up wide open three-pointers and had blinders on when he drove.
Grade: B+
Dejounte Murray
I actually thought Murray played really good defense and authored a few heady passes. Unfortunately, his atrocious shooting night negated his positives. He tried to put the team on his shoulders but actually just made matters worse. His ball-handling was looser than usual and he had too many passes that were inexplicably off target.
Grade: D+
Derrick White
Right after I praised White for moving well early in the season, White laid an egg. When he wasn't shooting flat-footed three-pointers, he was barreling into the lane to try an ugly flat-footed floater. His defense was also very disappointing. 
Grade: F
Drew Eubanks
Eubanks can't be blamed for this loss. The Thunder were allowed to be physical with him but he didn't back down. He finished well, rebounded well and protected the rim consistently. He also had a couple of timely passes.
Grade: B+
Doug McDermott
McDermott shot relatively well and smartly moved without the ball. His defense was nothing to write home about but he competed.
Grade: B-
Lonnie Walker IV
Walker launched early and often from three-point range. I liked his aggressiveness and the bravery he displayed when most of his teammates were second-guessing their shots; too bad his three-pointer with seven seconds left that could have tied the game clanged off the backboard.
Grade: B
Devin Vassell
The good: Vassell had moments where he was great defensively. He also made some slick passes on the move. The bad: Vassell sometimes tried to do too much on defense and that led to bad fouls and numerous times where he put his teammates in bad positions. Offensively, his shot-selection wasn't great and he didn't knock down his open looks.
Grade: D+
Thaddeus Young
Young was rock solid across the board. He used positioning, smarts and craftiness to finish. He passed the ball well and was super active on the boards. Young's defense wasn't great but it was usually good enough. 
Grade: B+
Tre Jones
Jones was okay-ish but uncharacteristically played out of control. He was seemingly always in a hurry and wasn't the calming influence he usually is when he's inserted into a game.
Grade: C+
Bryn Forbes
Forbes played all seven of his minutes in the fourth quarter. He didn't do a ton but considering that his teammates were a combined 0-for-14 from three-point range in the second half, his fourth quarter three-pointer felt like a miracle. 
Grade: B-
Keita Bates-Diop
Bates-Diop was actually playing really well, especially on the defensive end. Unfortunately, he landed hard on his back after taking a scary fall and was forced to leave the game.
Grade: B+
Pop
Pop deserves some blame for the second half offensive meltdown. He never found a combination that appeared to have a plan on that end of the court. Why did McDermott only play seven minutes in the second half? Didn't the Spurs specifically sign him to space the floor on frigid nights like this? 
Grade: C-
Up Next
The Spurs next play the Sacramento Kings on Wednesday in the AT&T Center. San Antonio's schedule gets difficult again after that game so a win on Wednesday is very much needed.