Grades: San Antonio Spurs at Atlanta Hawks – Grade #26
The San Antonio Spurs absolutely obliterated the Atlanta Hawks on Friday night in their first game of the 2021 Rodeo Road Trip. The final score, 125-114, doesn't begin to tell the story of how much the good guys dominated. The Spurs (15-11) led by as many as 42 points before garbage time commenced. 
Key Stretch
With ten minutes remaining in the second quarter, the Spurs were up only three points, 36-33. Patty Mills then hit consecutive three-pointers to spark an ungodly 37-11 run that basically ended the game prior to intermission.
Key Statistic
San Antonio's offense has sputtered recently. In their previous five games, they were averaging 104 points per game. (To put that number in perspective for oldheads, only one team [New York Knicks] averages fewer points this season.) Through three quarters against the Hawks, the Spurs had 110 points on 61.8% shooting from the field, including 12-for-23 from three-point land. Let's hope this is a sign that they're back on track offensively.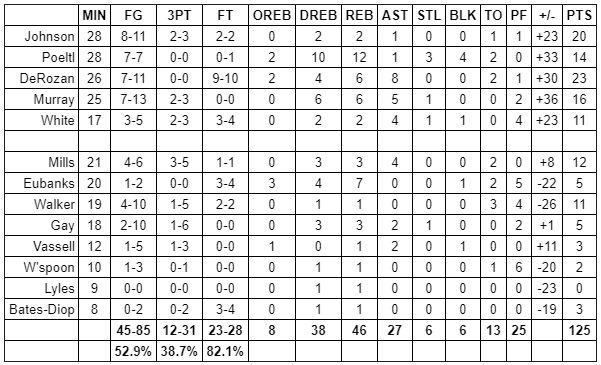 Spurs at Hawks: Final Grades
Keldon Johnson
Johnson really needed a game like this. Recently, he has been thinking too much, pressing too much and making things overly difficult. Tonight, he just played and let the game come to him. The results were very positive. His drives to the rim were smart, his three-point shot looked smooth and his defense was much better than usual. Let's hope Johnson can use this as a springboard going forward. 
Grade: A-
Jakob Poeltl
Wow. This was as dominant as I've ever seen Poeltl play. He very well might have been the best player on the court. Defensively, he was a terror. He was engulfing any Hawk that dared to fly into the lane. When he wasn't blocking shots or impeding passing lanes, he was out on the perimeter defending like a wing or inhaling contested rebounds in the interior. Offensively, he was making hard cuts, remained alert and his hands were outstanding. I'm not sure Poeltl can play better. 
Grade: A+
DeMar DeRozan
DeRozan's first half was spectacular. In 18 minutes, he had 22 points, six assists and six rebounds and was 8-for-8 at the charity strip. He ferociously attacked the rim, utilized nimble footwork in the lane and was authoring fantastic passes. He remained mentally engaged on defense and his rebounding helped spark opportunities in transition. All in all, give this man credit for coming out ready to play to begin the Rodeo Road Trip. The player most responsible for San Antonio scoring 77 first half points was DeRozan. 
Grade: A
Dejounte Murray
This was a well played game by Murray. First of all, he was strong defensively. When he was in the game, Trae Young had a difficult time scoring due to Murray's individual- and help-defense. Offensively, he was extremely sharp. He didn't have a turnover and his spryness was the best we've seen since he sprained his ankle against the Dallas Mavericks. Murray kept the pedal to the metal in all phases of the game — and that's when he's at his best. 
Grade: A-
Derrick White
Considering White came into this game shooting 33.3% from the field and 27.3% on three-pointers, it was great to see him rediscover his footing offensively. His athleticism is slowly returning and he had better lift on his jumper. Passing, as is usually the case, was a plus. Defensively, he was really smart and was almost always in the right spot. 
Grade: B+
Patty Mills
As mentioned above, Mills played a pivotal role in blowing this game open. When the Spurs got tentative, he responded with a devil-may-care attitude that his teammates fed off of and that confidence seemed to lubricate San Antonio's offensive machine. In addition to his shooting, Mills' passing was also much better than we've witnessed in recent games. I also thought he was a plus defensively. 
Grade: A-
Drew Eubanks
The good: Eubanks flashed an ability to defend out on the perimeter. Considering how the NBA is shrinking, that would be a huge development and would help futureproof his game. His athleticism around the rim also remains a plus on both ends. Offensively, his screening was helpful. The bad: He could have finished stronger in the paint. Defensively, he had a few mistakes that would have hurt if the game wasn't a blowout. In garbage time, he didn't do a whole lot. 
Grade: B-
Lonnie Walker IV
Walker looked much better than last game … although that's not saying much. He was given a lot of free reign but didn't really take advantage. It would have been nice to see him dominate in garbage time but he actually was a negative influence.
Grade: C
Rudy Gay
Gay wasn't taking good shots. At times, he was the only Spurs player who was routinely breaking the offense. Thankfully, it didn't end up hurting the Spurs … but Gay needs to pull back a bit in terms of his liberal shot-selection. 
Grade: D+
Devin Vassell
Vassell hit a three-pointer, made a couple good passes and played some good defense. Sadly, he also missed a few makeable shots and it looked like he hurt himself at some point in the second half. Let's hope it was nothing serious. 
Grade: C
Quinndary Weatherspoon
Yikes. Weatherspoon was the quarterback of the garbage time crew that got the Spurs outscored 42-15 in the fourth quarter. He … didn't look good. Offensively, he struggled with basics and couldn't create anything for himself or others. Defensively, he was hacking nonstop. He ended up fouling out even though he just played in the fourth quarter. I'm not even mad, that's amazing. On one hand, it's understandable that Weatherspoon struggled because he has barely played. On the other hand, it's worrisome that he looked nothing like an NBA-caliber player. 
Grade: D-
Trey Lyles
Lyles was supposedly on the court for nine minutes in the fourth quarter. If true, his ability to be invisible on the basketball current during real NBA minutes is pretty nifty. 
Grade: D
Keita Bates-Diop
Unlike a lot of his teammates, Bates-Diop should have been motivated to play during garbage time. He could have used that time to show the coaching staff that he's trustworthy. Instead, he looked like a less athletic Kyle Anderson with an even more pronounced hitch in his shot. Oof. 
Grade: D
Pop
Let's just pretend that the fourth quarter didn't happen. Alright? Alright. I like the starting lineup. White needs to start and Walker in theory should get more consistent touches with the bench unit. I'm in favor of sticking with this alignment. Rotations-wise, I liked what Pop did. Giving more time to Poeltl basically ended the game with as well as Poeltl was playing. 
Grade: A-
Next Up
The Spurs will play the Charlotte Hornets on Sunday night with the hopes of improving to 2-0 on the Rodeo Road Trip.