Grades: San Antonio Spurs vs. Atlanta Hawks – Game #40
Wow, talk about a disappointing and, frankly, embarrassing loss. The San Antonio Spurs (17-23) lost at home to the lowly Atlanta Hawks (10-32) after collapsing down the stretch. The win improved Atlanta's road record to 5-18 and snapped San Antonio's three-game winning streak at home.
In the first half, the Spurs were basically sleepwalking. Offensively, they were stale and stuck in the mud. The effort was mediocre and there was no sign of any cohesion. Defensively, the Spurs were even worse. They basically let the Hawks do whatever they wanted and exhibited minimal fight or passion. At the halftime break, the Hawks held a 67-58 advantage.
The good guys made an appearance in the third quarter. On offense, the tempo was pushed, the ball-movement was much improved and the team played with more urgency. The defense, too, was much improved. San Antonio was chasing Atlanta doggedly to force them into going to their second and third options on offense. The result was a quarter in which the Spurs outscored the Hawks 41-21.
Unfortunately, that positive mojo was lost in the fourth quarter. The Spurs led by 14 points a couple minutes into the period — but the Silver and Black never put the Hawks away. Instead, they let them hang around and slowly chip away at the lead. 
With two minutes remaining in the contest, the Spurs held a seven-point advantage, 118-111. That's when the halfhearted effort transformed into an embarrassment. Hawks second-year star Trae Young scored seven straight points for the Hawks, while the Spurs only had a layup by Patty Mills during that span. 
With the Spurs up two and time running out, Young broke down San Antonio's defense once again and Kevin Huerter nailed a three-pointer to give the Hawks a one-point lead. DeMar DeRozan missed a desperation shot in the lane as time expired to give the Hawks a 121-120 victory.
The right word to describe this loss is somewhere between embarrassing and pathetic. The Spurs weren't playing well but they still should have had enough to win the game against an overmatched opponent. Unfortunately, poor coaching and a few poor decisions down the stretch doomed their chances. Remember that successful road trip? Well, this terrible loss undid most of, if not all, the good done out on the road.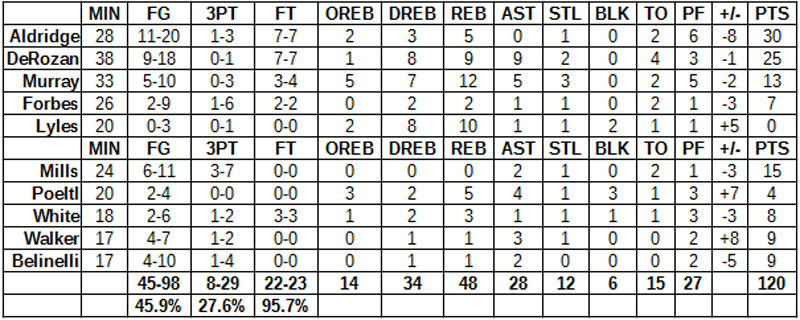 Spurs vs. Hawks – Final Grades
LaMarcus Aldridge
The good: LaMarcus Aldridge got back to scoring buckets from within the three-point arc. He was 10-for-17 on twos and 7-for-7 from the free throw line. He did good work on offense, for the most part, as he took advantage of Atlanta's mix of undersized and inexperienced bigs. The bad: Aldridge doing work from two-point range degated some of the spacing that had allowed the Spurs to thrive offensively as of late. He shot a trio of three-pointers but he could have had a lot more. Defensively, he was one of the guiltiest in terms of standing around and watching. He wasn't helping much at all, he was slow getting back in transition and only sometimes looked interested in grabbing rebounds.
Grade: C
DeMar DeRozan
DeMar DeRozan has been amazing as of late — and he continued a lot of that on Friday night. He took good shots for the most part, attacked hard, created for his teammates (nine assists) and was successful in isolations. Defensively, this was one of his best games of the season. He was reading passing lanes well, hustling, battling in the post at times and was strong on the defensive backboard. What kept this from being another amazing DeRozan game was his lack of rhythm on offense. His teammates never quite knew what to expect as he was sometimes slow to take advantage of openings. Additionally, DeRozan turned it over four times and missed both of his shots in the final minute, either of which probably wins the game for the Spurs.
Grade: B+
Dejounte Murray
The good: Dejounte Murray was using his length well on defense to get his hands on a lot of balls. He was attacking ball-handlers and making it difficult for the Hawks to initiate their offense. Offensively, he was decent enough attacking the lane and made a few nice passes. Rebounding-wise, Murray was a beast on both ends. The bad: Murray gambled too much on defense and Trae Young routinely made him pay for those gambles — and so did Kevin Huerter on that last shot. Offensively, he didn't run the show particularly well, missed all three of his three-pointers and then lost confidence in his jumper, and had a few boneheaded mistakes.
Grade: B-
Bryn Forbes
The Spurs got more of the same from Bryn Forbes: poor shooting, too liberal of a shot-selection, too much going 1-on-5 on offense and too much poor defense on the other end. He was trying on D but he's just too small, too stubby, too unathletic and too slow to do too much.
Grade: D+
Trey Lyles
Bizarro Trey Lyles is still out here mystifying the basketball world. He came to San Antonio as a shot-happy scorer. With the Spurs, Lyles has done a bit of anything except score the ball on a consistent basis. Tonight, he rebounded well, he was relatively alive on defense and he used his skills to help facilitate on the offensive end. But his inability to score the ball soon made him a liability on offense. And, at this point, Lyles isn't good enough on defense to overcome that. 
Grade: C-
Patty Mills
Patty Mills' statistics look fine and he played decently. He was looking for shots all night, ran the court hard and got a couple layups in transition, and tried to lift the Spurs out of their doldrums a couple times. Defensively, Mills had a difficult time of it for much of the night. He had no chance of guarding Young and didn't do much against anyone else. Mills' energy and hustle wasn't quite what we saw out of him on the road trip.
Grade: B
Jakob Poeltl
Jakob Poeltl was active in multiple areas of the game. Offensively, his passing really stood out as helpful. He also hit the offensive glass and was a threat in transition. Defensively, Poeltl totaled three more blocks and was stout in the lane. He could have done a better job on the defensive glass and his screens on offense rarely resulted in something positive, as his timing was off when rolling.
Grade: B+
Derrick White
Pop was trying to encourage Derrick White to be more aggressive but his aggression only came in spurts. For the most part, White was much too passive. He did minimal playmaking and for some reason his ball-handling was poor tonight; the Hawks seemingly caused him to bobble the ball every other time he had it. A more determined and focused White could have made a big difference tonight. Instead, it was another timid on-and-off performance.
Grade: C
Lonnie Walker IV
I thought Lonnie Walker IV did pretty darn well. He got sucked in too far on defense a couple times and didn't take the right angle defensively a couple other times — but for the most part he competed and his enthusiasm on that end was palpable. Offensively, he started a bit slow but heated up and carried the Spurs for a stretch. Walker's shot looks good, he's confident letting it go, and his quickness and explosion allow him to create space at will. Walker should have played more tonight.
Grade: B+
Marco Belinelli
With Rudy Gay out, Marco Belinelli was elevated to take a spot in the main rotation. He hit a couple more shots than usual but I wasn't too impressed with how he played. Belinelli took his share of bad shots (you're really going to shoot leaning 21-footers at this point, Marco?) and was a step behind on the defensive end, per usual.
Grade: C-
Pop
Just when I thought Pop turned the corner over the last handful of games, he puts together another stinker. Going with Belinelli to replace Gay was weird, even against a small Hawks team. His trust of Forbes needs to be broken if the Spurs are going to do anything this season. Playing Belinelli as many minutes as Walker was almost criminal. But where Pop really hurt the team was in the fourth quarter. The guy seriously trotted out a lineup that featured Mills, Forbes and Belinelli along with White playing power forward in a fourth quarter while allegedly attempting to win an NBA game. He had a few other doozies lineups-wise in the fourth. Then, to put the rotten cherry on top of the basuda sundae, Pop had Mills defend Young in the game's most important possession despite both Murray and White being on the floor. That's so insane that it's almost impressive. I'm not sure there are many other scenarios that could be thought up that would be more insane than having Mills defend the deadliest point guard in the league while having two quality point guard defenders on the court watching it fail. My God.
Grade: F+
Up Next for the Spurs
If the sun indeed comes up tomorrow, the schedule indicates the Spurs will play the Heat on Sunday. This time at home. Let's hope it's a better experience than what happened tonight.