Grades: San Antonio Spurs at Atlanta Hawks – Game #7
The San Antonio Spurs dropped to 4-3 on the season after a disappointing loss in Atlanta against a youthful Hawks squad. The Spurs appeared to grab control in the second half before falling flat on their faces. San Antonio is now 1-2 on the road this season.
The first half was a lot of low-quality basketball that featured a pair of teams incapable of creating separation. The Hawks led by one after the end of the first period, while the Spurs took a one-point lead into halftime.
Late in the third quarter, the Spurs went on an 8-0 run to push a one-point lead to a 72-63 advantage with 3:39 remaining in the period. Heading into the fourth, the Spurs still had an eight-point lead, 78-70.
The final stanza was an unmitigated disaster for the Spurs. The Hawks hit three straight three-pointers to take a one-point lead 80 seconds into the quarter. The Spurs didn't immediately fall to the canvas and were able to right themselves for a few more minutes. But after a DeMar DeRozan jumper with 8:28 remaining put San Antonio up by four points, the wheels fell off the offensive wagon.
The Spurs didn't make a field goal for the next four and a half minutes. By then, the Hawks were on fire and were taking advantage of multiple questionable coaching decisions. The Spurs never seriously threatened again and fell by a final score of 108-100.
That was an ugly game for the Spurs. The Hawks looked more than willing to roll over and die but due to a combination of bad coaching and poor play, Atlanta was given life and eventually they played just well enough to put San Antonio out of their largely self-inflicted misery.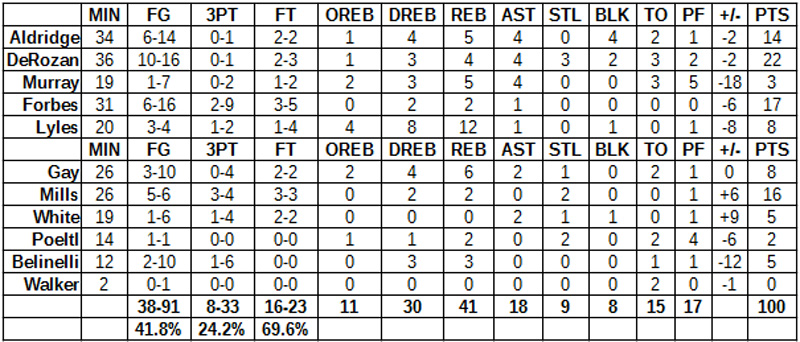 Spurs at Hawks – Final Grades
LaMarcus Aldridge
Offensively, this was another weak performance out of LaMarcus Aldridge. He passed the ball better than usual but rarely put in the effort to take advantage of his size and skill advantage against a small, inexperienced Hawks team. There were flashes of energy from Aldridge but mostly he went through the motions on offense. (It should be noted that one of his baskets was an accidental tip-in by the Hawks, so his shooting was even worse than it looks.) On defense, Aldridge was more than solid in the first half, as he totaled four blocks in his first 18 minutes of action. But his defense in the second half was comatose. Aldridge not only was inept when switched onto smaller players, he also managed to play 15 and a half minutes in the second half without a defensive rebound, block or steal. It's not going to be easy for the Spurs to win these games in which Aldridge is spending most of his time on the court sleepjogging.
Grade: C-
DeMar DeRozan
The one player I can't fault for this loss is DeMar DeRozan. He was much more active than usual on defense, as he tallied three steals and two blocked shots. No matter if he was guarding a bigger player or a quicker player, DeRozan remained locked in and tried hard. On offense, he did a lot of good. He scored 22 points on 10-for-16 shooting and his assist total (4) doesn't tell the story of how many open shots he was creating for his teammates. The Hawks were backing way off of him but DeRozan was still able to get good shots in the paint and at the rim. And while he did some complaining, I thought he was much better about not letting his emotions disrupt his flow. 
Grade: A-
Dejounte Murray
Dejounte Murray struggled in just about every facet tonight. On offense, his orchestrating of the offense was glaringly out of rhythm. His passes were usually ill-timed and off target, while his decision-making oscillated between bad and terrible. Murray's outside jumper didn't look good, as the ball was floating with minimal rotation after leaving his fingertips. Defensively, he had some good moments but wasn't disciplined enough. It's true that he had a few bogus whistles go against him but he has to be smarter on that end. Murray too often fell asleep on the weak-side or needlessly went for blocks and steals.  
Grade: D+
Bryn Forbes
When he's on the court, Bryn Forbes needs to shoot it and shoot it often. That said, I think he's been too aggressive the last few games. That was definitely the case again in Atlanta. Forbes doesn't need to shoot over multiple outstretched arms after he has drawn an extra defender. After another poor shooting performance, Forbes is now at 40.2% from the field and 33.3% from three-point range. Defensively, he was quick to loose balls but that was about the extent of his contributions on that end. The Hawks' bouncy youngins made Forbes look especially landlocked. 
Grade: C-
Trey Lyles
Well, one silver lining on this otherwise dreary evening was Trey Lyles showing that, yes, he is able to make a shot from three-point range. After hitting his first shot outside of the paint of his Spurs career last game, the 24-year-old birthday boy followed that up with two jumpers (one a three-pointer) and a floater from the baseline. His stroke actually looked. Rebounding-wise, he got off to a great start. In his first 12 minutes of playing time, he pulled down 12 boards. Unfortunately, he went without a rebound in his final 8 minutes and his performance on defense slowly but slowly got worse as the game progressed. Lyles looks like he's a smart defender for a big man but he doesn't have quick-twitch reaction speed so all it takes is one misstep and he'll fall behind the play.
Grade: B
Rudy Gay
Aesthetically, Rudy Gay appeared to be in a state of discombobulation for most of his minutes on the court. When he tried to dribble or even control the ball in a crowd, Gay couldn't help but start fumbling it away. His night in a nutshell is best summarized by the shot he fired from about 50 feet away at the end of the third quarter … when there was still eight seconds left on the clock. Gay also was discoordinated on the defensive end, as he had trouble defending out on the perimeter and was more malleable than usual in the paint. 
Grade: C-
Patty Mills
On one hand, Patty Mills' shooting gave the Spurs life when just about every other aspect of the offense was twisted in knots. For a while, it looked like Mills was going to be the road hero he was in San Francisco. But then two things happened. Firstly, his offense completely dried up in the fourth quarter, as he missed the only shot he attempted. Secondly, Pop somehow forgot (?) Mills isn't a defensive stopper and Mills got embarrassed by Trae Young on defense. Mills gave effort but it's been a good half decade since the Australian was even a decent defender. How much of his struggles tonight were Mills' fault, though? That was more a case of bad coaching than Mills not living up to expectations.
Grade: B
Derrick White
Coming into the game, Derrick White was officially listed as questionable after a hard foul by Dwight Howard in the Lakers game. Playing with a bruised gluteus maximus, White had a rough outing offensive. He missed his first five shots from the field and, like usual when he doesn't hit shots early, his confidence plummeted. By the second half, he was passing up wide open shots and was mostly timid in terms of playmaking. Defensively, though, he was good. He drew two charges for the second straight game and had a handful of other crafty plays on that end. White needs to be steadier on offense when things aren't bouncing his way but it was good to see he kept his defensive intensity at maximum volume throughout.
Grade: C
Jakob Poeltl
I don't understand why Jakob Poeltl is struggling so much. Going against a Hawks team with minimal size and certainly no intimidating size, Poeltl was impotent. Defensively, the Hawks were knocking him off balance or simply going through him. Offensively, he couldn't find a way to get involved and only had one offensive rebound even though the Hawks played either small ball or tiny ball. Poeltl's offensive rebounding has dried up as of late, which is concerning because that's his primary skill in life. He seems to be playing hard in terms of running the court and hustling into position but Poeltl is completely out of rhythm and he needs to play with more forcefulness. 
Grade: D
Marco Belinelli
Marco Belinelli played more than half the fourth quarter after not seeing much action before that point. Why? I don't know. He hit a couple shots in the opening minutes of the fourth but he more than gave it up on defense and then made matters worse by missing subsequent open shots. I know the coaches want more shooting on the court and Belinelli can theoretically shoot but he's playing way too many important minutes lately. He's now down to 27.5% from the field on the season and has hit only 4-of-22 three-pointers. 
Grade: C-
Lonnie Walker IV
Lonnie Walker IV got some minutes (two minutes and 21 seconds, to be exact) in the third quarter and didn't really help his case for more minutes. He had a hustle play on defense but took a questionable shot on offense and turned it over twice (a bad in-bounds pass and a travel). 
Grade: Inc.
Pop
Where to start? If you're going against a team with Trae Young and you have Dejounte Murray and Derrick White on your team, there's no excuse if one of those two guys isn't defending Young in the fourth quarter. But, there we were, watching Patty Mills get obliterated by Young in the fourth. I would give Pop the benefit of the doubt and say Murray and White were both dealing with injuries or his hand was forced by the restricted minutes, etcetera, etcetera, but there were a few possessions where Pop had Mills defending Young even though White was also on the court. Terrible coaching. But, honestly, that was just the tip of the iceberg in terms of poor coaching this game. You had, in no particular order, the following occurrences tonight: Belinelli playing more than half of the fourth, compounding Mills' defensive limitations in the fourth by playing Forbes next to him, running plays for Mills and Forbes over DeRozan in the fourth, neither Murray nor White playing 20 minutes, the starters getting rushed back into the game when the bench was playing well, and I could go on. 
Grade: F
Next Up
The Spurs hop on a plane and go back to San Antonio for a three-game homestand in which they play the Oklahoma City Thunder, Boston Celtics and Memphis Grizzlies. A sweep of those three games will help erase the memories of tonight's debacle. At the very least, the Spurs need to go 2-1 in the homestand to avoid having to sound an early season alarm.