Grades: San Antonio Spurs vs. Boston Celtics – Game #9
Early on, it looked like the San Antonio Spurs came to play. A couple minutes into the game, the Spurs held a 7-0 lead over the Boston Celtics and were flying around on offense and active on defense. Then, after a couple sloppy plays, the wheels came completely off. The Celtics responded with a 19-3 run — and the Spurs never really challenged again, as Boston ran away with a 135-115 victory.
The Spurs trailed by nine points at the end of the first quarter. The Celtics took a double-digit lead in the second quarter and never looked back. San Antonio went on a couple half-hearted runs in front of their home fans but never made it a truly competitive contest.
If this was a test to see if San Antonio is ready to compete against upper echelon teams, they failed miserably. Back to the drawing board.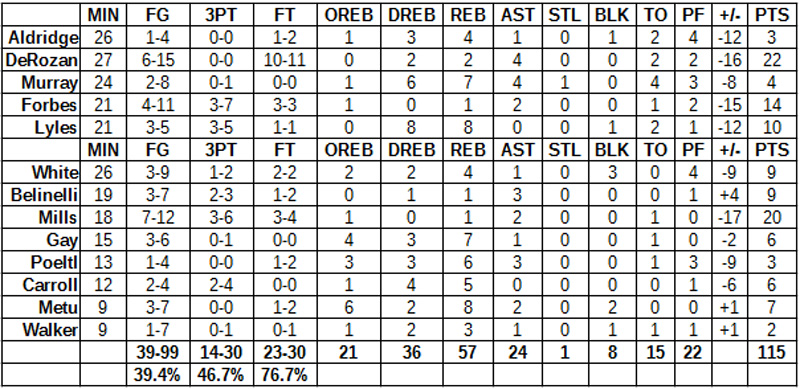 San Antonio Spurs vs. Boston Celtics – Final Grades
LaMarcus Aldridge
One game after scoring 39 points in an A+ effort against the Oklahoma City Thunder, LaMarcus Aldridge came crashing back down to earth. Heading into this game against a Celtics squad that didn't start anyone taller than 6-foot-8, it was clear that the Spurs needed to establish Aldridge down low. If the Spurs were going to win, it was going to be due to Aldridge exploiting his matchup advantage in the post. But, instead, Aldridge never really did anything. While it's true that the Spurs could have done more to give him quality touches, Aldridge basically just quit playing when things got tough. He never came close to taking advantage of his size advantage and was satisfied with just going through the motions on both ends. This team isn't going to go far if their All-Star from last season rolls over and plays dead at the first sign of adversity. 
Grade: F
DeMar DeRozan
The good: DeMar DeRozan got to the line 11 times, hit a long two-pointer with his toe on the line (almost his first three-pointer of the calendar year!) and did okay in terms of taking care of the ball. While it's not exactly a high bar, I'd rate his defensive effort tonight as better than what we usually see. The bad: The Celtics were smartly stacking the paint whenever DeRozan got the ball and, as a result, he didn't have an official field goal attempt inside of eight feet. If teams start playing him as a complete non-shooter, that's going to make everyone's life more difficult. I also thought DeRozan could have been a better playmaker against Boston. He could have done more to get the ball to Aldridge early, for example. Additionally, DeRozan was back to being extra pouty tonight. 
Grade: C+
Dejounte Murray
Dejounte Murray is obviously experiencing some growing pains as he figures out his place on this team and his place in the league. Offensively, he had a few good moments where he either made crafty moves to the rim or found teammates with perfect passes. Unfortunately, he had many more possessions where he dribbled aimlessly and committed momentum-killing turnovers. Defensively, he wasn't bad but he also wasn't too effective. Murray did play hard and didn't give up — but his actual play was lacking, to put it gently. 
Grade: D
Bryn Forbes
Defensively, I was impressed with Bryn Forbes coming out of the gates. He was engaged, physical and a step ahead of what the Celtics wanted to do. Then after a couple minutes of game time elapsed, Forbes returned to playing his typical ineffective defense. Against an athletic, talented Celtics team, Forbes was a liability on defense. Offensively, he was mostly fine. He shot well enough from the perimeter, although he didn't exhibit much touch in the lane. Whenever he attacked the basket, he basically just tossed panic shots at the general vicinity of the rim. 
Grade: C
Trey Lyles
From Joffrey Lauvergne to Larry Bird overnight! Well, not exactly but Trey Lyles is suddenly looking like a capable offensive player. After not hitting a three-pointer in the preseason or in the first six games of the regular season, Lyles is now 6-for-9 on three-pointers over the last three games. Nice. His shot looks very good right now: good knee bend, good release point, good rotation on his shot. While there are many rough edges with Lyles' play, there is also a healthy amount of intrigue. Against the Celtics, he defended Jayson Tatum relatively well, was quick to the boards and even flashed some quality help-defense instincts. In this ugly night of San Antonio basketball, Lyles offered a glimpse of a silver lining.
Grade: B+
Derrick White
Still riding an exercise bike to keep his injured glute loose when he's not in the game, Derrick White had an adequate outing. He had a few extremely strong possessions defensively; he finished the game with three blocked shots after entering the game with four blocks for the season. With competitors on defense in short supply, White's willingness to scrap earned him some bonus points. Offensively, it wasn't nearly as smooth for White. While he didn't record a turnover, he also wasn't making plays — which is obviously not something you want to hear about your backup point guard. White's shooting was also off, although his aggression going to the hoop was appreciated. 
Grade: B-
Marco Belinelli
Marco Belinelli tied or set season-highs in points, field goals, field goal percentage, three-pointers, three-point percentage and assists. Regardless of those high water marks, Belinelli was still far from good. Defensively, he was inept. He was so bad at times that his defense got him pulled from the game — which is notable because Pop usually lives with Belinelli's defensive miscues, so you know these mistakes had to be egregious. Offensively, Belinelli was better, obviously (he came into the game shooting 24% from the field and 18.5% on threes). But he still has a long way to go before he's a positive influence on the court. 
Grade: C
Patty Mills
Offensively, Patty Mills was really good. In a return to the role he used to play next to Manu Ginobili, Mills is thriving. Without any of the playmaking duties, he's just concentrating on putting points on the board. The result is Mills shooting 50% from both the field and from three, while having the highest scoring rate of his career. He will revert to the mean at some point but he does look a whole lot more comfortable in his role this season. Defensively, though, it's been a struggle and he was decidedly sub par against the Celtics. Boston has a bevy of scorers and athletes so it was impossible to find a place for Mills to hide on defense. It's no mistake that the Spurs found it nearly impossible to get a stop when Mills was on the court. 
Grade: B
Rudy Gay
Rudy Gay played relatively hard and his production was decent. However, he looked alarmingly unathletic and clumsy against the Celtics. It was another game where Gay struggled to even hold onto the ball. And his agility is missing in terms of going low to scoop up a loose ball or to even catch a pass. In his favor, Gay rebounded well and generally played within the offense. 
Grade: C+
Jakob Poeltl
The good: Jakob Poeltl authored a couple of his best passes of the season tonight. For a center, he's really good at passing in motion. He also got back to his bread and butter: offensive rebounding. The bad: Robert Williams ate Poeltl's lunch during multiple possessions. Poeltl getting outplayed that handily by the opposing team's backup center makes it difficult for San Antonio's bench to compete. Overall, the Austrian just doesn't look as strong physically this year; I can't put my finger on what exactly is wrong. Maybe he's just out of rhythm but Poeltl seems to be struggling to hold his ground and deal with any kind of body contact. His body control when finishing shots around the rim also seems to have regressed so far this season. 
Grade: C
DeMarre Carroll
DeMarre Carroll got 12 minutes against the Celtics and did pretty well. He knocked down his first two three-pointers of his Spurs career and brought effort to the defensive end. Although, admittedly, while he was definitely efforting, his effectiveness was iffy. Carroll still needs to learn where to rotate and where to funnel his man — but that will come if he ever gets consistent minutes. Offensively, it appears he could help out as another shooter who can dribble enough to keep defenses honest. 
Grade: B
Chimezie Metu
Another silver lining tonight was provided by Chimezie Metu's play. Sure, he only played in garbage time in the fourth quarter but he brought a level of athleticism to the game that San Antonio had been missing against the Celtics. He was extremely quick off his feet, was jumping really well and was fearless on both ends. This was a low pressure situation but it could earn Metu some minutes down the line. Posting seven points, eight rebounds, two assists and two blocks in nine minutes had to catch a coach's attention. 
Grade: Inc.
Lonnie Walker IV
Lonnie Walker IV's stats don't look pretty but I liked his effort level. He drove the ball to the basket with purpose, didn't hesitate when he had open shots and picked up his man early on defense. As ugly as the numbers were, I think this was a step forward for Walker. Pop wants him to play with aggression and toughness and that's how he was playing against the Celtics.
Grade: Inc.
Pop
Pop went deep into his bag of tricks — from complete line changes to relentless yelling to back-to-back timeouts to quick yanks after defensive mistakes — but he couldn't get enough of his guys to compete. While I could nitpick his rotation a bit, this game boils down to Aldridge simply not doing enough. If the Spurs established Aldridge, they could have controlled the paint and made the Celtics pay for playing small. But because Aldridge wasn't willing, it turned into a battle of perimeter talent — and Boston had the clear advantage. Not much a coach can do to stop what happened given the circumstances. Oh, and Pop actually played Murray and White together. It only lasted for about two minutes — and it very well might have been on accident — but something is better than nothing, I guess. 
Grade: B-
Next Up
On Monday, the Spurs finish their three-game homestand when they play the Memphis Grizzlies. Considering the Grizzlies are one of the worst teams in the West and haven't won on the road yet, San Antonio can't afford to drop this one. After the game, Tony Parker's jersey gets retired — so it'd be doubly shameful if the Spurs were to lose.