Grades: San Antonio Spurs at Chicago Bulls – Game #37
Well, that was a wild ride. The San Antonio Spurs fell behind by as many as 23 points in the first half against the Chicago Bulls. In the second half, the Spurs came charging back and notched an inspiring 106-99 victory over the Bulls. The win improved San Antonio to 21-16 on the season and to 2-1 on this five-game road trip.
In the first two quarters, the Spurs couldn't buy a break. They were 2-for-16 on three-pointers, missed countless layups and every loose ball seemed to bounce right to a Bull. The good guys started chipping away in the third quarter by raising their defensive intensity and increasing their hustle and desperation. In the final period, everything started clicking. The Spurs hit 4-of-5 three-pointers, their drives to the basket paid dividends and the team played suffocating defense to outscore the Bulls 39-19 in the deciding quarter.
Overall, this was an impressive and entertaining win. They get bonus points for doing it without DeMar DeRozan. The Spurs were certainly partially responsible for the hole that was dug but they steadfastly scratched, clawed and battled until they were able to overcome. Well done.
Key Stretch
The Spurs went on a 12-0 run to start the fourth quarter to cut the deficit to a single point. After the Bulls were able to land a few counterpunches, the Spurs delivered a knockout blow by way of a 17-0 run to complete the comeback victory. 
Key Statistic
Over a stretch of 11-plus minutes beginning with 50 seconds remaining in the third quarter, the Spurs outscored the Bulls 37-10 to turn a 16-point deficit into an 11-point advantage.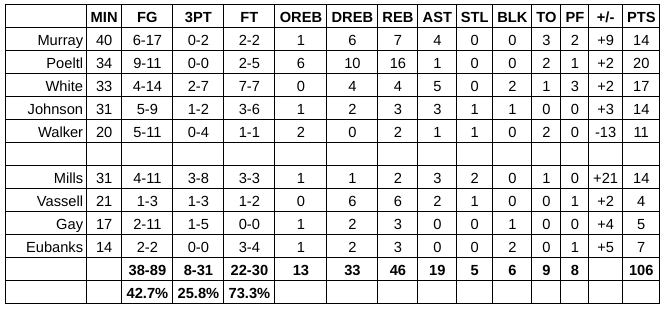 Spurs at Bulls: Final Grades
Dejounte Murray
Numbers-wise, Murray wasn't productive. He shot poorly and his assist-to-turnover ratio was almost even. However, if you drill deeper, I think it's safe to say he was a big part of San Antonio's victory. In the second half, he hit half of his eight field goal attempts and handed out three of his four assists. His defense got better and better as the game progressed. By the fourth quarter, he was an absolute monster on the defensive end. Throughout the game, I thought he exhibited strong leadership skills by keeping the spirits high and not letting his team to quit.
Grade: B
Jakob Poeltl
If you tie your career-high in points and set a new career-high in rebounds, you know you're playing well. Poeltl was as fanatics as those marks suggest. From the very beginning of the game, he was a beast on both ends. When the team was circling the drain early on, Poeltl scored the first seven points of the game to keep the Spurs afloat. On offense, his hands and touch were great — and he was more aggressive than usual finishing at the rim. Defensively, he was outstanding inside, outside and on the boards. I'm not sure if it's possible for Poeltl to play a whole lot better than he did this evening.
Grade: A+
Derrick White
For three quarters, White was having a disastrous affair. He was 1-for-11 from the field and a lot of his shots weren't even close. His defense was herky-jerky and his playmaking was MIA. Thankfully, White found his footing in the fourth and saved his best for last. He was 3-for-3 in the final quarter and his nine points were vital. Moreover, he played sturdy defense and he started playing with extra energy and a pep in his step that was missing in the first three periods. That said, the Spurs need more than just one quarter of solid basketball from White.
Grade: C
Keldon Johnson
Johnson is another player who suffered through a forgettable first half. Not only was he not playing well, he was forced out of the game for a bit after rolling his ankle. He returned to the game in the second quarter but was on the bench to start the second half. Johnson apparently took that demotion to heart because he played like a man possessed after he was allowed into the game in the second half. The ferocious and boundlessly energetic version of Johnson we've grown to know and love had been missing since his COVID-19 hiatus. However, that version of him returned in the second half and that was a leading reason why San Antonio was able to turn things around. 
Grade: B
Lonnie Walker IV
Walker had an outing full of sound and fury but it ended up not signifying much. I'll give him credit for being active and playing hard when the ship appeared to be sinking but he had trouble stringing together positive possessions. He'd follow up a slick drive to the cup with an ill-timed turnover, for example. In his defense, Walker took a few hard falls tonight that seemed to further throw off his rhythm. Defensively, I wasn't impressed. His transition D was lacking and wasn't doing much right in the halfcourt setting, either.
Grade: C-
Patty Mills
Mills spent the first half sleepwalking. His defense was lackadaisical and his offense consisted of lazily launched three-pointers. In the second half, Mills woke up — to say the least. I'm not sure what was said to him at halftime but his defense was much improved. He applied unending pressure and that relentlessness transferred to the other side of the court as well. He scored all 14 of his points in the second half and authored numerous key buckets. 
Grade: B
Devin Vassell
Offensively, Vassell didn't get much done. He had a few heady passes and hit a key three-pointer in the second half. Defensively, he had a few mistakes but he also was a playmaker on that end. He had some great help-defense plays and was also crashing the glass more than usual. Vassell hit some rough patches here and there but he continued to play hard.
Grade: B-
Rudy Gay
It's okay to pass the ball sometimes, Rudy. In 17 minutes, Gay unfurled 11 shots while finishing with a goose egg in the assist column. As the 34-year-old starts reaching the back end of his career, he's going to need to play consistently smarter to justify an everyday role in a rotation. He's no longer athletic enough to be the automatic mismatch he has been historically. 
Grade: D+
Drew Eubanks
Lost in Poeltl's greatness was the fact that Eubanks was pretty darn good himself. He was strong on the boards, protected the rim well and made brainy decisions on both ends. Eubanks has the physical tools to be productive on this level. For him, it's all about learning what he needs to do to help his team thrive. Lately, and in this game specifically, it seems like he's starting to do just that. 
Grade: B+
Pop
With his troops not being able to hit the broad side of a barn, it looked like another humbling loss was in the cards. Thankfully, the buttons Pop pushed tonight worked. He had the team extend their defensive pressure in the second half and that gave the Bulls fits. He benched Johnson to start the second half and Johnson responded by reverting to his Herculean mode. Pop played Murray almost the entire second half even though Murray struggled in the first half — and that paid off. Oh, and starting a sensible lineup once again shouldn't be overlooked. 
Grade: B+
Next Up
The Spurs finish this exhausting road trip with games on Friday and Saturday against the Cleveland Cavaliers and Milwaukee Bucks, respectively. The Cavs game is an important one considering how impossible winning that Bucks game will be, as that contest is their fifth game in seven nights.