Grades: San Antonio Spurs at Dallas Mavericks – Game #51
The five-game losing streak is over. The San Antonio Spurs (25-26) pulled out a win against the Dallas Mavericks (29-23) on Sunday night by a final score of 119-117. The Spurs, particularly the starters, competed with vigor, played well throughout and hung on at the end.
The Spurs led by nine points with three minutes remaining, however the Mavericks had one more run in them. Dallas went on a 13-4 run to tie the game with 20 seconds remaining. That's when DeMar DeRozan expertly drained the clock and then hit a game-winning jumper with 0.5 seconds remaining.
Key Stretch
Shortly after halftime, the Spurs found themselves in a seven-point hole. Instead of panicking, the starters turned up their intensity on both ends of the court. A subsequent 13-2 run gave San Antonio the lead and provided the confidence they needed to hang around for the duration of the contest. 
Key Statistics
The Spurs have played poor transition defense in recent weeks; they had even gotten into the habit of giving up open layups off of made baskets. Tonight, the Spurs held the Mavs to only five fast break points and were noticeably better about getting back quickly on defense.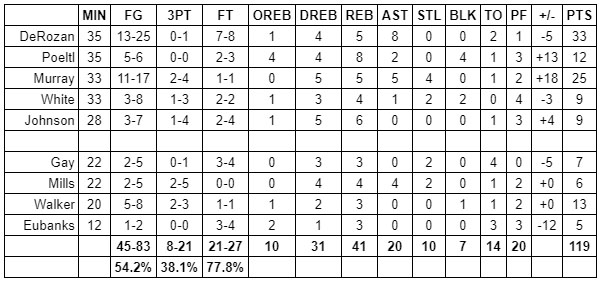 Spurs at Mavericks: Final Grades
DeMar DeRozan
Welcome back, DeMar the Closer. The Spurs have been unable to pull out close games lately, with arguably the leading reason being that DeRozan hasn't been the reliable closer he was in the Bubble last year and earlier in this campaign. Against the Mavs, the closer was back. In the fourth, he had 12 points on 4-for-6 shooting from the field, including the ballgame's deciding bucket. Throughout the affair, DeRozan attacked very aggressively while simultaneously finding open teammates whenever they appeared. Defensively, he was sluggish in the first three quarters but was legitimately good on that end in the fourth. 
Grade: A
Jakob Poeltl
Poeltl was solid on both ends. Defensively, he was impressive both out on the perimeter and defending the rim. His rebounding could have been better but he was otherwise strong on that end. Offensively, Poeltl set mean picks, rolled with purpose and finished well. It wasn't his flashiest game of the season but the Spurs distinctly missed his presence whenever he wasn't on the court. 
Grade: A-
Dejounte Murray
'Twas an outstanding game from Murray tonight. Defensively, he got the opening assignment against Luka Doncic and Murray's relentless pressure set the tone. He was electric both on the ball and help-wise. Offensively, he carried the load for stretches at a time. His decision-making in pick-and-roll sets was as precise and clean as we've witnessed from the 24-year-old. Murray had a handful of slick passes and he also took care of the basketball. All in all, the Spurs couldn't have asked for much more out of their point guard. 
Grade: A
Derrick White
Defensively, White was great. His ability to protect the rim at his size and at his position is special — and that was blindingly apparent tonight. Individually, he had to defend everyone from Doncic to Kristaps Porzingis and he held up well. On offense, White was more gun-shy than usual but he still had his moments. The good news is he kept mistakes to a minimum and was always enough of a threat to sustain his gravitational pull. 
Grade: B+
Keldon Johnson
The good: I actually liked the fact that Johnson was launching three-pointers. It looked like the coaches actually called a play or two for him to get opportunities from deep, so it's a plus that he didn't hesitate to fire those shots. Johnson also did good work on the glass. The bad: His overall energy level wavered. Johnson had a couple quality forays to the basket but they were too few and far between. Defensively, his rotations weren't that good and he had a few errors in individual coverage that stopped him from having a bigger impact on that end. 
Grade: C
Rudy Gay
Gay emerged from the gates with all the deftness of a bull navigating through the aisles of a china shop. Watching him play the sport wasn't pretty at either end. Eventually, Gay got going just enough to stop his outing from being a total disaster on offense. Unfortunately, his graceless ways on defense never did recover.
Grade: D
Patty Mills
Mills has undoubtedly had more downs than ups recently. Tonight, he was better. I'd still classify it as a sub par performance but was okay-ish. He hit enough shots, he made enough passes and he survived enough on defense to power the bench to a mediocre performance. Typically, mediocre play isn't worthy of applause but with how bad the bench has performed recently, that was a notable improvement. 
Grade: C
Lonnie Walker IV
At first, Walker was too timid. Defensively, he was shying away from the challenge of guarding Doncic and he was passing up shots on the other end. Soon thereafter, though, Walker flipped the switch to the on position. On defense, he buckled down and was really, really good on an individual basis. He scratched, clawed and didn't give in. On offense, his speed, athleticism and shooting ability were all very much appreciated by the good guys. Walker provided a much-needed injection of zeal on offense that gave his team life. 
Grade: A-
Drew Eubanks
Yikes. Eubanks had a really rough evening. It was like the game was moving too fast for his brain and body to process. Defensively, he was rarely in the right spot. Offensively, he was either setting illegal screens or otherwise finding ways to impede the action. 
Grade: D-
Pop
I was mostly okay with Pop's decisions tonight. I disagreed with him not playing Walker down the stretch … but at least it was because he kept Johnson in the game. If he would have played Mills or Gay instead of Walker or Johnson, that sixth loss in a row would have really stung. The rest of the rotation was fine, although giving Luka Samanic playing time in place of Eubanks literally wouldn't have hurt anything and could have only helped matters. 
Grade: B-
Next Up
Can the Spurs sustain momentum? We'll find out tomorrow night against the Orlando Magic. San Antonio really needs a win if they're serious about trying to make the playoffs.