Grades: San Antonio Spurs at Dallas Mavericks – Game #14
The San Antonio Spurs (5-9) lost their sixth straight game on Monday night, as the Dallas Mavericks (8-5) were the latest to send the Silver and Black packing with a defeat. San Antonio's comeback fell short because Dallas hit enough big shots late to keep the Spurs from getting over the hump. The 117-110 loss isn't the way the Spurs wanted to start their four-game road trip.
Early on, the Spurs (stop me if you've read this before) fell into a big hole. By the time the starters were shuffling off to the bench, San Antonio was already trailing 23-8. At the end of the quarter, the deficit was 36-22.
The Spurs didn't make much headway in the second period, as the Mavs went into halftime with a 59-49 advantage. In the third quarter, the good guys got within four points — before they hit another pothole and quickly fell into another hole, this time a 15-point variety. Heading into the fourth, the Spurs were down 93-79.
Despite facing the uphill climb, San Antonio kept charging. They began the fourth quarter on a 23-11 run to get within two points of the Mavs. The Spurs actually had a couple shots that could have tied the game. Hope didn't diminish until Luka Doncic hit a three-pointer 27.7 seconds left to put the Mavericks up by five points and put a cherry on top of his spectacular performance in which the 20-year-old posted 42 points, 12 assists and 11 rebounds.
All in all, this game followed the same basic formula we've seen all too often as of late. The Spurs start off slow, put together a few runs, suffer a few bumps in the road along the way and then don't make enough big plays at the end to pull out a win. It's frustrating — but has, sadly, become expected.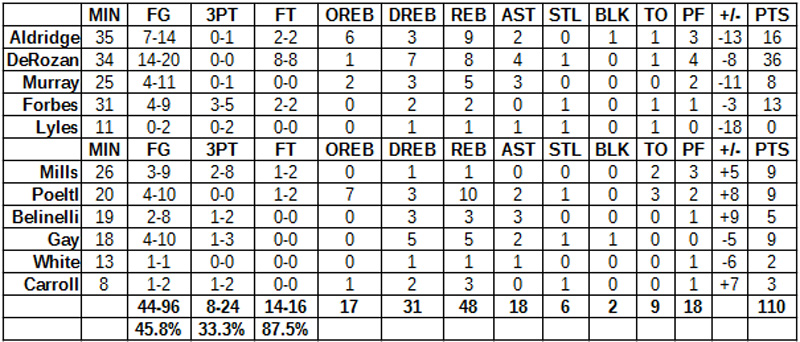 Spurs at Mavs – Final Grades
LaMarcus Aldridge
Although his play wasn't particularly crisp, I thought LaMarcus Aldridge played hard outside of the first quarter. He was physical in the paint, crashed the offensive boards and even fought for post position a handful of times. Aldridge didn't play a whole lot of defense but his relatively few mistakes and his overall effort level left me adequately satisfied with his performance.
Grade: B
DeMar DeRozan
This had to be DeMar DeRozan's best game of the season and one of his best of his San Antonio career. The Spurs were prepared to roll over and die a cowardly death until DeRozan stepped up and led the charge back into the battlefield. He was extremely physical going to the rim but also penetrated with great care and precision. DeRozan's pace was fantastic and while he exerted a ton of energy in his forays to the basket, he kept an eye out for open passing lanes and only had one turnover. Defensively, he was much more solid than usual and he did fine work on the glass. Overall, the chutzpah DeRozan exhibited tonight was worthy of an applause.
Grade: A+
Dejounte Murray
The good: Dejounte Murray hit three midrange jumpers. He didn't turn the ball over. The bad: Basically everything else. Defensively, this was one of the worst games I've ever seen from him. Doncic took Murray to school and held him in detention after school. Murray was biting on every little fake Doncic offered and was constantly out of position. On offense, he orchestrated the offense without any regard for rhythm or timing. It's good that he didn't have a turnover but he also was so out of sorts that the offense only worked when the ball wasn't in his hands. 
Grade: D+
Bryn Forbes
Still in the starting lineup, Bryn Forbes had an average game. I liked that he operated within the offense more than usual; we didn't see bad shots in transition or forced shots in the halfcourt. Defensively, he didn't have much success, particularly on switches. For example, Forbes was defending Doncic when he hit the game-sealing three-pointer. That said, Forbes was fine when he was defending Seth Curry.
Grade: B-
Trey Lyles
Well, Trey Lyles didn't exactly help his case to remain in the starting lineup. In the 11 minutes he played, the Spurs got blown out of the gym. On offense, he missed both of his three-point attempts but he did have a couple nice passes. On defense, Lyles wasn't getting a hand up on the perimeter and he wasn't helping out on the boards much at all. To be fair, the Spurs struggling when Lyles was on the court wasn't his fault — but he wasn't doing much to make the situation better, either. 
Grade: D
Patty Mills
Patty Mills was overflowing with energy tonight. It's depressing to admit but he was San Antonio's best defender against Doncic — every other player who defended him (with the arguable exception of DeRozan the couple times he defended the Slovenian) looked completely overmatched. Offensively, Mills was pushing the tempo and tried to create scoring opportunities. I thought his shot-selection was good enough — he just didn't hit enough shots to make a difference.
Grade: C+
Jakob Poeltl
Slowly but surely, Jakob Poeltl is getting closer and closer to finding his footing. It's still rough around the edges but the Austrian produced against the Mavs. He was sloppier than usual, his finishing at the rim left a lot to be desired and, correspondingly, his number of offensive rebounds was inflated due to missing repeated point-blank shots. But he was active on defense and found a niche on offense. Poeltl still has room for improvement but he's now put together three straight competent performances. 
Grade: B
Marco Belinelli
Good ol' Marco Belinelli is still in the rotation. He kept his field goal percentage steady by making two of his eight attempts. Belinelli's shot-selection was iffy but he made up for it a little bit with a few heady passes. Defensively, he wasn't much of a liability, as he was successfully hidden for most of the night on that end. 
Grade: C+
Rudy Gay
This was another high-effort game from Rudy Gay, although his production took a step down from recent outings. On offense, while he bailed the Spurs out a couple times, he also bit off more than he could chew a few other times. Defensively, his lack of mobility was painfully obvious at times and he also struggled with Dallas' length. But, then again, he competed and held his own on the backboard. 
Grade: C+
Derrick White
I don't know if Derrick White's glute is still giving him problems or what but this was a highly forgettable performance. Defensively, he was inept against Doncic — maybe even more inept than Murray. White even struggled at the basics, like getting back in transition. Offensively, he didn't do much other than pass up shots and not make plays. The Spurs need more from White to win these types of games. 
Grade: D
DeMarre Carroll
Pop pulled DeMarre Carroll out of the freezer and defrosted him in time to give him fourth quarter minutes. Factoring in the circumstances, I was really impressed with Carroll. His defense was smart, effective and dripping with competitiveness. Sure, he made a couple mistakes but the Spurs suddenly looked like a halfway competent defensive bunch when he was on the court. Offensively, Carroll illustrated some advanced awareness and showed he can do more than just spot up for threes.
Grade: A-
Pop
Going to Carroll was a good move. It was such a good move, in fact, that's it's clear that Carroll should be a part of the rotation. Excluding him going forward would be a bad decision. Murray and White were unsightly, yes, but the lack of confidence Pop has in his two young point guards is distressing. I'm hoping this is tough love but I don't even know anymore. Pop went away from Lyles in the second half, which worked out well. But, yeah, six games into this losing streak and it's obvious that more needs to be done by Pop. Play Carroll. Start the process of building up Murray and White. Find a starting lineup that isn't getting run off the court.
Grade: D+
Up Next for the Spurs
The Spurs continue their road trip against the Washington Wizards (3-8) on Wednesday. This will be an opportunity to get a win but it's going to take a quality effort. The Wizards are a free-flowing offensive squad that can put up points in a hurry if the defense loses focus. Let's hope the Spurs and their D are up for the challenge. A seven game losing streak doesn't even sound Spursable. Get the next one.