Grades: San Antonio Spurs at Denver Nuggets – Game #50
The Spurs Antonio Spurs exhibited more mental fortitude and more perseverance tonight against the Denver Nuggets than they have in any of their recent losses. Unfortunately, the end result was still the same, as the good guys lost their fifth straight game. The 121-119 loss dropped the Spurs to 24-26 on the season, while the Nuggets captured their eighth straight win and improved to 34-18. 
San Antonio had three chances to tie the game in the final moments — but it just didn't happen.
Key Stretch
The Spurs successfully climbed out of multiple double-digit deficits in this game. Their final ascent began with three and a half minutes remaining in the fourth. Trailing by 11, San Antonio went on a 14-4 run to get within a point. They had a few chances to completely erase the deficit but they weren't quite able to get over the hump. 
Key Statistic
I hate to use three-pointers as an excuse but that was the difference in this game. The Nuggets were 14-for-27 from three-point land, while the Spurs were 9-for-27 from three-point land. That's a 15-point swing the Spurs couldn't overcome in other ways.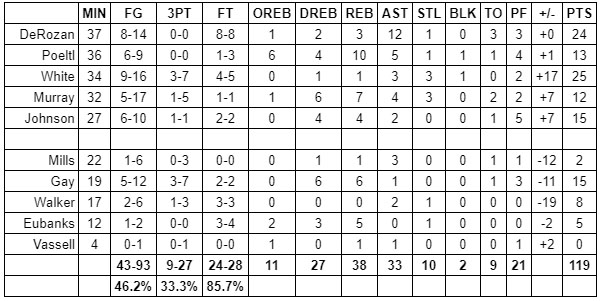 Spurs at Nuggets: Final Grades
DeMar DeRozan
Much, much better game from DeRozan. He's been struggling a bit recently but turned it around tonight. His passing was great, he did well taking care of the ball and his shot selection was good. DeRozan's defense was even impressive at times, particularly help-wise. All that good stuff said, it must be reported that he was just 1-for-6 in his final ten minutes and had two of his three turnovers in that time. DeRozan no longer being a dependable closer has unquestionably been a leading reason why the Spurs aren't pulling out close games as of late. 
Grade: A-
Jakob Poeltl
The good: Poeltl stayed out of foul trouble while making Nikola Jokic work. His passing was really good; he has ten assists total in his last two games. He was strong on the offensive glass and had some aggressive moves with the ball. The bad: Poeltl wasn't as sure-handed as usual. He compounded that issue by going up feebly in the paint when there was a body on him. His perimeter defense was a step slow, which is also unusual for him. As much as he tried against Jokic, the Serbian still posted a 26/14/13 triple-double.
Grade: B
Derrick White
Gutsy performance from White. His outside shot wasn't going early but he kept firing and the worm eventually turned. His drives to the basket are looking better and better. White's decision-making with the ball is getting cleaner. Defensively, he gave good effort both on the ball and away from the ball. 
Grade: A
Dejounte Murray
Tough evening for Murray. He had a lot of makeable shots jiggle out. At first, he was too reluctant to shoot. Then, Murray overcorrected and became too willing to shoot. He was able to retain some of his value by playing disruptive defense, authoring a few heady passes and clawing on the boards. 
Grade: C-
Keldon Johnson
Solid outing for Johnson. His patience on his drives was great. He picked his spots wisely; there weren't many kamikaze missions tonight. Defensively, he was physical and stayed in front of players. Two issues kept Johnson from really having a successful showing. First, he was in persistent foul trouble from the opening minutes of the game. Second, his help-defense was usually a beat or two late. 
Grade: B+
Patty Mills
Oof. Up until recently, the bench has arguably been the biggest positive difference-maker for the Spurs this season. But the reserves have fallen off as of late — and tonight was another example of just that. Mills took bad shots and his only basket was a wide open layup. His defense was also sub par, particularly in terms of fighting around screens. 
Grade: D
Rudy Gay
Eh, can't blame Gay for tonight's poor bench performance. Yes, some of his possessions were of the ballhog variety, but he produced enough to justify his hogging. Without his marksmanship from deep, the Spurs wouldn't have even been in a position to make a last-gasp comeback. That said, Gay's slowness on defense was painful. The Nuggets backdoored him repeatedly.
Grade: B
Lonnie Walker IV
Welcome back, Lonnie. His numbers are nothing to read aloud to Reading but I thought he gave the team a spark. His open court speed and his penetrations in the halfcourt seemed to unlock some lanes that were missing while he was away dealing with an injured wrist. Defensively, Walker was rusty but he fought more than usual. Add in a few smart passes and a couple of hustle plays and the Pennsylvania native did well in his return. 
Grade: B
Drew Eubanks
With Gorgui Dieng back on the sidelines with the same shoulder injury he originally hurt in his debut, Drew Eubanks was once again the backup center. He didn't massively move the needle but Eubanks had his moments. He was beefy on the glass, physical in the paint, and illustrated enough versatility and wherewithal on offense to help on that end as well. 
Grade: B
Devin Vassell
Vassell got a handful minutes in the first half as Pop used a nine and a half man rotation. His aggro-o-meter was dialed up a little bit higher, which was nice to see. 
Grade: Inc.
Pop
Not much for me to complain about regarding Pop's coaching. He actually allowed Johnson to finish out the game, which was the right move. He drew up plays for players not named Patty out of timeouts. I thought he balanced the minutes reasonably well, as the starters had enough energy to try to make a closing push. Pop has had iffy decisions during this losing streak but I thought his decisions were fine in tonight's affair.
Grade: A-
Next Up
On Sunday, the Spurs take on the Dallas Mavericks in their third game of this five-game road trip. Even though they lost tonight, hopefully we see this level of competitiveness going forward. If we do, the Spurs should be able to hang on for a spot in the play-in tournament.