Grades: San Antonio Spurs at Denver Nuggets – Game #79
The San Antonio Spurs (34-45) notched arguably their most impressive victory of the season on Tuesday night. Playing in Denver, the Spurs played outstanding basketball for long stretches on their way to a 116-97 win. With the Los Angeles Lakers getting demolished once again later evening in the night, San Antonio has now clinched a spot in the play-in tournament. 
Thanks to a 32-14 second quarter, the good guys took a 20-point lead into halftime. The Nuggets, who fell to 47-33 with the loss, came storming back in the second half. Thankfully, when Denver got within four points in the fourth quarter, the Spurs rediscovered their footing and responded with a 14-2 run to provide needed cushion. San Antonio was never truly threatened again.
Overall, this was a fun, entertaining win. Playing without Dejounte Murray, the Spurs maximized their talents and were selfless on both ends. Good stuff.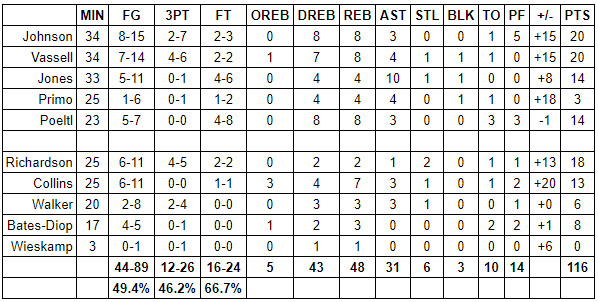 Spurs at Nuggets: Final Grades
Keldon Johnson
On his way to scoring at least 20 points for the seventh consecutive game, Johnson exhibited a lot of growth in his offensive repertoire. When the Spurs needed points, Johnson showed the ability to be a go-to option. From no hesitation on three-pointers to hard-nosed drives to the rim, he impressed. Additionally, Johnson was active on defense, strong on the boards and limited his mistakes on both ends. 
Grade: A
Devin Vassell
Vassell nailed 4-of-6 three-point attempts and looked a lot more comfortable than usual on the offensive end. In addition to taking catch-and-shoot jumpers, Vassell produced off the dribble. He also passed it well and was stout on the defense end. 
Grade: A
Tre Jones
It's difficult to be anything but thrilled with how Jones played. He wasn't showy but he was rock solid. First of all, he dished out ten assists without a turnover. Just as important, he was a consistent threat to score the ball. He was aggressive looking for creases in the defense and finished well in the lane. His defense was also really disruptive.
Grade: A
Josh Primo
Primo didn't dent the scoresheet much but he reliably made heady plays. His defense was especially impressive. For a 19-year-old, his feel and knowledge on that end is elite. Offensively, he made a few smart passes and he did enough with the ball to keep the Nuggets from ignoring him. 
Grade: B-
Jakob Poeltl
While Nikola Jokic finished with 41 points and 17 rebounds, I thought Poeltl did well on the defensive end. The Spurs weren't sending a ton of help and Poeltl was able to make life a little bit difficult for Jokic. His rebounding was also helpful on that end. Offensively, Poeltl wasn't bashful when his number was called and his running of the court helped open lanes for teammates. 
Grade: B+
Josh Richardson
Richardson's play was a vital part of this win. He hit 4-of-5 three-pointers, moved well without the ball, played point guard when it was needed and his mid-range shots provided a pressure release for the bench unit. Defensively, it's like he's been in the Spurs system for years. 
Grade: A
Zach Collins
Collins could very well be playing the best basketball of his career. He's consistently a physical, athletic, determined presence from possession to possession. Add in the ability to shoot jumpers, make brainy reads passing-wise and be rim running threat and Collins is looking good right now. He had a few issues on defense but it wasn't for a lack of effort or toughness. 
Grade: A
Lonnie Walker IV
After an invisible first half that featured a few really bad defensive efforts, Walker turned up the volume in the second half. When the Spurs were really struggling on the offensive end, Walker wasn't timid about trying to break the ice — and that ended up being really important in retrospect. Other aspects of his game never really recovered but his key burst of offensive vivacity shouldn't be overlooked. 
Grade: C
Keita Bates-Diop
Bates-Diop didn't do much to turn heads but he also didn't get in the way. His defense was dependable and he was efficient on the offense end. 
Grade: B+
Joe Wieskamp
Wieskamp has come a long way in terms of making explosive movements with and without the ball. He's starting to pass the eye-test as an NBA player. 
Grade: Inc.