Grades: San Antonio Spurs vs. Golden State Warriors – Game #24
The last time the San Antonio Spurs and Golden State Warriors squared off, the Warriors blew the Spurs out. Tonight, San Antonio was able to get revenge with a 105-100 victory over Golden State. The good guys are now 14-10, the first time all season that they're four games over .500.
The Spurs defense had impressive stretches against a team that was averaging 126 points over their last four contests. Offensively, the biggest shot of the night was authored by Dejounte Murray. With the Spurs up two points with less than 15 seconds remaining, San Antonio's starting point guard stepped back and drilled a contested three-pointer to give his team the cushion they needed to hold on against Stephen Curry and the Warriors. 
Key Stretch
In the second quarter, the Warriors were dominating the Spurs once again. Pop called a timeout with the Spurs down by 14 points and verbally challenged his troops, specifically Murray. The Spurs responded with a 23-9 run to tie the game.
Key Statistic
Turnovers continue to be a strength for San Antonio. They had half as many turnovers as the Warriors tonight, which allowed them to survive a sub par shooting performance. The Spurs are still the least turnover prone team in the NBA this season.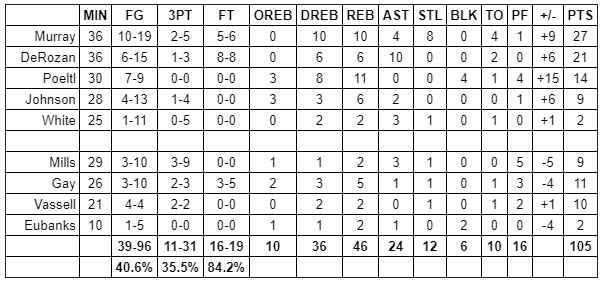 Spurs vs. Warriors: Final Grades
Dejounte Murray
After Pop blasted Murray in the second quarter for passive and careless play, the 24-year-old transformed into a monster. Defensively, he was outstanding. He finished with a career-high eight steals, grabbed ten defensive boards and was simply all over the court. His pressure defense against Curry was impressive and paid dividends late. Offensively, Murray was uber aggressive. He pushed the pace, attacked nonstop and kept the Warriors backpedaling. His three-point shot looks smooth right now and he hit two big ones in money time. Murray was undoubtedly the best player on the Spurs tonight and his flipping of the switch in the second quarter made all the difference. 
Grade: A
DeMar DeRozan
DeRozan's touch from the field wasn't pristine but he made up for it in other ways. His physicality led directly to eight free throw attempts. His passing was outstanding, particularly in terms of finding three-point shooters with cross-court bullets. Defensively, he was a bit lazy to start out the game but eventually picked up his intensity on that end. 
Grade: B
Jakob Poeltl
This was one of Poeltl's better games of the season and one of his better games as a starter in Silver and Black duds. Offensively, he was setting mean screens, rolling well, catching everything and finishing with speed. Defensively, he was rebounding, blocking shots and seamlessly switching out on the perimeter when needed. In this small ball world, Poeltl's ability to go out and defend to the three-point line is invaluable. 
Grade: A
Keldon Johnson
The good: Johnson kept his mistakes to a minimum on offense. He didn't totally abandon his three-point shot after missing a couple. He had a few strong and crafty moves going to the rim. His patience on offense was a plus. The bad: He was tentative on offense and was second-guessing his decisions. His defense wasn't crisp; he was rotating late most of the time. His typically boundless energy was more muted than normal. 
Grade: D+
Derrick White
It's tough to have a positive impact when you miss ten of your 11 field goal attempts. White just couldn't get anything going scoring-wise tonight. Jumpers were short and he's not getting much elevation on any of his shots. Other than his lack of marksmanship, White was decent. He had a few good passes and made a few good defensive plays. Overall, though, there was more bad than good. 
Grade: D+
Patty Mills
I wasn't a big fan of Mills' shot-selection. He was forcing shots even when nothing was available. The Warriors were obviously keying on him, so glimpses of the rim were rare. But instead of being denied, Mills just kept firing away. Luckily for him and the Spurs, he hit just enough shots to retain some of his value. Defensively, he was fouling a lot but I thought he was a positive on that end overall. He was navigating around screens quickly, drawing fouls and making smart plays help-wise. 
Grade: C
Rudy Gay
Gay hit 2-of-3 three-pointers but only 1-of-7 two-pointers. Like Mills, Gay's shot-selection wasn't good. He broke the offense too routinely to take shots that weren't even of a high quality. Defensively, his immobility was an issue at times but his length helped on the boards.
Grade: C–
Devin Vassell
Good stuff from the rookie against the Warriors. Offensively, his three-point stroke looks great and he mixed in a heady foray to the rim through traffic. With the Spurs struggling to shoot tonight, his 4-for-4 shooting from the floor was big. Defensively, he was probably average or slightly below average for his already lofty standards. He had a few mistakes in rotations but he was his typical active self. 
Grade: B+
Drew Eubanks
Eubanks numbers don't jump off the page but I thought he was a force for good. On offense, he remained stubbornly aggressive, which caused Golden State to account for his presence. Defensively, while he's not at Poeltl's level in being able to survive out on the perimeter, he showed a decent amount of nimbleness at times. Eubank's rim protection was good and he was throwing his body around in the lane.
Grade: B
Pop
We enjoyed a sip of vintage Pop tonight. Blowing up on Murray and the rest of the guys in the second quarter obviously woke up his team and got Murray's head squarely in the game. The team's play on both ends was night and day after that timeout. Rotations-wise, I thought he did well. He didn't overplay DeRozan while giving well-earned extra minutes to Murray and Poeltl. Staying big against the Warriors micro lineups also helped. Defensively, the Spurs threw a lot of looks at the Warriors, which seemed to stop Golden State from ever finding a rhythm. In the second half, Pop really started mixing things up on D and the Warriors only scored 41 points in the final two quarters. 
Grade: A-
Next Up
On Tuesday, the Spurs and Warriors are right back at it. If San Antonio can win the rubber match, it'd be their fourth consecutive win.