Grades: San Antonio Spurs vs. Golden State Warriors – Game #25
After winning last night, the San Antonio Spurs lost their rematch against the Golden State Warriors by a final score of 114-91. The Spurs were never able to find a rhythm offensively and their defense caved in during the second half of play. San Antonio is now 14-11 on the season, while the Warriors improved to 13-12.
Key Stretch
The game was actually tied at halftime, 50-50. To say the Spurs began the third quarter lethargically would be an understatement. The Warriors went on a 26-5 run over a six-minute stretch to start the second half — and that was essentially the end of the drama.
Key Statistic
Last night, the Spurs were able to survive a poor shooting night due to their defense. Tonight, their shooting was even worse. They hit 38.7% of their two-pointers and 33.3% of their three-pointers. That inaccuracy simply put too much pressure on their defense and the dam eventually burst.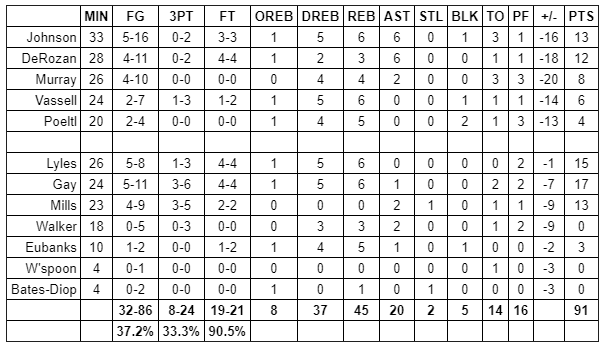 Spurs vs. Warriors: Final Grades
Keldon Johnson
The good: Johnson got off to a ice-cold start but he kept chugging away. There was no quit in him tonight. He had a handful of good passes and gave good effort on the boards. The bad: The Warriors were daring him to shoot but Johnson obviously had no confidence in his jumper. That really, really hurt the spacing on offense. Most of his offense consisted of him driving into defenders who were ready to greet him in the paint. Strangely, he was having trouble catching and holding onto the ball. Defensively, his rotations were rarely timely. 
Grade: C-
DeMar DeRozan
DeRozan just didn't play with enough energy tonight. This was one of those games where the Spurs desperately needed DeRozan to carry a heavy load on offense — but he wasn't up to the task. While San Antonio was dying on the vine in the third quarter, he finished the period 0-for-3 with zero points. That's simply a poor job of leadership and understanding how much he was needed. 
Grade: D+
Dejounte Murray
Most of what I wrote about DeRozan also applies to Murray. After his Superman effort last night, Murray was stuck in the phone booth tonight. He had some sporadic waves of energy here and there but mostly underwhelmed. He compounded that issue by being extra sloppy. Defensively, he was much less active, as evidenced by his steals tally dropping from eight to nil. Was Murray tired? Probably, but that's not a great excuse for the 24-year-old. 
Grade: D+
Devin Vassell
With White out and Lonnie Walker IV returning from a stomach illness, Vassell was elevated to the starting lineup. Unfortunately, the rookie struggled to have much of a discernible impact. At first, he was invisible on offense. Then he started trying to do too much and his shot-selection suffered. Defensively, he had a couple highlight plays but wasn't especially awesome on that end either. 
Grade: C-
Jakob Poeltl
Can't really blame this loss on Poeltl. He was mostly doing his job. Defensively, he was good on the interior and survived surprisingly well on switches out on the perimeter. On offense, he was okay-ish but he wasn't exactly helping matters. The Warriors showed him little respect yet he wasn't able to take advantage. 
Grade: B-
Trey Lyles
Hey, if there was one silver lining in this game for the good guys, it was the play of Lyles. First of all, he was aggressive on offense, which has been a leading issue for him this season. His shot from the outside looks good and his drives to the lane were surprisingly coordinated. He also finished in the paint with more power than usual. Defensively, he moved his feet well and was active on the boards. 
Grade: A-
Rudy Gay
Gay's shot-selection was again questionable but he hit enough three-pointers to provide value. Directly after a stretch in which he was 1-for-11 from three-point territory, he's now 11-for-18 on three-pointers over his last five games. Defensively, Gay's inflexibility and his slow feet made him a liability on switches. 
Grade: C+
Patty Mills
The good: Mills broke out of a mini-slump that saw him hit just 5-of-21 from three-point range over his last three games. He played with energy in all facets, which can't be said for many of his teammates. The bad: With Derrick White sitting out the second night of a back-to-back and DeRozan and Murray idling, Mills was asked to try to make more plays the usual. The results were unsightly. While he was energetic on defense, he got beat on backdoor cuts multiple times.
Grade: C+
Lonnie Walker IV
After missing two games, Walker was back in the lineup. In retrospect, he probably should have missed a third game. He looked stiff and was missing his usual speed. Pop said that Walker has had trouble keeping down food … and, yeah, I believe that after watching him play tonight. He was lackluster on both ends of the court throughout his 18 minutes.
Grade: D+
Drew Eubanks
Good rebounding, good protection of the rim. Eubanks looks a lot more comfortable than he did early in the year. Offensively, it appears as if he's trying to convince himself that he's a genuine pick-and-pop threat but he just doesn't believe it yet. When it comes down to it, he hesitates to pop to open spots and look to shoot outside shots.  
Grade: C+
Pop
Last game, Pop ripped into the team to wake them up in the second quarter. Tonight, he wasn't able to push the same button. When his guys got in trouble, I didn't see anything from Pop and the coaching staff that was helping matters. Going with a ten-man rotation in the second night of a back-to-back made sense — and actually turned out to be a good move considering how well Lyles played. That said, the rotations didn't matter much tonight because so few players were playing well on offense. Substitutions were Pop's way of rearranging the deck chairs.
Grade: C-
Next Up
The Rodeo Road Trip is upon us. But before the Spurs start their annual voyage in Atlanta against the Hawks, they gets two days off.