Grades: San Antonio Spurs vs. Houston Rockets – Game #22
Wow, what a game. The San Antonio Spurs (8-14), playing without an injured LaMarcus Aldridge, defeated the Houston Rockets (13-7) by a final score of 135-133. It took a pair of overtimes but the good guys got their most enjoyable win of the 2019-20 season in memorable fashion on Tuesday night.
The first half didn't see much separation develop. The Spurs led by two points, 27-25, at the end of the first quarter. The Rockets went up by as many as 11 points in the second period but the Spurs battled back. At halftime, Houston held a 63-59 advantage.
The third quarter looked like the typical meltdown we've witnessed from the Spurs this season, as their offense went cold and their defense fell apart. Already trailing 82-72 with five and a half minutes remaining in the period, the Rockets proceeded to go on a 13-1 run in a span of three minutes to take a 22-point lead, 95-73.
That's when the man of the night decided to take over the game. Up until that point, Lonnie Walker IV was scoreless in 11 minutes of playing time. In the final two minutes of the third quarter, Walker had two layups and a free throw. That turned out to be the appetizer.
With the Spurs down by 16 points, 105-89, with seven minutes remaining in the game, Walker hit a layup that sparked his closing blitz. He would go on to score 19 points in the fourth quarter while leading the Spurs all the way back. His final shot of regulation was a three-pointer with 11 seconds remaining that tied the game.
Both teams went scoreless in the final minute of the first overtime. In the second overtime, Bryn Forbes hit a three-pointer to tie the with 1:28 remaining. After a pair of free throws by James Harden, who scored 50 points on a perfect 24-for-24 from the charity stripe, DeMar DeRozan sank three of four free throws on San Antonio's next two possessions to give the Spurs a one-point lead. The Rockets had the ball with 3.3 second remaining but DeRozan was able to draw an offensive foul on Harden, which sealed the game for the Spurs.
While the Rockets are threatening to protest the game due to a James Harden dunk that didn't count, Houston is unlikely to get anywhere with the protest. Unless something crazy happens, the Spurs will keep this victory.
And what a victory it was. Every Spurs fan on planet Earth has been clamoring for Lonnie Walker IV to play and his performance tonight will always be remembered. Add in a much-needed win in which the Spurs exhibited a lot of heart and things couldn't have gone much better for the Silver and Black in front of their home fans.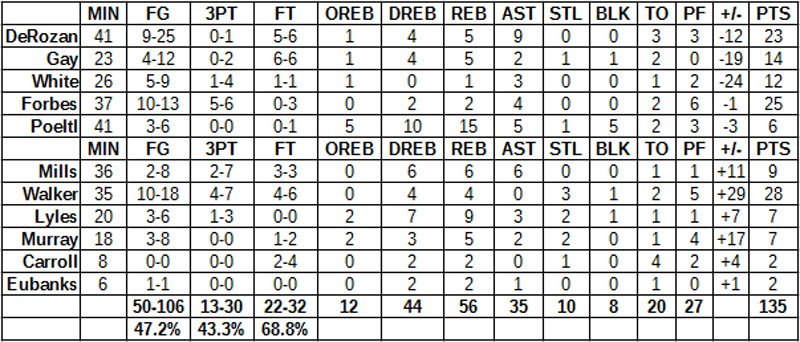 Spurs vs. Rockets – Final Grades
DeMar DeRozan
It wasn't an aesthetically-pleasing game by DeMar DeRozan but he competed and he certainly helped the Spurs escape with the victory. Scoring 23 points on 25 shots is sub par efficiency, however he did hand out nine assists while taking relatively good care of the ball. When the Spurs needed him to step up at the end of the second overtime, DeRozan delivered by getting to the line and hitting some clutch freebies. DeRozan deserves extra praise for his work on the defensive end. He was more attentive than usual and more talkative. The charge he drew on Harden at the end of the second overtime was the game-winning defensive play. Well done.
Grade: B+
Rudy Gay
Rudy Gay's struggles continue. He has now missed 13 consecutive three-pointers. He had a couple good passes and he was efforting at an acceptable level but he didn't produce adequately at either end. On offense, he shot too much and wasn't staying within the team's sets. Defensively, he was having trouble extending all the way out to the three-point line, particularly in transition. 
Grade: C-
Derrick White
This was another decent performance by Derrick White that didn't really offer enough substance to be of much use. Defensively, he looked slower than usual and had trouble staying in front of his man, particularly when it was Harden. (Is White's foot still bothering him? I'm guessing it is because his athleticism is really underwhelming right now.) Offensively, he was making a little bit happen here and there but he wasn't orchestrating the action well, didn't push the pace effectively and just isn't playing with enough urgency on that end. White isn't playing bad — he's just not playing well enough. 
Grade: C+
Bryn Forbes
Quietly, Bryn Forbes played a big role in this win. When San Antonio's offense was struggling late, it was often Forbes who came to the rescue. He was impressive off the dribble and balanced his offensive attack by sinking 5-of-6 from three-point land. Beyond his scoring, he was likely the team's best passer in pick-and-rolls. Defensively, Forbes wasn't that good … but, strangely, it worked out. Since Forbes was defending Russell Westbrook a lot, by playing iffy defense on Westbrook and giving him room, Westbrook felt compelled to shoot. Considering Westbrook was 7-for-30 from the floor, Forbes' accidental strategy paid dividends. 
Grade: A
Jakob Poeltl
The Big Wiener came to play tonight for San Antonio, which was vital with LaMarcus Aldridge out with an injured thigh. Poeltl stuffed the statsheet, finishing with a career-highs in rebounds (15) and blocks (5), while his five assists were one away from matching his career-high. Defensively, I loved how much he competed. He can be tentative at times on D but that wasn't the case against the Rockets. He earned each of his five blocks — including a huge one at the end of regulation that forced overtime. I especially liked how hard he went after rebounds and his hustle in transition defense. Offensively, he was helping out. His passing was excellent, he was setting mean screens and he mixed in a couple impressive finishes. When Poeltl plays without second-guessing himself and just lets his instincts take over, his natural talent is actually impressive. Hopefully he plays like this more often. 
Grade: A+
Patty Mills
Patty Mills was on the court during a lot of crucial moments in this game. He provided a steadying influence on offense who wasn't scared to push the pace when he had a chance. His shooting was substandard but Mills was passing well and moving well without the ball. Defensively, he was able to hide away from the ball for most of the night, while also swooping in to help out here and there. 
Grade: B
Lonnie Walker IV
This was obviously a breakthrough game from Lonnie Walker IV. What might be forgotten is how shaky he was coming out of the gates. He was fumbling the ball out of bounds and he made a few questionable reads. But he played through those early mistakes and had himself an amazing finish to the game. Walker was a terror in transition; his speed and jumping ability stand out, even compared to other very good NBA athletes. He was attacking closeouts really well and then started drilling threes in the fourth quarter. Walker looked confident once he got it going and his teammates not only fed off of him, they were looking at him to lead the way at various points in the comeback. And while his offense will get all the attention, I really thought his defense was outstanding as well. He had a couple cheap fouls on Harden (which is completely understandable for a young player guarding the most lethal offensive weapon in basketball today) but otherwise he picked him up early in transition, stuck right on him and used his athleticism to bother his shots and passes. All told, Walker deserves all the admiration he'll get for tonight's performance. 
Grade: A+
Trey Lyles
Trey Lyles is easy to overlook but he played a key role in downing the Rockets. He played a majority of his minutes at center — the first time he's played at center this season — and he held up well. He rebounded with purpose and was active in the passing lanes and defending the rim. Lyles was a bit too pliable occasionally on defense but overall he did well. Offensively, he hit another three-pointer and his ability to put the ball on the ground and make plays from a big man position is really helpful. Lyles continues to look more skilled and more coordinated than advertised. 
Grade: B+
Dejounte Murray
Since his demotion to the second unit, this is as comfortable as Dejounte Murray has looked. Offensively, he didn't try to do too much. He took open shots when they were available, made smart decisions on the break and looked much more in control than usual. Defensively, other than a few fouls, I thought he was really good. His length and timing were making life difficult for Houston. All in all, it looks like Murray's confidence could be returning, which is great to see. 
Grade: B+
DeMarre Carroll
Ouch. DeMarre Carroll hustled a bit on defense but otherwise it was a really ugly night at the office for a guy who prides himself on fashion. He earned every one of his four turnovers — an impressive amount considering he only played eight minutes. 
Grade: D+
Drew Eubanks
Drew Eubanks had a couple positive moments but eventually the coaches were right to go away from him due to his struggles to defend out on the perimeter. As a young center, Eubanks is just learning to walk and chew gum at the same time. Expecting him to go out and defend Houston at the three-point line was more than he can handle at this point in his development. 
Grade: C+
Pop
Pop went with Walker over Marco Belinelli from the beginning of the game. Thankfully, Pop stuck with him even after Walker's iffy beginnings. Other things I liked: Using Lyles at center, playing DeRozan less in regulation, leaning on Poeltl and going away from Gay. Pop's trust in Forbes also paid off and I can't really complain about Mills soaking up minutes at point guard. However, I thought Pop could have put some fresh bodies into the game during the overtimes. He rode with the horses that got him there but those horses looked tired. But all's well that ends well. 
Grade: B+
Up Next for the Spurs
Rest. The Spurs will have an extra day off for the first time since before Halloween. Then the Spurs play the Sacramento Kings on Friday. Hopefully the Spurs can win that game and start feeling good about themselves. After the Kings game, the Spurs get five more days of rest before taking on the Cleveland Cavaliers on the 12th.