Grades: San Antonio Spurs vs. Houston Rockets – Game #13
The San Antonio Spurs successfully bounced back from an ugly loss on Thursday night by defeating the Houston Rockets by a final score of 103-91. The win snaps San Antonio's four-game home losing streak and improves their record to 7-6. With the loss, the Rockets dropped to 4-7.
Honestly, while notching the victory was a plus, there really weren't many positives for the Spurs to take from this game. The short-handed Rockets only had eight players available and were without five of their best players. Houston appeared to run out of gas in the fourth quarter, which played as much of a role in San Antonio's win as anything the Spurs did. 
Key Stretch
On Thursday, the Spurs collapsed in the fourth quarter. This time, when faced with a similar situation in the fourth up five points with five minutes remaining, San Antonio kept Houston scoreless for three minutes as they went on a 10-0 run to essentially end the game.
Key Statistic
The Spurs were able to survive their uneven play due to two reasons. First, the Rockets turned the ball over 22 times. Second, the Spurs snatched a season-high 17 offensive rebounds. All told, it led to 100 field goal attempts for the Spurs to only 84 field goal attempts for the Rockets.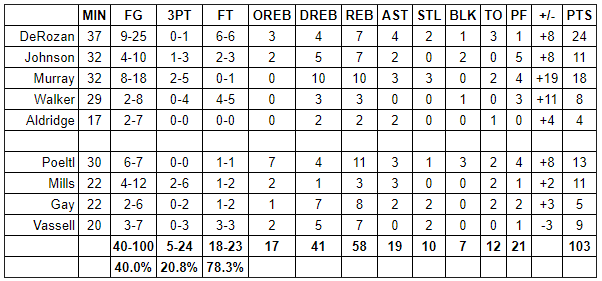 Spurs vs. Rockets: Final Grades
DeMar DeRozan
While DeRozan's final numbers look okay, I didn't like the way he played. He was far too ball-dominant throughout and didn't do a good job of keeping his teammates involved. When he wasn't calling for a pass, he was dribbling the ball into the ground while rarely creating any sort of meaningful space for himself or others. To make matters worse, his defense was stunningly lazy at times and he was whining throughout. I think DeRozan was trying to atone for last game in which he was too passive on offense — but he overcorrected tonight. 
Grade: C-
Keldon Johnson
I was decently pleased with Johnson's play. Offensively, although he didn't get many touches, he was aggressive when the ball was in his hands while playing smart enough to go without a turnover in his 32 minutes. His finishing left a little bit to be desired but it wasn't for a lack of effort. On defense, Johnson got the lead assignment against Christian Wood and I was impressed with the result. He used his strength to keep the Rockets up-and-coming center away from the rim and never looked overmatched. Johnson's switches on defense weren't always smooth but he's learning and actively improving in that department. 
Grade: B
Dejounte Murray
This was another hurricane of a game for Murray. Picking through the devastation, there was some good and bad. The good: Murray was able to create a lot of clean looks for himself. He missed some easy ones but there was nothing wrong with the attempts. He was helpful on the boards, pressured ball-handlers well and was active help-wise on D. The bad: Murray's handle was extraordinarily loose; he seemed to have trouble stringing together three clean dribbles. His passing was lacking tonight. On defense, he wasn't as strong as he usually is when switched off onto a bigger player. 
Grade: C+
Lonnie Walker IV
Walker, whose left thumb is heavily bandaged, didn't have the most productive night at the office, as evidenced by his stats. I appreciated his aggression in terms of launching threes but his shot didn't look as pure as it usually does (thumb related?). His dribbling also wasn't a pretty sight. That said, there were some bright spots. I thought Walker competed more than usual on defense, his speed in transition was one of San Antonio's better weapons and he broke down Houston's defense with drives a few times when it was needed most. 
Grade: C+
LaMarcus Aldridge
Aldridge's game tape won't be sent to Springfield, to put it kindly. Defensively, I'm not sure he did anything positive. His rotations were slow, his closeouts were slow and he was inept on the glass even though he was usually battling players half a foot shorter than him. Offensively, he wasn't a whole lot better. He tried to impact the game at times using his size but was unable to do much. His jumper was also flat. The only two positives on this night for Aldridge: he didn't pout and he knew he didn't have it going so he stayed out of the way.
Grade: D+
Jakob Poeltl
It took about a dozen games but it looks like Poeltl has finally begun to defrost. After an extremely slow start to the season, he's starting to look like the player he was last season. He now has seven blocks in his last three games after having three blocks in his first ten games — a definite sign that the ice is melting. In addition to his protection of the rim, Poeltl was also strong on the boards, set mean screens, passed the ball well, finished better than normal and was simply a lot more demonstrative on offense. 
Grade: A-
Patty Mills
With as hot as Mills was to start the season, he had to be due for a cold spell at some point. And that point seems to be right now. In the two games against Houston, he was 7-for-22 from the field and 3-for-13 on three-pointers. He was playing hard tonight and he was playing smarter than he did on Thursday but he struggled to positively impact the proceedings. Defensively, the Rockets looked to take advantage of him early and often.
Grade: C-
Rudy Gay
Gay was active on defense and he was one of the few players on the Spurs who exhibited any strength in the paint. He didn't have to venture out onto the perimeter too much, which allowed him to have a good amount of success on that end of the court. Offense was more of a struggle for Gay. Clean looks were few and far between and he seemed to be second guessing his every move. 
Grade: C
Devin Vassell
Coming into this game, Vassell was 33.3% on two-pointers and 40.9% on three-pointers. Tonight, he was 3-for-4 on twos and 0-for-3 on threes. Overall, I thought he was fine on offense. I like that he's not a wallflower and actively takes measures to impact the game on that end. Defensively, I wasn't as impressed as I usually am by him. Vassell was strong in transition but his halfcourt defense wasn't too effective. He was caught overplaying his man a lot, which led to him getting stuck behind the action. The rookie can make plays on defense but he needs to learn how to pick his spots. 
Grade: B-
Pop
Good adjustments by Pop tonight. He took Aldridge off of Wood and instead used Johnson, which paid dividends. Last game, I thought he overplayed Aldridge and drew up too many plays for Mills down the stretch. Tonight, Aldridge only played 17 minutes and Mills wasn't even on the court down the stretch. I still think Pop could have played DeRozan less but otherwise I thought his rotations and strategies were much improved from Thursday night. 
Grade: B
Next Up
The Spurs head out on the road for a quick two-game trip. First, they play the Portland Trail Blazers on Monday and then follow that up with the Golden State Warriors on Wednesday. Considering that the Spurs have played better on the road this season than at home, they probably won't be shedding tears as they fly out of South Texas.