Grades: San Antonio Spurs at Houston Rockets – Game #23
The San Antonio Spurs won their second straight ballgame, a 111-106 victory over the Houston Rockets. The Spurs led for most of the contest but needed a strong closing push to seal the deal. San Antonio is now 13-10 on the season, which is currently the fifth best record in the Western Conference. 
Key Stretch
The Spurs hit a lull in the fourth quarter, which allowed the Rockets to grab a 100-98 advantage with three and a half minutes remaining. That was Houston's first lead of the night. But instead of panicking, DeMar DeRozan's steady hands took the reins. The Spurs went on a 9-2 run in which DeRozan scored seven of the points for San Antonio. The good guys were never threatened again.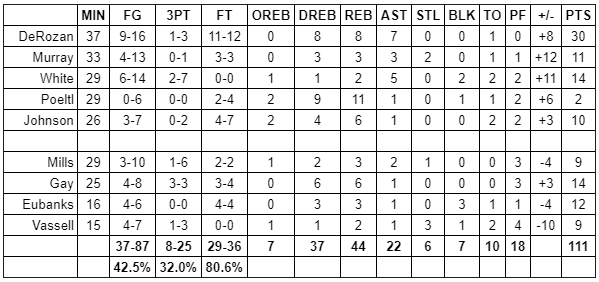 Key Statistic
Houston played stout defense throughout the contest. With open looks hard to come by, the Spurs attacked the rim repeatedly and were rewarded with 36 free throw attempts, of which they hit 29. Hitting 11 more free throws than the Rockets (18-of-25 from the line) turned out to be the difference.
Spurs at Rockets: Final Grades
DeMar DeRozan
The Spurs couldn't have asked for much more out of DeRozan. He was efficient in all aspects of the game. He poured in 30 points on only 16 field goal attempts. His passing was excellent and he had only one turnover. Defensively, he played his role well, grabbed eight boards and finished without a foul. Most importantly, he responded when the Spurs turned to him to close things out. There were opportunities for DeRozan to get rattled but he stayed even-keeled, which was hugely important for San Antonio.
Grade: A+
Dejounte Murray
Defensively, Murray was really good. The Rockets had difficulty scoring whenever he was in the game. He pressed well and supplied timely help. On offense, he pushed the pace well, the ball didn't stick in his hands and he limited his turnovers. That said, his shot-selection was poor and he settled for way too many difficult shots. In his defense, Murray's explosion appeared to be limited (he was questionable for this game due to an ankle injury), which undoubtedly impacted his finishing ability. 
Grade: C
Derrick White
The good: White is launching threes without hesitation, which is exactly what the starting unit needs him to do since there are so many limited shooters around him. His passing was a plus. When the Rockets went super small, White noticed and started attacking the paint more. On defense, his help was solid. The bad: He was more out of control than usual on offense. A couple times gave up open driving lanes to pass into a crowd. His individual defense is hit or miss right now. White's overall bounciness and speed is a work in progress as he gets himself back into game shape.
Grade: B-
Jakob Poeltl
I can't complain with Poeltl on defense. He was rebounding well, defending the rim and venturing out to the perimeter without issue. Offensively, he was inept. His softness going to the rim would make Charmin jealous. Poeltl also wasn't passing as well as usual. That said, he actually hit two clutch free throws that sparked the aforementioned 9-2 run that keyed San Antonio's victory. 
Grade: C
Keldon Johnson
The good: Johnson played better than usual defense and was once again strong on the boards. Offensively, his drives to the baskets paid dividends more often than not. His patience on his drives was notably better. The bad: Johnson stopped shooting after missing two threes. His hesitation on the offensive end hurt the team's flow. His overall energy wasn't as boundless as we've seen previously. 
Grade: C+
Patty Mills
For the second straight game, Mills hit only 1-of-6 from three-point land. His misses tonight hurt more than usual because he was uncharacteristically wide open. Mills didn't handle the ball much on offense but his movement away from the action was helpful. Defensively, he had his moments. He got overwhelmed in the paint a few times but he was moving his feet well out on the perimeter. 
Grade: C
Rudy Gay
With a lot of his teammates not firing on all cylinders on the offensive end, Gay's 14 points were a big deal. He was the pressure release valve the bench unit needed. His self-assuredness on offense helped when things got murky. Defensively, he used his length well by rebounding and clogging the lane.
Grade: B+
Drew Eubanks
This was by far Eubanks' best game of the season. Previously, he had looked fidgety in all of his outings. Tonight, he just played. The results speak for themselves. His first half was especially productive. When he wasn't attacking on offense, he was contesting shots at the rim on defense. He went into halftime with ten points and three blocks. Against a smaller Rockets team, Eubanks' combination of size and athleticism gave him an edge — and he took full advantage.
Grade: A-
Devin Vassell
Vassell had far from his cleanest outing. He had a handful of miscues, including bad turnovers and fouls. But his relentless energy made him a playmaker on the defensive end. His help defense was outstanding and he flashed a lot of potential as a one-on-one defender. Offensively, he remained aggressive, moved well without the ball and took the shots he needed to take. 
Grade: B+
Pop
With LaMarcus Aldridge (hip) and Lonnie Walker IV (stomach illness) sidelined, I mostly liked the rotation Pop went with. Starting White was the right move. (Hopefully we keep seeing a lot of White and Murray together.) Going with Eubanks over Trey Lyles paid off. Leaning on Gay a bit more than usual was the correct call. The negatives: Mills played too much. The Spurs offense was bailed out in the fourth quarter by DeRozan. Without his heroics, the lack of creativity and movement in the fourth would have cost the Spurs the game — and Pop would have deserved part of that blame. 
Grade: B
Next Up
The Spurs go back home to play the Golden State Warriors on Monday and Tuesday. These will be their last two home games before the 2021 Rodeo Road Trip. At the very least, the Spurs need a split.