Grades: Spurs @ Rockets – Preseason Game #4
The San Antonio Spurs notched their first preseason win with a 128-114 victory in Houston over the Rockets. While the Rockets admittedly played really poorly — particularly on defense — this was without a doubt a step forward for the Spurs. A road win against a Rockets team that had James Harden on the court for 34 minutes? That's notable, even in the preseason.
San Antonio, without DeMar DeRozan and Rudy Gay (resting non-serious injuries), played aggressive individual defense for a majority of the game. On offense, the Silver and Black took advantage of a feckless Rockets squad that didn't appear interested in participating on that end of the court.
With DeRozan out, head coach Gregg Popovich started Lonnie Walker IV at small forward. To matchup against Houston's small starting lineup, Pop replaced Jakob Poeltl with Trey Lyles and shifted LaMarcus Aldridge to center.
All in all, the Spurs have to feel better about themselves. But, still, it's just preseason.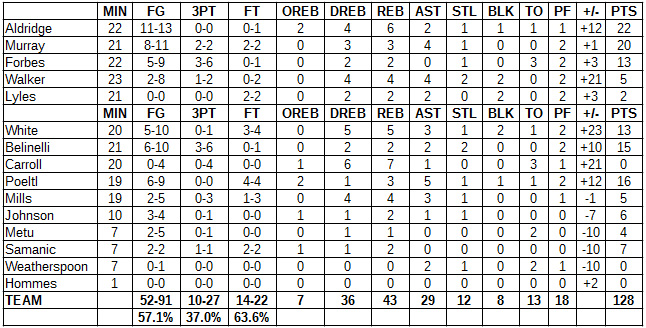 LaMarcus Aldridge
Initially, LaMarcus Aldridge took advantage of shorties defending him by using his bulk and length to get clear views of the rim. Once he caught fire, the Rockets were powerless to stop him — no matter what they tried to do. Aldridge displayed his full offensive repertoire and appeared to be extremely crisp. His jumper, specifically, became unstoppable. After watching how he torched Houston, it appears as if Aldridge is fully ready for regular season play. 
Grade: A
Dejounte Murray
We've seen a lot of flashes in preseason but this was the game Dejounte Murray put it all together. Offensively, he was aggressive looking for his own shot, which more than kept the defense honest. His outside shot is vastly improved compared to his shooting of yesteryear. He takes his take and now has really good balance and form. Beyond shotmaking, Murray also distributed the ball well, exhibited better than usual court vision and took care of the ball. Defensively, he was also really good. From pressuring the ball to switching off onto bigger players to playing passing lanes, Murray looked every bit like a player with elite defensive abilities.
Grade: A
Bryn Forbes
Bryn Forbes was sloppier than usual, especially in terms of his footwork. He also wasn't as patient with the ball as he needs to be in order to be effective. Defensively, he was hit or miss — but mostly miss. All that said, he still supplied much-needed spacing and shot the ball well. Forbes also kept his confidence even when a few things went against him, which is not always the case.
Grade: B–
Lonnie Walker IV
The good: I liked what I saw out of Lonnie Walker IV defensively. He used his athleticism to stay in front of players but was also smart enough to avoid needless fouls. He was completely locked in, from his responsibilities in transition defense to finishing off each possession on that end. The bad: Walker's offensive performance was really underwhelming. He had a couple good passes and stayed within the offense but he was pathetic in terms of finishing in the lane. For someone so athletic, he was really weak about using his athleticism to power his way to the rim. More often than not, he'd panic once he set foot in the paint, which either resulted in a feeble attempt or a poor decision. 
Grade: C
Trey Lyles
Zero shot attempts in 21 minutes? It's difficult to overstate how surprising that is for a guy like Trey Lyles who came into this season with the reputation of being a certified chucker of the highest order. To put it in perspective, the only players on the Spurs who shot as often as Lyles did last season were DeRozan and Aldridge. But, hey, give him credit for trying to fit in. I actually liked the way he played. With Lyles in the starting lineup, the spacing was much improved. His ability to catch a pass at the arc and then penetrate from the perimeter can help further breakdown a defense, even if it doesn't show up in the stats. Defensively, Lyles was a bit sturdier than usual. He can still do more on the boards and he needs to show he can knock down perimeter shots, but this was a pretty good showing for Lyles.
Grade: B
Derrick White
This was the first time this preseason that Derrick White looked like the Derrick White of last season. He was solid in just about all facets, although he specifically was gifted a handful of extra easy offensive opportunities due to Houston's laughable defense. On offense, he picked apart the Rockets, particularly when he played pick-and-roll with Jakob Poeltl. That duo just had too much cohesiveness for the Rockets to handle. When White wasn't dropping off a slick pass, he was patiently creating a midrange look for himself. On defense, he flashed that all-around ability that made him so effective last season. From tight on-ball D to fearless help D, White was all over the place.
Grade: A-
Marco Belinelli
Marco Belinelli was fading this-a-way and that-a-way while shooting difficult jumpers from the perimeter. But he hit more than his share, so it has to be a positive night for the Italian on that end. Belinelli also had a few nice passes with the ball in his hands. Defensively, sigh. Belinelli had a front row seat for a healthy portion of Houston's three-pointers as he inexplicably gave way too much airspace to the Rockets three-point launchers. 
Grade: B
DeMarre Carroll
Ouch. This was a forgettable night for DeMarre Carroll. The ball was coming out of his hands with sidespin, so none of his shots were even close to going in. On top of that, Carroll piled a handful of head-scratchingly odd mistakes. He was completely out of sorts on both ends. The only thing he did well was hustle for boards.
Grade: D+
Jakob Poeltl
Jakob Poeltl looked like a man amongst boys at times. Although, to be honest, that was probably due to Mike D'Antoni sometimes putting shooting guards at center. But even against players his size, Poeltl did well. He was extremely effective in pick-and-rolls and looked especially coordinated when going to the basket. Perhaps most impressive of all was his passing; it's not every day he leads the team in assists. Poeltl and White is a combination we need to see more of going forward as they were downright torturous at times. One negative from tonight: Poeltl was weak on the boards, particularly on the defensive end.
Grade: A-
Patty Mills
I though Patty Mills did a better job of staying within the offense. Too often this preseason, the bench unit has featured Mills endlessly dribbling. In Houston, Mills' got rid of the ball more readily and had decent shot-selection. Defensively, he wasn't especially effective but his energy was a positive.
Grade: B-
Keldon Johnson
Keldon Johnson flashed some strength and ruggedness in the fourth quarter. He could usually be found battling on the boards, scratching or clawing for a loose ball, or playing defense with gusto. It wasn't possible to draw any conclusions other than he's a kid who plays with heart.
Grade: Inc
Luka Samanic
This rookie really scores well on the ol' eye-test. Luka Samanic is a fluid, quick-twitch athlete with a quickly improving jumper. He plays without hesitation and doesn't back down. He needs more strength but Samanic appears to be a worthy prospect with a rather high ceiling if he can put it all together. 
Grade: Inc
Chimezie Metu
Chimezie Metu oscillated between boneheaded plays and plays where his impressive athleticism was on display. He's a good enough athlete to make it but he can be disturbingly raw at times.
Grade: Inc
Quinndary Weatherspoon
This was the first time I was notably disappointed by Quinndary Weatherpoon's play in preseason. His defense lacked intensity and he didn't run the team well on the other end.
Grade: Inc