Grades: San Antonio Spurs at Indiana Pacers – Game #56
In what was honestly an ugly, sloppy basketball game played by obviously exhausted players, the San Antonio Spurs (28-28) won their second straight game to get back to .500. The Indiana Pacers (26-31) were playing from behind the entire way and never really made it a competitive affair. When the final buzzer mercifully sounded, the Spurs were the owners of a 109-94 victory.
After San Antonio's great game against the Phoenix Suns, it was nice to see that some of it translated to tonight's contest against the Pacers. Specifically, the defense was suffocating. Sure, the Pacers were also guilty of an unhealthy amount of autoasphyxiation on this night but, hey, give the good guys credit for lending a helping hand on that front. 
Key Stretch
With five and a half minutes remaining in the first quarter, the game was tied, 17-17. San Antonio finished the quarter with gusto to take a commanding 36-21 lead into the second period. The Pacers, who were playing without Domantas Sabonis, Myles Turner and Jeremy Lamb, never really exhibited the wherewithal to dig themselves out of that hole. 
Key Statistic
The Pacers shot 32.7% from the field and made only 8-of-34 there-pointers for 23.5%. The Spurs didn't exactly shoot the lights out but they were Curry-like compared to Indiana's marksmanship.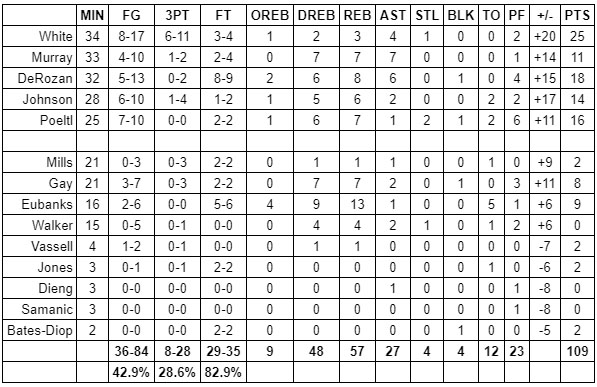 Spurs at Pacers: Final Grades
Derrick White
Interestingly, the main thing that the Spurs brought forward from the Suns game was keeping White as the team's main ball-handler. That strategy once again paid dividends. In the first quarter, he was white-hot from three-point land (4-for-4) and poured in 16 points in less than ten minutes of play. White cooled off but he remained a threat — both shooting-wise and passing-wise. He also finished the game without a turnover and played stingy defense. 
Grade: A-
Dejounte Murray
Like White, Murray deserves a few golf claps for playing really good defense. Combined, those two were the main reasons why Malcolm Brogdon (5-for-20 from the floor) and Caris LeVert (18 points on 19 shots) struggled. He was also really helpful on the boards. Offensively, Murray made plays and passed it well even though he wasn't handling the ball as much.  
Grade: B+
DeMar DeRozan
Wow, where did this defense come from? DeRozan typically oscillates between playing bad defense and really bad defense but tonight he was genuinely solid. His rotations were timely, his doubles were physical and he competed on the glass. Offensively, DeRozan didn't do anything too far out of the ordinary but he was definitely an asset. He got to the line, authored a number of heady passes and was yet another ball-handler who finished this game without a turnover. 
Grade: B+
Keldon Johnson
Johnson wasn't consistent on a possession to possession basis but, at the end of the ballgame, it was difficult to scoff at his production. I liked that he shot threes when open and eventually he was able to find driving lanes to the rim. Defensively, Johnson had issues in transition and in switches but he was okay-ish overall. 
Grade: B
Jakob Poeltl
The good: Poeltl was a lot more aggressive on offense and the results were positive. Even his free throws looked smooth. Oh, and his fast-break ball-handling was better than I imagined it would be. On defense, Poeltl was really good out on the perimeter and in the paint. His D has been inconsistent lately but it was stout tonight. The bad: Poeltl had a few bad fouls and ended up fouling out early in the fourth. 
Grade: A-
Patty Mills
So, yeah, something was off with Mills tonight. I don't know if he was injured, sick or just tired but he barely did anything when on the court. On offense, he was literally hiding in the corner for a majority of his minutes — and we never see that from Mills. Defensively, he was getting blown by left and right. In his first 18 minutes, his only marks on the statsheet were a missed three-pointer and a turnover. Then, in another out of character occurrence, Mills instigated a brouhaha that ended up with JaKarr Sampson getting ejected. After that, the Australian showed a few more signs of life but he still looked like he was injured, sick, tired or something. 
Grade: D-
Rudy Gay
Not bad. With Mills hiding in the corners, Gay was able to the be the focal point of the bench — and he did pretty well. He scored enough and passed enough to keep the bench unit afloat. Defensively, I thought he was better than usual, particularly when factoring in his rebounding. 
Grade: B
Drew Eubanks
After going 13-for-13 in his last two games, Eubanks was feeling himself a little bit too much against the Pacers. His aggression was admirable but he ended up trying to do way too much, which was the main reason for his five turnovers. His production was awesome (nine points and 13 rebounds in 16 minutes) but he was so out of control that he was barely playable. But, honestly, I liked it. He's growing as a basketball player, so these are the type of growing pains the Spurs will have to live with if Eubanks is going to take another step in his maturation. 
Grade: C+
Lonnie Walker IV
This was an oddly bad game from Walker. It was like he was unfocused and going through the motions while simultaneously trying to remain in the thick of the action. His team defense was bad and his individual defense wasn't much better, but at least his defensive rebounding was good. Offensively, he had a couple quality passes but it was otherwise a night to forget. 
Grade: D
Pop
Yes, the Spurs easily won this game and dominated for much of it. But I wasn't that impressed with Pop. First of all, why did the starters play so many minutes when the game was so rarely competitive? This would have been a great chance to give the starters rest. Secondly, not unwrapping Devin Vassell until garbage time was frustrating after watching how well Vassell did against the Suns. The fact that Mills was barely alive and Walker was so out of it begged for Pop to put in Vassell … but, nope, didn't happen. The bright spot Pop-wise was the decision to keep White as the main ball-handler. That's how the Spurs operated in the Bubble and I think that's the best alignment going forward. The second brightest spot was Pop holding players accountable for poor transition defense. His intensity in that regard has played a part in the two straight strong defensive performances.
Grade: C
Next Up
Unfortunately, the Spurs play two home games next. The first one is Wednesday night against the Miami Heat. That's followed the next night when San Antonio hosts the Detroit Pistons.