Grades: San Antonio Spurs vs. Indiana Pacers – Game #59
In a game filled with runs, the San Antonio Spurs came up short at the end to drop to 25-34 on the season, falling to the 12th seed in the Western Conference. The Indiana Pacers improved to 37-24 with their 116-111 victory in San Antonio. 
The good guys started off on the right foot. Less than two minutes into the game, the Spurs held a 10-0 lead. The Silver and Black eventually lost that advantage late in the first quarter, however a strong finish to the period gave the Spurs a 34-26 lead going into the second.
Two minutes into the second quarter, the Spurs were up 38-29. Unfortunately, the rest of the quarter was a disaster. The Pacers totally turned the game around by outscoring the Spurs 32-13 in the game's next seven minutes to take a ten-point lead, 61-51. Going into halftime, Indiana was up 66-57.
The third quarter was a matter of survival for the Spurs. The Pacers grew their lead to as many as 15 points but the Spurs did just enough to keep the game from slipping away. The Pacers led 92-84 entering the fourth quarter. 
Indiana was ahead 94-84 with 11 minutes remaining. That's when the Spurs made their final push. Ignited by two three-pointers and a hellacious dunk by Lonnie Walker IV, San Antonio went on a 18-4 run in less than five minutes to go up four points, 102-98.
With the Spurs using a super small lineup, the Pacers began to overwhelm due to their size. San Antonio kept hitting three-pointers to keep the score close. In the final two minutes, Patty Mills attempted and missed two three-pointers that could have tied it. The Pacers hit their free throws and the game was over.
This was certainly a disappointing loss. The Spurs were almost able to win due to a fourth quarter rally but they just didn't have enough beef in the middle when it counted. With LaMarcus Aldridge and Jakob Poeltl out due to injury, the Pacers took advantage when it counted most.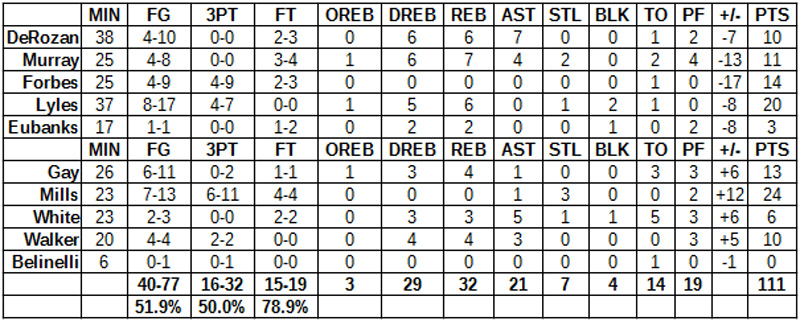 Spurs vs. Pacers – Final Grades
DeMar DeRozan
This was just an underwhelming performance by DeMar DeRozan. In the first half of play, DeRozan wasn't involved much and was scoreless on 0-for-2 shooting from the field. While his offense picked up in the second half, DeRozan was spending most of his time driving to the hoop in hopes that he'd get fouled. Defensively, he was sometimes really, really bad and at other times only really bad. On the plus side, his passing was good throughout but the Spurs need more out of DeRozan than what they got tonight.
Grade: C-
Dejounte Murray
Dejounte Murray had another game where his actual play wasn't as good as his stats indicate. His running of the offense was haphazard, his decision-making was iffy and he never had command of the action on offense. He had a few nice moves and a couple nice passes but he wasn't as crisp as he was on the Rodeo Road Trip. Murray was active on defense but his effectiveness was highly questionable. He was gambling a lot and most of those gambles didn't pay off.
Grade: C+
Bryn Forbes
Sure, Bryn Forbes got steamrolled on defense — but that's to be expected. On offense, he helped lead the Spurs out of the gates with three first quarter three-pointers. His other three came at an important point in the fourth quarter.
Grade: B-
Trey Lyles
Trey Lyles scored exactly 20 points for the second straight game. Like Forbes, Lyles hit three three-pointers in the first quarter. He now has his three-point percentage up to a respectable 37.9%. When he wasn't hitting threes, Lyles authored a few impressive drives to the rim. His lack of athleticism hurts his finishing ability but he's crafty enough to survive. Defensively, I can't fault Lyles' effort. He played quite a bit at center against a Pacers squad with two strong bigs and Lyles was able to hold his own for the most part. 
Grade: A-
Drew Eubanks
Drew Eubanks got the start at center and did … okay. His timing with his teammates is understandably poor. Eubanks not having the greatest hands also hurts his cause when passes are catching him by surprise. He gave good effort on defense, battled on the boards and went after a few blocks. Eubanks had a lot of sloppy moments but considering the circumstances, he did well enough for the coaches to consider starting him once again if needed. 
Grade: B-
Rudy Gay
It looks like Rudy Gay is finally starting to defrost. He's still really loose with the basketball in his hands and his movements are all in slow motion right now (he's supposedly battling nagging injuries). That said, he gave the Spurs a much needed scoring punch and another player who could create shots. On both ends of the court, Gay might have looked most comfortable when he was at center — as strange as that may be. At center, he can use his strength and his slowness isn't as much of an issue.
Grade: B
Patty Mills
Patty Mills' shot-selection wasn't the greatest — but his competitiveness and will to win powered the Spurs on this night. Without Mills and the electricity he brought to the game, the Spurs would have been toast. On offense, he maniacally searched out three-point shots. On defense, Mills was hustling as much as he could and used his quickness to help the Spurs get stops. San Antonio couldn't have asked for much more. 
Grade: A-
Derrick White
This was another disappointing game for Derrick White. He had a team-high five turnovers — and that begins to tell the story of how careless White was with the ball. He didn't look to score nearly enough and his playmaking was only sporadically adequate. Defensively, White was better but he still got scored on a whole lot. He had several highlights on defense but his overall play just wasn't what the Spurs needed to get this win. 
Grade: C-
Lonnie Walker IV
Lonnie Walker IV was having another very quiet game when he exploded in the fourth quarter. He hit two important three-pointers that bookended one of the best dunks of the Spurs season. Beyond the flash, Walker also had a few really good passes that exhibited better than normal court vision. Defensively, I thought he did a lot of good. He had some mistakes here and there but his effort and physicality on that end was a plus. 
Grade: A-
Marco Belinelli
Marco Belinelli played six minutes, missed a three, had a couple other poor plays and then checked out. 
Grade: Inc.
Pop
The good: Trusting Walker in the fourth paid dividends. Pop's belief in Lyles is also starting to pay off. I thought it was the right call to go small with Gay at center. It's a microscopic lineup with Gay at five and DeRozan at four … but, honestly, that might be their best positions right now. It allows both to have built-in advantages on offense and they are both better at being physical on D than chasing around perimeter players. The bad: No Murray and White combination. His playcalling down the stretch was predictable. The Belinelli minutes were a waste. 
Grade: C+
Next Up for the Spurs
The Spurs have a back-to-back against the Charlotte Hornets to begin a three-game road trip. While the playoffs are already an extreme long shot as it stands, a loss to the Hornets might be the final nail in the coffin.