Grades: San Antonio Spurs at Los Angeles Clippers – Game #49
After leading by as many as 15 points, the San Antonio Spurs (22-27) lost a heartbreaker to the Los Angeles Clippers (35-15) on Monday night by a final score of 108-105. This loss hurts due to the fact that the Spurs played really well for a large portion of the game and had a chance to win a game in which they were heavy underdogs. Unfortunately, all their encouraging play wasn't able to produce a victory in the first game of the 2020 Rodeo Road Trip.
The Spurs got the ball rolling offensively early on and that momentum never ceased in the first quarter. No matter who was on the court, San Antonio kept it going. By the end of the period, the good guys had a 39-29 lead. 
In the second quarter, the Spurs pushed their advantage to 15 points before the Clippers came storming back to get within five. Before halftime, the Spurs were able to rebuild some of their cushion. At intermission, the Silver and Black held a 63-54 lead.
The Spurs came out ice cold after the halftime break. In retrospect, this stretch is what cost San Antonio the game. After going without a field goal for the quarter's first 6:20, the Spurs found themselves in a five-point hole. The good guys eventually got going enough to stop the Clippers from taking over, however they still trailed 85-82 going into the fourth.
The final period was a back and forth affair throughout. A Patty Mills three-pointer gave the Spurs a 102-97 lead with three minutes to go. The Clippers responded with a 7-0 run to take a two-point lead. The Spurs got Mills an open look from three-point territory with 32 seconds remaining that could have given them the lead … but he missed. Paul George put the Clippers up by four with 13.7 remaining. After a Mills three-pointer, Derrick White had a halfcourt shot at the buzzer to force overtime but there was no miracle on this night.
Overall, I can't be too upset with how the Spurs played. Other than the dry spell in the third quarter, it can be argued that the Spurs handily outplayed the Clippers. But, unfortunately, moral victories don't count as wins and this Spurs team desperately needs real wins in order to make a successful playoff push.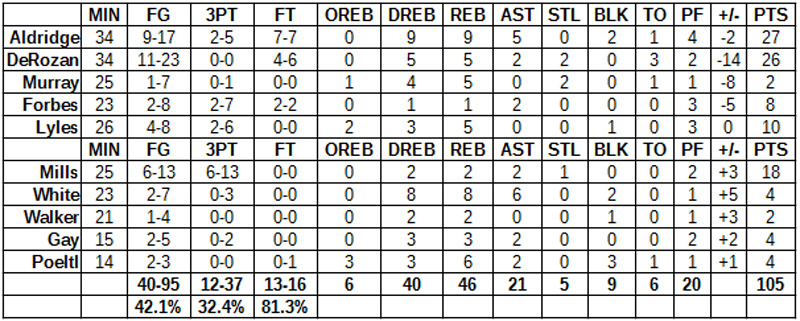 Spurs at Clippers – Final Grades
LaMarcus Aldridge
After struggling in his first game back from a thumb injury, LaMarcus Aldridge was back to being LaMarcus Aldridge tonight. I was really impressed in all phases. Offensively, he successfully balanced spacing the floor with his three-point shooting and carrying the team with a mix of force and touch inside of the arc. Aldridge passed the ball much better than usual, limited his mistakes and was a monster in the fourth quarter, scoring 13 of the team's 23 points. Defensively, he guarded the rim well, was quick to help, rebounded really well and was more active than normal. The Spurs couldn't have hoped for much more out of Aldridge. 
Grade: A
DeMar DeRozan
Man. In the first half, DeMar DeRozan was awesome. He had 21 points on a variety of different moves. The Clippers weren't sending help in the first two quarters and DeRozan made them pay by unleashing his entire repertoire. He shot 10-for-13 in the first half. In the second half, DeRozan was really bad. The Clippers started clogging his lanes and the result was a 1-for-10 showing, including an 0-for-3 scoreless fourth quarter. In the final two periods, DeRozan didn't take smart shots, forced the action and wasn't creating plays for teammates despite L.A. paying him extra attention. The bad second half was untimely, to say the least, because the Spurs coast to a victory if he has even a decent end to the game. Defensively, I thought DeRozan was pretty good, relatively speaking. He's never going to be a great defender but he was attentive and efforted to the best of his ability. 
Grade: C+
Dejounte Murray
Dejounte Murray's numbers look ugly and they tell a lot of the story. He was impotent whenever he called his own number; the Clippers seemingly swallowed up or severely altered all his attempts. I thought his running of the show was actually decent at times — except for what he got it in his head that he needed to score and then got tunnel vision. During those episodes, he missed multiple wide open teammates. Defensively, I was pleased for the most part. He struggled a bit in transition but he held up well against much bigger players. Murray was one of the main defenders against Kawhi Leonard, who had only 22 points after scoring 30 or more points in each of his previous nine games. 
Grade: D+
Bryn Forbes
More garbage play from Bryn Forbes, to put it bluntly. He shot poorly, highlighted by his scoreless second half. His defense went from bad to worse as the game progressed. During his most important minutes, he was getting destroyed in one-on-one matchups and was making silly decisions when attempting to help on D.
Grade: D
Trey Lyles
Trey Lyles exhibited a lot of silver linings tonight, particularly in the first half. All ten of his points came in the first two quarters, as the 24-year-old shot with confidence and moved with purpose. Defensively, he might have been even better. His ability to guard out on the perimeter was really impressive. Lyles didn't do much on defense inside of the paint but the quickness of his feet on the outside made him look like the type of mobile stretch four that is really valuable these days in the NBA. 
Grade: B+
Patty Mills
All of Patty Mills' shots were from three-point land, which was fine considering he was 6-for-13. He fired away with gusto and gave the bench unit the scoring punch it desperately needed. Mills hit some big shots but it's too bad he missed the one late that could have given the Spurs the lead. That said, you can't knock his production or hustle on this night. His competitiveness was contagious and he survived decently on defense despite his size disadvantage. 
Grade: A-
Derrick White
Defensively, Derrick White was really, really good at times. He moved his feet extremely well, challenged shots on the perimeter and at the rim, played physically when it was needed, and crashed the defensive glass. White had a few sloppy moments but I thought he was definitely a defensive force for good. Offensively, White's passing was really good and he pushed the pace better than usual. He also went without a turnover despite the Clippers pressure. That said, the Spurs could have really used more scoring from White. He wasn't aggressive enough in that regard and it made everyone's life more difficult than it needed to be. 
Grade: B
Lonnie Walker IV
Due mostly to his live body on defense, Lonnie Walker IV was given the opportunity to close out the game against the Clippers (he played all but eight seconds of the fourth quarter). His production in his 21 minutes was minimal (two points, two rebounds and a blocked shot) but he had some positive intangibles. Defensively, he stayed in front of his man well. He also was good about giving help in the paint but still recovering fast enough on shooters to bother their jumper. Offensively, his lone bucket came at an important time in the fourth quarter. While he didn't do a whole lot, I liked the confidence he played with and the fact that he wasn't intimidated by the bright lights. Obviously, though, going forward the Spurs need more tangible production from Walker if he's going to earn a permanent spot in the closing lineup. 
Grade: C+
Rudy Gay
Rudy Gay played 15 minutes and was solid enough. He gave the bench a little bit of life with his shot creating and his passing. Gay also avoided the turnovers and fumbles that have plagued him recently. Defensively, he was slow on the perimeter but provided decent help due to his length and he crashed the boards. 
Grade: B-
Jakob Poeltl
At first, Jakob Poeltl wasn't able to stay on the court. Why? Became he forgot his jersey. After resolving his wardrobe malfunction, Poeltl was extremely active in his 14 minutes. He was doing it all: blocking shots, altering shots, rebounding on both ends, running the court, passing well, and making heady decisions with the ball. For many of his minutes, he was the most disruptive player on the court. Poeltl could have been more physical at times and his finesse cost him at both ends — but that was about the extent of his negatives on that night. 
Grade: A-
Pop
I don't have much to complain about regarding Pop's coaching. I thought the gameplan was excellent. Defensively, the Spurs were packing the paint to force the Clippers to make jumpers, which was a welcomed adjustment after San Antonio allowed L.A. to dunk it 20 times in their last meeting. He also was able to keep the weaker defenders out of harm's way most of the evening. Offensively, the Spurs utilized extra screening and extra ball movement to get quality shots against the longer and more athletic Clippers. Rotations-wise, Pop handed Marco Belinelli a DNP-CD, finished the game with Walker on the court and got good minutes from Lyles. He also relentlessly fed Aldridge and his playcalling down the stretch resulted in a lot of open looks. My critiques: Forbes played too much, finding more minutes for Poeltl would have been helpful and his use of timeouts late in the game was poor. 
Grade: A-
Up Next for the Spurs
The Spurs have a back-to-back but they don't have to go far, as they play the Los Angeles Lakers in the Staples Center on Tuesday night. That's obviously going to be a very difficult game against the top seed in the West. Then again, these Spurs seem to play their best when no one is expecting them to be able to compete in a game.