Grades: San Antonio Spurs vs. Los Angeles Clippers – Game #41
That wasn't fun. The San Antonio Spurs got walloped by the Los Angeles Clippers on Wednesday night in the AT&T Center by a final score of 134-101. This is San Antonio's third straight loss and they're now 22-19 on the season.
The Clippers were humming offensively. They made the sport look easy by basically getting whatever they wanted and sinking 17-of-33 three-pointers. Conversely, the Spurs were slogging through mud on the offensive end. The Clippers were sagging into the paint and the Spurs never figured out a way to make them pay. The lack of spacing, particularly in the starting lineup, is now appearing to be very much an issue. Defensively, the Spurs had a handful of dreadful performances, which made life even easier for the Clippers.
Key Stretch
The Spurs got within five points with five minutes remaining in the first half. Unfortunately, the good guys did a bad job of closing out the quarter. When intermission arrived, the Spurs trailed 67-53. From then on, the game was never again competitive.
Key Statistic
Kawhi Leonard and Marcus Morris, two players who aren't exactly loved in the Alamo City these days, brought more despair to South Texas. The twosome combined for 45 points on 16-of-24 shooting, including 7-for-9 from three-point land.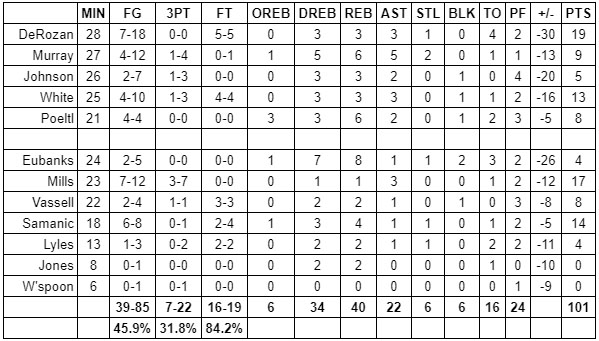 Spurs vs. Clippers: Final Grades
DeMar DeRozan
Last game, DeRozan was great on offense and terrible on defense. Tonight, he was bad on offense and terrible on defense. Let's start with the D. From lazy closeouts to non-existent rotations to lackadaisical individual defense, DeRozan was a disaster on that end and the Spurs were hemorrhaging points whenever he was in the game. Offensively, he had more turnovers than assists and scored only 19 points on 18 shots. The biggest issue was his reluctance to shoot outside shots. The Clippers were barely guarding him outside of the paint, yet he didn't even attempt a three-pointer tonight. 
Grade: D-
Dejounte Murray
It wasn't a good game for Murray but he wasn't one of the leading problems. He missed some makeable shots and made some shaky decisions with the ball. That said, he was one of the few players willing to shoot when open, he led the team in assists, he kept his mistakes to a minimum and he was efforting decently well on defense. 
Grade: C
Keldon Johnson
I didn't like Johnson's defense at all. He was reaching too much and wasn't keeping anyone in front of him. Yes, the Clippers have talented wings but there's no excuse for getting constantly blown off the dribble. Offensively, Johnson probably needed to shoot even more three-pointers. With the Clippers sagging off of him so much, he ended up doing too many kamikaze missions right into the teeth of the awaiting defense. 
Grade: D+
Derrick White
The few times the Spurs looked like a competent basketball team, White was leading the charge. He made a few plays on offense and on defense. The problem was that he just wasn't consistently aggressive enough. With L.A. sagging so much, White needed to step into a bigger role on offense. Defensively, he was also caught flat footed at times. 
Grade: C
Jakob Poeltl
Poeltl had been doing a good job of staying out of foul trouble but recently he has regressed a bit in that department. Tonight, the Clippers back-breaking run to end the first half came shortly after Poeltl picked up his third foul. Although he was 4-for-4 from the floor, he needed to be even more productive offensively because the Clippers were roaming off of him virtually every time up the court. Defensively and on the boards, he was okay — but the Spurs need more from their starting center. 
Grade: C
Drew Eubanks
Eubanks had moments here and there but overall he was overmatched. His defending of the rim was sporadic at best; the Clippers finished a number of plays right over the top of him. On offense, he struggled to figure out what should be done against a team so dedicated to sagging. All in all, Eubanks gave a pretty good effort but his technical skill and overall awareness were lacking. 
Grade: C-
Patty Mills
This loss wasn't on Mills. He was defending to the best of his ability. Sometimes he got overwhelmed by size but it wasn't for a lack of chutzpah. Offensively, he kept the intensity high and was able to carve out a notable amount of positive possessions on this dreary evening. 
Grade: B
Devin Vassell
Not a good game for Vassell. He was a step slow when helping on defense. He was a step slow around screens. His individual D was also nothing to write home about. Offensively, he was too willing to blend into the background.
Grade: D+
Luka Samanic
The one silver lining for the Spurs tonight was Luka Samanic. With Lonnie Walker IV and Rudy Gay out, Samanic played real minutes and once again looked like a real, genuine NBA basketeer. Defensively, he wasn't perfect but his ability to defend out on the perimeter remains shockingly good for someone his size. He can really move his feet, has fast reflexes and good anticipation. Offensively, he's not bashful at all. He scored a few tough buckets via assertive moves and deft finishing. Samanic still has a lot of room to polish his game but it looks like the Spurs may have something here.   
Grade: A-
Trey Lyles
Not a terrible showing by Trey Lyles but also not a good one, either. Right now, he's incentivized to play with a truckload of motivation … but I just don't see it. Lyles is going through the motions too much of the time and is too timid to try to make an impact on the proceedings. 
Grade: C-
Pop
Pop's going to need to figure out the spacing issue because teams are starting to learn that they can just hang back in the paint. Whether it's getting White more involved or replacing Eubanks in the rotation with someone who can shoot (Samanic or, heck, even Lyles at this point), something needs to be done or else the offense will continue to struggle. 
Grade: D+
Next Up
Welp, the Spurs won't have to think about this one for very long. These same two teams play again tomorrow night.