Grades: San Antonio Spurs vs. Los Angeles Clippers – Game #42
The San Antonio Spurs followed up a disappointing loss to the Los Angeles Clippers with an even more disappointing loss to the Los Angeles Clippers. A day after getting demolished by a final score of 134-101, the Clippers beat the Spurs again — this time without the services of Kawhi Leonard (rest), Marcus Morris (rest), Serge Ibaka (injured), Patrick Beverley (injured) and Lou Williams (traded).
Between the two games, the Spurs had an underwhelming performance at the trade deadline. Their lone move was an iffy trade for Marquese Chriss.
In tonight's contest, the Spurs took a 55-49 lead into halftime but then the offense fell apart. In the second half, San Antonio scored a total of 30 points. When the dust had settled in the second consecutive letdown of a loss, the Clippers had a 98-85 victory in hand.
Key Stretch
San Antonio's last chance came after cutting the deficit to three points, 86-83, with four minutes remaining. Sadly, Reggie Jackson hit a fadeaway in the lane and then a buzzer-beating three-pointer to spark an 8-0 Clippers run that sealed the win. The good guys would score only two points the rest of the way.
Key Statistic
The Clippers shot just 38.2% from the floor but they survived by hauling in 14 offensive rebounds. The Spurs, on the other end of the hardwood, had a season-low of two offensive rebounds.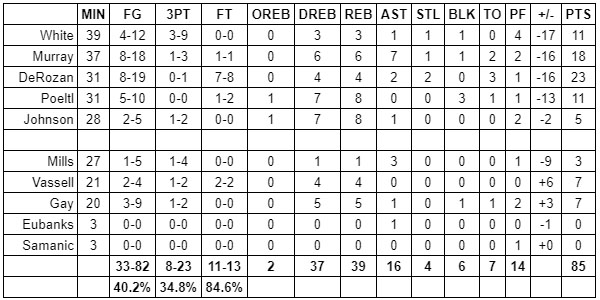 Spurs vs. Clippers: Final Grades
Derrick White
The good: White's defense was mostly solid. He did well against Paul George and his team-defense was solid. On the other end, the Spurs needed him to launch threes — and he did. The bad: Other than shooting threes, White was listless on offense. He was tiptoeing around not doing a whole lot of anything. One assist and one two-pointer in 39 minutes isn't going to get it done. His defense was also MIA for a little bit after he got hit in the mouth and lost a tooth. 
Grade: C-
Dejounte Murray
The good: Murray's effort was commendable. He was stout on defense, rebounded well and his playmaking was better than average. For stretches, Murray's activity and liveliness kept the Spurs alive. The bad: A lot of the time, Murray made it too obvious that his intentions were to go one-on-five on the offensive end. Even when the Spurs are desperate, he has to keep running the offense. 
Grade: B-
DeMar DeRozan
DeRozan exhibited more life on the defensive end than he has in recent games. He was helping and hustling a lot more than usual on that end. He wasn't a good defender, mind you, but he wasn't the trainwreck he's been lately. Offensively, he made a concerted effort to get into the lane and use his underrated strength to his advantage. That strategy didn't pay consistent dividends, unfortunately. At the end of the game, he had more turnovers than assists and didn't hit enough shots to counterbalance that fact. 
Grade: C-
Jakob Poeltl
Poeltl's lack of sturdiness in the center led to a lot of problems. Ivica Zubac finishing with as many offensive rebounds as Poeltl had defensive rebounds isn't acceptable. The Austrian uncharacteristically had trouble holding his ground. Offensively, he was trying to quick-shot everything and ended up missing too many makeable looks. Teams aren't paying much attention to Poeltl at all on the offensive end right now, which is a main reason why the wheels are gummed up. 
Grade: D+
Keldon Johnson
Johnson's defense was much better. He was reaching less and did a better job of keeping his man in front of him. He wasn't always strong on the defensive glass but he was better in that regard than most of his teammates. Offensively, Johnson simply wasn't involved much. With as much as the Clippers are sagging, he had trouble finding lanes to the rim. Eventually, he seemed to stop even seeking out those lanes. 
Grade: C-
Patty Mills
For a guy who is paid to provide energy, Mills was way, way too passive. His defensive intensity was poor. He pushed the ball well a few times but his overall movement was subdued. Finding only five shots in 27 minutes when the offense was circling the drain wasn't a good example of veteran leadership. 
Grade: D-
Devin Vassell
Vassell did decently well. He passed up a couple shots and made a couple bizarre passes but otherwise did well. His shooting stroke looks smooth and he knows exactly what he's doing on defense. That said, for Vassell to start impacting games, he needs to turn up the volume level a few notches. 
Grade: B-
Rudy Gay
To be blunt, Gay looked old and slow. His movements on defense can only be described as labored. Offensively, his mind knew what he should do but his body was usually incapable of following through. 
Grade: D+
Drew Eubanks
Eubanks was the backup center for a couple minutes until Pop realized that the Clippers weren't playing a backup center. 
Grade: Inc.
Luka Samanic
Samanic got a few minutes in the first half when he came in to replace Eubanks. While we didn't see much of him, the Croatian continues to pass the eye-test as an NBA-caliber athlete. 
Grade: Inc.
Pop
Pop made a few subtle adjustments like moving DeRozan to the post, eliminating Eubanks from the rotation, and using more press and zone coverage. Ultimately, though, the team looked rudderless in the second half and Pop didn't do anything of note to help rally his troops. Playing Samanic might have helped. Making a point to get Johnson more involved could have helped. But, instead, the Spurs just continued taking turns one-on-one on one end and getting smashed on the boards on the other end.
Grade: D+
Next Up
The Spurs have a four-game losing streak and are now just 22-20 on the season. The next game, Saturday night versus the Chicago Bulls, is now really important. The Spurs can't start a nine-game homestand with four straight losses without doubt about their playoff worthiness creeping in.