Grades: San Antonio Spurs vs. Los Angeles Lakers – Game #4
The San Antonio Spurs dropped a heartbreaker on Tuesday night in the AT&T Center against the Los Angeles Lakers. After climbing out of an early hole, the Spurs went up by 12 points in the fourth quarter — only to see their lead slip away. In overtime, the Spurs climbed out of another hole but the Lakers responded with key plays late to snag a 125-121 victory.
Frustratingly, the game basically came down to the Spurs missing all seven of their free throw attempts in the fourth quarter. With LeBron James sitting out due to injury, the Lakers got big outings from future Hall of Famers Anthony Davis (35 points, 17 rebounds, four assists and four blocks) and Russell Westbrook (33 points, ten rebounds, eight assists and three steals). Despite those gargantuan performances, San Antonio's ragtag team of unheraldeds saw a win slip through their fingers to drop to 1-3 on the season.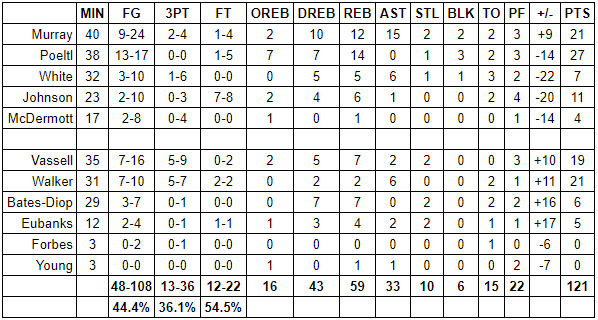 Spurs vs. Lakers: Final Grades
Dejounte Murray
After a disastrous first stint that saw him miss all of five of his shots (including three of his attempts getting blocked) and tally no assists, Murray was outstanding the rest of the way. His decision-making, passing and running of the offense were all fantastic. His defense and ball-security were steady throughout. When the Spurs had success on offense, it usually involved Murray leading the charge. Scoring-wise, Murray bounced back from his slow start to hit nine of his next 15 shots. Unfortunately, he missed the final four shots he took — including a potential game-winner at the end of regulation. Overall, though, Murray played extremely well and flashed many examples of brilliance.
Grade: A
Jakob Poeltl
Since the start of preseason, the Spurs have been focused on getting Poeltl more involved on the offensive end. Against the Lakers, that focus paid dividends. Not only was Poeltl a deadly pick-and-roll threat, San Antonio also tossed him the ball in the post — particularly when he was guarded by smaller defenders. The Austrian responded with a career-high 27 points. He was also stout on the boards and was an outstanding help defender in all facets. Only two areas kept Poeltl away from perfection: his 1-for-5 free throw shooting and individual defense that was too often not sturdy enough at the point of attack.
Grade: A
Derrick White
After a series of strong outings, White took a step back against the Lakers. His effort was admirable on defense but he wasn't as quick to his spots as he is normally. Offensively, he hesitated too much and was too ready to shy away from contact and the spotlight. The Spurs could have really used another dynamic offensive orchestrator — but White wasn't up for the job.
Grade: C
Keldon Johnson
Following back-to-back impressive offensive showings, Johnson regressed against the Lakers. Firstly, his inability to space the court with perimeter jumpers allowed L.A. to sag into the paint. Johnson compounded issues by holding the ball too much and missing open teammates. He retained some value by getting to the free throw line — but that was about the extent of his positive play. Defensively, he was physical in the paint but he missed switches and was slow to get back in transition.
Grade: C-
Doug McDermott
McDermott nailed a career-high seven three-pointers in his last outing. On Tuesday, he came back down to earth. He had a running dunk and a put back after an offensive rebound but missed his other six shots from the floor. His shot-selection might have been a little bit too loose but I liked the aggressiveness. Defensively, he was okay-ish.
Grade: C
Devin Vassell
Vassell played 35 minutes off the bench and was supremely active. His coordination and fluidity were lacking at times but he was a whirlwind of activity. Offensively, he was never shy about shooting the ball or trying to make things happen. It was rarely pretty but his impact on that end was helpful. Defensively, he had a couple mistakes but he had more big plays that helped give the Spurs a chance to win.
Grade: A-
Lonnie Walker IV
When nothing else was working, San Antonio's best offensive weapon was to give the ball to Walker and get out of the way. There were numerous occasions where the Spurs would have been dead in the water if not for Walker's excellence on the offensive end. From three-point shooting to finding teammates off the move, I was impressed by how much success Walker had against such a veteran, defensive-minded squad. He was also better than average on the defensive end. Unfortunately, Walker seemed to run out of gas and did very little in the fourth quarter and in overtime.
Grade: A–
Keita Bates-Diop
In an apparent effort to match up size-wise against the tall and long Lakers, Bates-Diop played 29 minutes off the bench. All in all, I thought he did well. Defensively, his switching, rebounding and timely help made him valuable in practically every possession. Offensively, Bates-Diop's ball-handling and court awareness were handy traits. If he was a little bit more aggressive and more confident in his shot, this could have gone down as a breakout performance. As it was, he was solidly good.
Grade: B+
Bryn Forbes
I don't know how many more chances I can stomach. Forbes is just a terrible fit for this team, which should have been obvious before they even signed him — but I digress. Against the Lakers, he missed two more shots, played pitiful defense and threw a no-look pass into the crowd before being yanked after a three-minute horror show.
Grade: Inc.
Thaddeus Young
Young got a few minutes to show what he could do. He had a couple slick passes but his defense and rebounding were lacking. He had to go up against larger human beings on that end and didn't have much success.
Grade: Inc.
Pop
Pop's rotations were really strange this game. I'm not sure why he went 11 deep in the first half; his team just had two days off so it's not like they should have been tired. The incoherent rotations seemed to hurt his team's cohesion throughout. Minutes-wise, I loved that he played Vassell and Walker so much but benching Johnson for long periods of time was highly questionable, especially when considering the bigger picture. In terms of Xs and Os, I think Pop did well for the most part. That said, more touches for Walker in the fourth and in overtime could have helped matters. 
Grade: C
Next Up
The Spurs are 1-3 but they still have to feel good about how they're playing. Their three losses were against quality teams and San Antonio played well in all three games. On Thursday, things don't get much easier when the Spurs travel to Dallas to take on the Mavericks.