Grades: San Antonio Spurs vs. Los Angeles Lakers – Game #18
The San Antonio Spurs put up a good fight against the Los Angeles Lakers but ended up losing by a final score of 114-104. The Lakers improved to an NBA best 15-2 after the win, while the Spurs dropped to 6-12.
The teams traded body blows in the first quarter, with neither team gaining much of an advantage. The second quarter saw the Spurs lead by as many as six points. At halftime, San Antonio was up 56-54.
The game remained tight in the third quarter, however the Lakers slowly but surely began to grab control. Heading into the fourth, L.A. was up 86-82. Four minutes in the final stanza, the Lakers pushed their lead to double-digits. From then on, the Spurs were never really able to get back into it.
All in all, the Spurs did pretty well. The Lakers are obviously on a different level right now. San Antonio didn't implode and competed decently on both ends — so there were some slight silver linings. That said, the good guys did more bad than good and it's not safe to say that their slump is over. We'll see what happens in the coming week.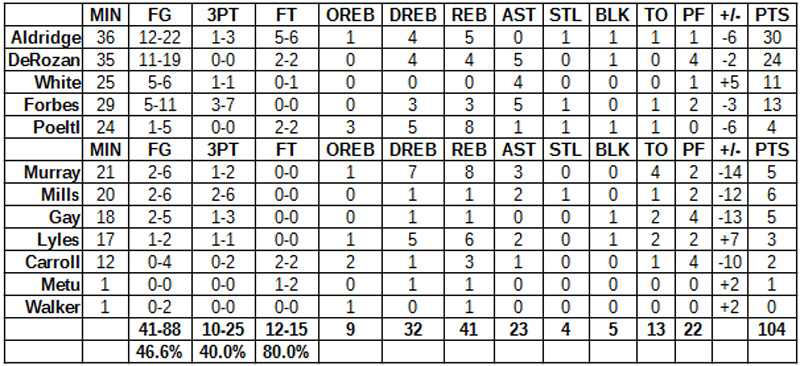 Spurs vs. Lakers – Final Grades
LaMarcus Aldridge
You can't blame LaMarcus Aldridge for this loss. He outplayed Anthony Davis handily while keeping the Spurs afloat offensively. He hit shots from the outside, which fueled his confidence and kept him active. Defensively, he had strong moments against Davis and wasn't a total bust in terms of his team-defense. That said, he could have helped out more on the boards and he could have protected the rim better.
Grade: A-
DeMar DeRozan
It's difficult to be too angry with DeMar DeRozan. On one hand, he hit 11-of-19 field goal attempts and had five assists without a single turnover. On the other hand, I was unimpressed with his defense. He just didn't seem up to the task of defending LeBron James. Sure, James is difficult for everyone but DeRozan seemed fine simply playing the part of a speed bump. More competitive fire was needed from DeRozan for the Spurs to have truly had a chance to win this game.
Grade: B-
Derrick White
It looks like Derrick White has been elevated into the starting lineup ahead of both Dejounte Murray and Patty Mills. Tonight, he did pretty well. White was steady with the ball, made quick passes, limited his mistakes, didn't try to do too much and stayed within himself. In other words, he was a walking cliché . Defensively, he had some issues in transition but his man-to-man D was solid enough. Offensively, White could have pushed the envelope more but he seemed most interested in not stepping on any toes.
Grade: B-
Bryn Forbes
This is close to as good as Bryn Forbes can play against a team with long defenders. On offense, he hit open shots, passed the ball well when the defense overplayed him and didn't force much. On defense, he was actually reading passing lanes better than usual and was better about being physical without fouling. Forbes wasn't amazing but he did what he could.
Grade: A-
Jakob Poeltl
The good: Jakob Poeltl hustled, rebounded well on both ends of the court and made a few slick passes. The bad: Poeltl couldn't finish in the lane and his touch was missing in action. His defense was a bit soft at the point of contact, his rotations were a step slow and his protection of the rim left much to be desired. Poeltl wasn't a total liability but he also wasn't making things easier for his teammates.
Grade: C
Dejounte Murray
Dejounte Murray's first game behind White was forgettable. Offensively, he oscillated between terribly out of control and horribly inept. His decision-making when it came to passing was shockingly bad most of the night. His shot looked like it was in slow motion and he was passing up open looks. Defensively, he was decent but made mistakes on that end too. His rebounding was helpful, though. Overall, Murray just looks like a point guard who has completely lost his confidence. It's a shame that the Spurs are this early in the season and Murray has gone from exciting bright spot to a player who is totally unconfident and a walking train wreck.
Grade: D
Patty Mills
Patty Mills didn't do a whole lot wrong — but he also wasn't doing the Spurs many favors. On defense, he was constantly overmatched against this large Lakers squad. He scratched and clawed on that end and was able to make a few plays but he remained mostly a liability. Offensively, he didn't push the tempo as well as he usually does and his playmaking was sloppier than we've come to expect.
Grade: C
Rudy Gay
This was not a good game for Rudy Gay. When Pop ran plays for him, it almost always blew up in San Antonio's faces. His reaction speed was slow and he was having trouble creating separation. To make matters worse, he was holding the ball too much and was sloppy with his dribbling. Defensively, Gay couldn't do much out on the perimeter and didn't help out on the boards.
Grade: D-
Trey Lyles
Trey Lyles hit another three-pointer, rebounded well, had a well-timed block and made a few heady passes. However, he also had more than his share of boneheaded plays sprinkled in, was underwhelming on defense and didn't always know where to be in the set plays, which is unusual for Lyles.
Grade: C+
DeMarre Carroll
With Marco Belinelli receiving his first DNP-CD of the season, DeMarre Carroll was the major beneficiary of the extra minutes. Unfortunately, he mostly fumbled away the opportunity. On offense, his jumper didn't look crisp and he had a couple of hairy drives to the rim. Defensively, Carroll didn't put up much of a fight against LeBron James. If Carroll is going to be a defensive stopper, he has to do better than he did tonight. Against the Lakers, he hustled but he didn't stand out as a cut-above defender.
Grade: D+
Pop
Likes: I was mighty okay with Pop not playing Belinelli. That was long overdue. While I think Murray should be starting, I like White starting much more than Mills starting. Giving minutes Carroll and Lyles was a good move on paper. Sticking with Murray through his struggles was also important. It would have been a bad idea to bury Murray even deeper. Dislikes: Again, if White and Murray aren't going to play together, Pop can't also give Mills minutes at point guard. That's just not going to work. Pop calling plays for Gay didn't work out and the playcalling in the fourth left much to be desired. In the big picture, I don't like it that Murray appears to have lost his confidence thanks in part to Pop obviously losing trust in him.
Grade: B-
Next Up for the Spurs
It's not quite a must-win game but it kind of is a must-win game. On Wednesday, the Spurs host the Minnesota Timberwolves and San Antonio really needs that one. After the T-Wolves beat the Spurs two weeks ago, Minnesota won only two of their next six games. For the Spurs to turn this thing around, they really, really need to win this upcoming home game.