Grades: San Antonio Spurs at Memphis Grizzlies – Game #29
That was a fun Christmas gift from the San Antonio Spurs. Thanks to a historically great shooting performance, the Spurs improved to 12-17 on the season with a 145-115 victory over the Memphis Grizzlies (11-20). Amazingly, the Spurs are now in sole possession of the ninth seed in the Western Conference, one game behind the eighth seed.
The much-maligned starters got the Spurs off to a joyous start on Monday night. Less than halfway into the first quarter, the starters had built a double-digit advantage. When that fivesome's stint was over, the Spurs were up 34-20. By the end of the opening period, the advantage had grown to 46-31.
In a role reversal, the bench was the unit that squandered the lead in the second quarter. The Grizzlies got within four points before the starters battled back and increased the lead. At intermission, the Spurs were up 72-61.
The third quarter was DeMar DeRozan's time to glisten. Playing the entire period, DeRozan had 16 points and four assists as he guided San Antonio's sleigh with precision. Heading into the fourth, the Spurs held a 108-89 advantage over the Grizzlies.
The good guys remained extraordinarily merry in the fourth quarter and Memphis never had a chance. The final accounting is impressive: 145 points scored, 67.4% from the field, 62.5% from three-point land and a starting five that was 44-for-59 from the floor for an extremely jolly 74.8%.
On one hand, this was a great win against a Grizzlies team that had been playing pretty well lately, including three straight home wins. It has to be good for San Antonio's confidence. The starters, who have struggled all season to have a consistently positive impact, should feel better about themselves.
On the other hand, the Spurs shot so well that it's impossible to draw any conclusions. Honestly, it's probably best to burn the tape and use the resulting open fire to roast chestnuts while enjoying the two-day break over Christmas. The Spurs won't shoot that well again this season … but it was entertaining while it lasted.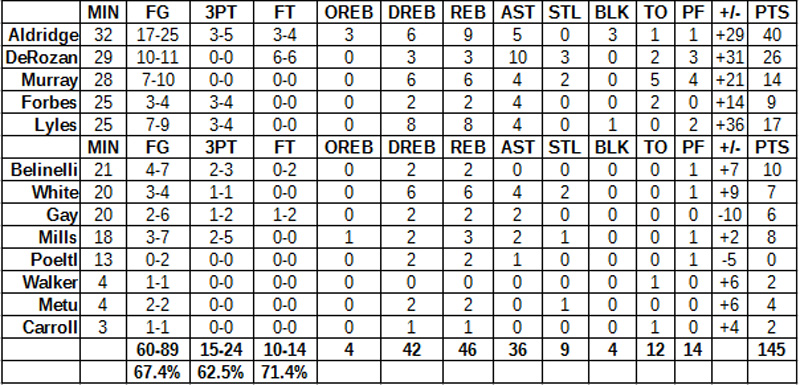 Spurs at Grizzlies – Final Grades
LaMarcus Aldridge
While a lot of Spurs players played well in the opening quarter, it was LaMarcus Aldridge leading the charge. In the opening quarter, Aldridge had 22 points on 10-for-13 shooting from the floor. He finished the first half with 28 points before coasting to a 40-point performance, a new season-high. Aldridge was physical in the lane, particularly against smaller defenders. Out on the perimeter, he was letting it fly. Aldridge tied a career-high with three three-pointers and simply looked supremely confident from every angle. Once the Grizzlies started sending help defenders his way, Aldridge didn't hesitate to find the open man. Defensively, Aldridge wasn't anything special out on the perimeter but he defended the rim well, as evidenced by his three blocked shots. 
Grade: A
DeMar DeRozan
Dr. DeMar DeRozan took out his scalpel and carved up the Grizzlies. Not only did he have 26 points on 10-for-11 shooting from the floor, he handed out ten assists — six of which led to three-pointers. DeRozan's ten assists are the most he's had in a game since Nov. 1 when he had 11 against the Warriors. When he had the ball in his hands, he was patient and waited for the right opportunity to attack or find an open man. Defensively, he was active and he was running the court with purpose both ways. 
Grade: A
Dejounte Murray
The good: Dejounte Murray shot well, created a number of plays for himself and others, defended Ja Morant effectively and looked confident in all his movements. The bad: Murray's five turnovers begin to tell the story of his poor decisions at times. Additionally, his ball-handling was loose, to put it kindly. The bottom line: It wasn't always pretty but Murray is taking steps in the right direction as he continues to learn on the fly. 
Grade: B+
Trey Lyles
Trey Lyles had been struggling since his reinsertion into the starting lineup. Those struggles ended tonight as Lyles put his talent on full display. He finished with a season-high 17 points as he buried 3-of-4 three-pointers and had a number of pretty finishes in the lane off the dribble. When Lyles wasn't scoring, he was making the right passes to create opportunities for his teammates. Overall, he just looked like a really coordinated, really talented basketball player on the offensive end. Defensively, he wasn't nearly as stout but he rebounded well, which kept him somewhat valuable on that end. 
Grade: A
Bryn Forbes
Compared to what we've witnessed from Bryn Forbes recently, this was definitely an improvement. He had three first quarter three-pointers to hopefully help him escape his slump. (Tip of the hat to DeRozan who assisted Forbes on each of his threes.) It's also notable that Forbes finished with four assists. That's more assists than he had in the last six games combined. Defensively, Forbes had a few positive moments. That, in itself, is an improvement. 
Grade: B+
Marco Belinelli
Welp, Marco Belinelli led the bench in minutes again. His shot continues to improve; Belinelli is now shooting 55.9% from the field and 52.6% from three-point range over a span of seven games in the month of December. That said, I was highly underwhelmed by Belinelli's defense on this night. His effort was too spotty and his transition defense was lazy.
Grade: B
Derrick White
Not spectacular but solid was Derrick White. Most importantly, he's looking better and better physically as he recovers from a foot injury that obviously slowed him down for a while. On both ends of the court, White wasn't doing anything too flashy but he was consistently making the right plays.  
Grade: B+
Rudy Gay
Rudy Gay didn't have his best night. Then again, to post a plus-minus of -10 in a game the Spurs win by 30 points is actually pretty impressive in a perverse way. Not sure how he did it but he did. While he was efforting on defense and made a few passes, he was a ball-stopper at times on offense and his lack of explosion or elevation is causing him to struggle to create separation. 
Grade: C
Patty Mills
Patty Mills had a well-timed burst of offensive output at the end of the third and the beginning of the fourth to put the game on ice. Outside of that mini eruption, Mills didn't do a whole lot on the offensive side of the court. Defensively, he was pest-like for much of the game and his energy was palpable. 
Grade: B
Jakob Poeltl
Jakob Poeltl wasn't necessarily bad but he didn't impact the game much in his 13 minutes. His timing going for blocks wasn't as spectacular as it's been lately. Poeltl's physicality in the paint was also lacking. His fluidity and quick decisions helped on both ends, though. 
Grade: C
Lonnie Walker IV
Lonnie Walker IV didn't play until garbage time late in the fourth. He had a nice crossover into a jumper. 
Grade: Inc.
Chimezie Metu
Although we only saw him in garbage time, Chimezie Metu continues to look more athletic and more fluid than he did last season. 
Grade: Inc.
DeMarre Carroll
DeMarre Carroll was the last player off the bench. Yeah, that's about it. 
Grade: Inc.
Pop
Pop took Walker out of the rotation, didn't play Murray and White together … and the Spurs won by 30 points. I guess we won't see many adjustments for at least a few more games after what happened tonight. Give Pop credit for not giving up on Lyles and for whatever he did that had the Spurs ready and raring to go. 
Grade: B-
Next Up for the Spurs
The Spurs get a couple days off to celebrate Christmas and then finish this two-game road trip with a game in Dallas against the Mavericks. That won't be an easy one. Then again, if the Spurs follow this game up with a similar encore performance, Big D will be served with a Big L. Obviously, a shooting display like tonight is very unlikely to happen again next time out but let's hope the Spurs can at least carry forward some of what was working tonight to future games.