Grades: San Antonio Spurs vs. Memphis Grizzlies – Game #20
The San Antonio Spurs saw their three-game winning streak come to an end on Saturday night at the paws of the Memphis Grizzlies. The Grizzlies, who have now won six games in a row, dominated the action throughout the game and left the AT&T Center with a 129-112 victory. 
The Spurs were playing their second game in two nights, while the Grizzlies were playing for the first time since January 18th due to COVID-19 cancelling their previous five games. The difference in energy levels was stark. While the Spurs were seemingly slow to every loose ball, the Grizzlies were obviously itching to get back on the court.
Key Stretch
Derrick White hit a three-pointer with five minutes remaining to bring the Spurs within five points. Unfortunately, Dillon Brooks answered with consecutive three-pointers to push Memphis' lead back into double-digits and San Antonio was soon waving the white flag.
Key Statistic
Despite the fact that their tallest starter was Kyle Anderson, the Grizzlies managed to outrebound the Spurs 45-38. It was bad enough that the Grizzlies shot 56% from the floor, including 17-of-35 from three-point range, but to allow ten offensive rebounds on top of that marksmanship made it all but impossible for the Spurs to win this game.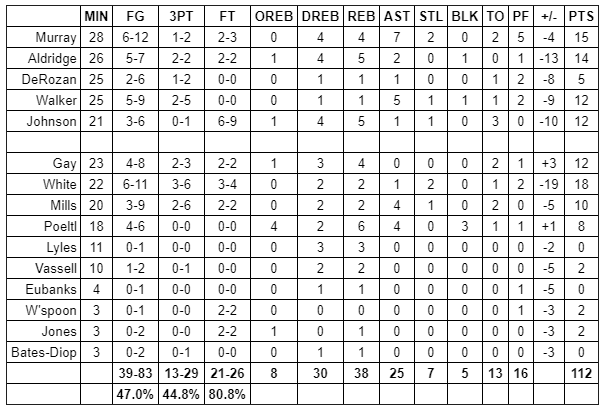 Spurs vs. Grizzlies: Final Grades
Dejounte Murray
Offensively, I thought Murray did well enough. He came out firing and was one of the few Spurs who took the ball to the basket on a consistent basis. He also mixed in some heady passes while pushing the pace well. Defensively, I was less impressed. He was sitting back and relying on gambling too often. His gambles didn't pay any dividends and instead added to the team's defensive woes. 
Grade: B
LaMarcus Aldridge
Offensively, I can't complain with what Aldridge did. He was 5-for-7 from the floor, hit both of his three-pointers and one of his misses was a point-blank layup. He was aggressive with his shot and passed well when the Grizzlies sent help his way. Defensively, though, Aldridge continues to be a liability. He was a little bit better rebounding-wise but he's so landlocked and lead-footed right now that any type of center with even an iota of perimeter skill causes problems for Aldridge and, by extension, the rest of the team's defense. 
Grade: B
DeMar DeRozan
Um, did DeRozan forget there was a game tonight? One day after a spectacular outing against the Nuggets, DeRozan laid an egg. He didn't look to create for himself or others. When the Grizzlies got physical with him, he just started to whine. DeRozan has had games this season where he was too passive but this was some next-level passivity. Add in unfocused defense and this was certainly a game he will want to forget ever got played. 
Grade: F+
Lonnie Walker IV
Hey, not bad. I liked Walker's aggressiveness when looking for threes. That's such an important part to his future and he's been really good about launching three-pointers as of late. Walker was also driving to the rim with more purpose than usual. If he couldn't get all the way to the hoop, he was making good decisions via the pass. Defensively, he had a few airheaded possessions but did reasonably well considering the disarray around him. 
Grade: B+
Keldon Johnson
The good: Johnson went to the free throw line nine times in 21 minutes. He had some viciously mean drives to the lane. Defensively, he wasn't always effective but at least his energy wasn't an issue. He was one of the few Spurs to fight for contested boards. The bad: He forced the issue too much at times, which led to turnovers. His dribbling in crowds wasn't controlled enough. His lack of confidence in his outside jumper is becoming an issue. Defensively, his rotations continue to be a work in progress. 
Grade: B-
Rudy Gay
This was one of those games where Gay's decisions didn't seem that great in the moment but the end results turned out to be okay. That said, more passing and fewer contested jumpers or cramped forays to the rack would have helped the team. Defensively, he oscillated between pretty good and terrible. Sometimes he'd forget to pick-up his man in transition and then other times he'd blow up mismatches. 
Grade: B-
Derrick White
Welcome back, once again. Considering his time away and the fact that he was gasping for oxygen for a lot of his minutes, White did well. His outside shot looks pure, his passing was on point and he was able to get into the paint quite a bit. If anything, it seemed like his teammates had more trouble adjusting to him than White had finding his footing. He caught his fellow players by surprise a few times with his smart passes. Defensively, White wasn't as sharp. He drew a couple offensive fouls, challenged a few shots but he wasn't staying in front of his man as well as usual. 
Grade: B+
Patty Mills
Mills never seemed to find a groove. His shot-selection could have been better and he was sloppier with the ball than is typically the case. Defensively, he had nowhere near the vivacity that he had last night. All in all, this was one of the few games this season where Mills wasn't aiding San Antonio's cause. 
Grade: C
Jakob Poeltl
Poeltl was weak on the defensive glass, which especially hurt in this game, but was otherwise pretty good. His defense — from moving his feet out on the perimeter to guarding the rim — was strong. Offensively, he was finishing well, passing well and exhibited good hands on the offensive glass. 
Grade: B+
Trey Lyles
With the Spurs struggling to rebound, Lyles got playing time in the second half. He did … er, I'm not sure what he did. Lyles was mostly invisible offensively in his 11 minutes. Defensively, his rotations were slow and he wasn't as helpful on the defensive glass as the coaching staff obviously hoped he would be. Lyles is going to have to turn up his aggression level if he's ever going to make a notable impact from off the bench. As it is, he's playing like Wintertime Robert Horry, who's not to be confused with completely defrosted Playoff Robert Horry. 
Grade: D+
Devin Vassell
Vassell lost his second half rotation minutes to Lyles. In the first half, he didn't move the needle too much. His defense was okay-ish; nothing too good or too bad. On offense, he had a good looking jumper — and that was about the extent of it. 
Grade: B-
Pop 
In Pop's defense, his team obviously had less energy than the extremely well-rested Grizzlies. Additionally, White's return changed the dynamics enough to cause confusion periodically. That said, Pop wasn't helping matters. Going with a ten-man rotation didn't work, as it spread the minutes too thin. I think the way this team is constructed, a nine-man rotation is best. I would have liked to have seen more Johnson and more Walker. Going from Vassell to Lyles in the second half help anything. Pop also would have been better off giving more minutes to Poeltl and less to Aldridge, even with Aldridge playing well offensively. 
Grade: D+
Next Up
The Spurs won't have to wait long for revenge, as these two squads got at it again on Monday night.