Grades: San Antonio Spurs at Memphis Grizzlies – Game #37
The San Antonio Spurs entered Friday's game against the Memphis Grizzlies with hopes of securing their first three-game winning streak since they began the season 3-0. Instead, the Spurs got blitzed early and often by an energetic Grizzlies squad that was seeking revenge after San Antonio won in Memphis by 30 points a few weeks ago. 
The end result was the Spurs losing by a final score of 134-121 and dropping to 16-21 on the season. The win, their fourth straight, improved the Grizzlies to 16-22 and also resulted in Memphis supplanting San Antonio as the eighth seed in the Western Conference.
Scoring came easy in the first quarter for both teams. The teams traded buckets throughout the period, with the Grizzlies holding a 37-32 when the buzzer sounded. In the second quarter, the Spurs started slowly and the Grizzlies were able to build a 15-point lead. But, before long, the good guys rallied back. At halftime, Memphis was up 63-57.
The third period was a roller coaster. The Spurs missed a shot that could have tied the game early in the quarter but then soon the Grizzlies went up by as many as 13 points. The Spurs rallied again to get within four points — only for the Grizzlies to quickly expand their lead back to 12 points. Then, to end the stanza, the Silver and Black went on a 12-2 run in the final two minutes to trim the deficit to only two points, 100-98.
Unfortunately, that momentum was lost in the break between quarters, as the Grizzlies scored the first eight points of the fourth to take a double-digit lead once again. The Spurs, stop me if you've read this before, rallied to get within three points. But Memphis then hit three consecutive three-pointers to go up 12 points with 4:36 remaining. Finally, the Spurs ran out of rallies and the Grizzlies took the victory.
Overall, you have to give the Grizzlies credit. They've played well recently and they played really well Friday night. Their offense was humming, their defense was active and the Spurs were unable to overcome a plethora of subpar individual performances and a team-wide lack of cohesion defensively. San Antonio played well in spurts but the Grizzlies always had an answer. That's a young team playing at an excellent level right now and they were simply better on this night.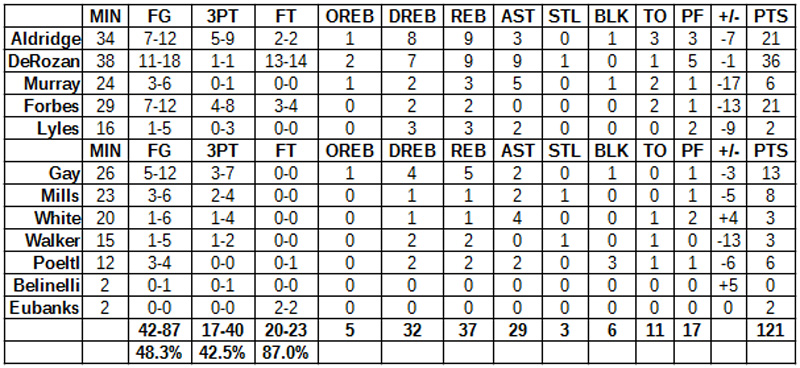 Spurs at Grizzlies – Final Grades
LaMarcus Aldridge
The good: LaMarcus Aldridge set a career-high with nine three-point attempts and tied his career-high with five made threes. It looks like he's fully buying into being a three-point shooter, which is great to see and will make the Spurs a better offensive team. Aldridge's shot looks pure and he's even shooting step-back threes now — quite the metamorphosis for a player who was hesitant to shoot any type of three just a few weeks ago. Beyond his threes, Aldridge passed the ball well, rebounded well and tried hard on defense. The bad: While he tried on defense, his effectiveness wasn't there. He got scored on multiple times on the inside and on the outside.
Grade: B+
DeMar DeRozan
Wow, DeMar DeRozan was really, really good. This had to have been one of his best games as a member of the Spurs. He was extremely ruthless going to the basket and fearlessly absorbed contact — leading to a 13-for-14 showing at the line. His athleticism was impressive to see; this was the springiest we've seen him this season. When DeRozan couldn't get all the way to the rim, his touch on his jumpers was superb. When he wasn't scoring, he was handing out assists left and right while limiting his mistakes. To go along with his nine assists and one turnover, DeRozan helped out with nine rebounds. While his defense wasn't great, he was locked in mentally and his boards on that end added to his value. Great game for DeRozan, who has been absolutely outstanding in his last ten games. 
Grade: A+
Dejounte Murray
This was a very forgettable game for Dejounte Murray. As Memphis' 20-year-old rooke Ja Morant was pouring in 22 points, 14 assists and seven rebounds, Murray was busy making both physical and mental mistakes on both ends. Defensively, he didn't defend Morant well at all. He was reaching too much, turning his head and losing Morant constantly, not getting back on defense quickly enough, and simply not competing hard enough. Offensively, he was out of rhythm and the Spurs struggled to get anything going when he had the ball. 
Grade: D
Bryn Forbes
Offensively, Bryn Forbes was really good. He shot well and exhibited fortitude by scoring buckets when the Spurs needed someone to step up. Specifically, Forbes scored ten points in the fourth quarter to give the Spurs a chance. Let's hope that this is a sign that he's no longer slumping offensively. On defense, though, Forbes wasn't good or helpful in any way. His man-to-man defense was poor, his help-defense was lacking and he wasn't even boxing out or hustling like we've seen him do the last couple games. 
Grade: B+
Trey Lyles
Trey Lyles lacked too much fiber. He was soft offensively in the paint and equally soft defensively defending the low block and the rim. He has to toughen up and learn to make do with the tools at his disposal. He's a decent enough athlete and has decent enough size that he shouldn't have as much trouble as he has operating in the lane. Lyles also missed three more three-pointers to lower his three-point percentage on the season to 33.3%. 
Grade: D
Rudy Gay
Rudy Gay bounced back from a really difficult game against the Boston Celtics with a much better performance against the Grizzlies. His jumper looked better, his movements looked freer, he was passing well and he limited his mistakes. Defensively, he wasn't too notable but he also wasn't one of the leading culprits of the Spurs allowing 134 points.
Grade: B+
Patty Mills
Like many on the team, Patty Mills was satisfactory to good on offense but really bad on defense. Offensively, he shot well, did well in terms of ball-handling and playmaking, and didn't turn the ball over. But on the defensive end, he was a sieve. To make matters worse, he didn't have his typical energy. 
Grade: B-
Derrick White
With Murray struggling, it would have been nice if Derrick White stepped up, took control of the reins and guided the Spurs to victory. That didn't happen — not even close. White, instead, joined Murray in struggling. Offensively, he made a couple good passes but that was about the extent of his usefulness. He was too passive and too deferential. Defensively, White was a little bit better than Murray — but not much. The defense he played last season is still MIA. 
Grade: D
Lonnie Walker IV
Twenty-one-year-old players ike Lonnie Walker IV are bound to have their ups and downs. This game was definitely a down. Defensively, he was lost for many of his 15 minutes. He was hustling but he was often caught scrambling a step or two behind the play. Offensively, Walker was hesitant at times and not finishing with enough force at other times. He did knock down a three-pointer in the fourth that gave the Spurs life — but that was one of his few positives in Memphis.
Grade: D
Jakob Poeltl
Jakob Poeltl was rock solid in most facets of the game. He finished at the rim with ferocity, made the right passes and set solid screens. On defense, he was protecting the rim very well. Poeltl's flaw this game? His work on the defensive glass. He wasn't boxing out well or grabbing boards often enough. As a result, the Spurs struggled to get defensive rebounds when Poeltl was in the game. 
Grade: B
Marco Belinelli
Marco Belinelli got a couple minutes in the second quarter when Pop apparently got tired of Walker's mistakes. Belinelli proceeded to miss a three-pointer. 
Grade: Inc.
Pop
Pop leaned on DeRozan and has apparently gotten through to Aldridge that he needs to shoot three-pointers. That helped, as did Pop's trust in Forbes. All in all, I thought Pop had his guys playing well for the most part. It was mostly the youngsters (Murray, White, Lyles and Walker)  who let the team down tonight. That said, Pop's reaction to their mistakes was probably too harsh. Taking minutes from Walker and giving them to Belinelli in the first half was questionable. Giving up on both Murray and White in the fourth quarter was even more questionable, as it forced Mills to try to do something he simply can't do: guard Morant. Having a longer leash with the youth would be beneficial at this point because these Spurs can't win games without contributions from said youth. 
Grade: B-
Up Next for the Spurs
San Antonio's four-game road trip continues in Toronto. The Spurs will be underdogs against the defending champs but let's hope San Antonio can bounce right back to the win column.