Grades: San Antonio Spurs vs. Memphis Grizzlies – Game #10
In the opening act before Tony Parker's jersey retirement ceremony, the San Antonio Spurs suffered an embarrassing loss at the hands of the Memphis Grizzlies. The loss dropped the Spurs to .500 at 5-5, while the Grizzlies captured their first road win of the season and improved to 3-7. 
The Spurs came out of the gates sans energy and fell into a deep hole in the first quarter. By the time the period mercifully ended, San Antonio trailed 35-22. In the second quarter, the Spurs woke up and battled all the way back. After tying the game at 51-51, the Spurs went into halftime down three points, 57-54.
The third period was, unfortunately, a replay of the first quarter. The listless Spurs once again fell behind by double figures and didn't seem to have a clue about what to do at either end of the court. Entering the fourth, the Spurs trailed by 11 points, 91-80.
The Spurs, once again, rallied. In fact, they took a 5-point lead with 4:53 remaining. But that's when the Spurs collapsed for the third time in this game. The Grizzlies scored six consecutive points to take the lead 70 seconds later and the Spurs hit only one more field goal the rest of the way as they stumbled to a 113-109 defeat. 
This loss was extra frustrating because the Spurs recovered from large deficits twice — only to be out-executed down the stretch by a team featuring a bunch of neophytes. The cohesion this team was supposed to have due to returning largely the same squad is nowhere to be found. Frustrating.
Thankfully, Parker's jersey retirement ceremony was still brilliant. Congrats, TP, and thank you for the lifetime's worth of unforgettable sporting memories you helped produce. I'll be reminiscing fondly for the rest of my days.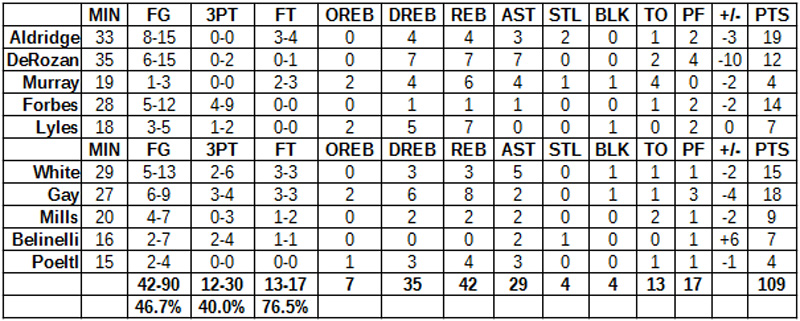 Spurs vs. Grizzlies – Final Grades
LaMarcus Aldridge
The good: Well, LaMarcus Aldridge showed a pulse on offense. He was, obviously, much better than last time out, when he scored three points against the Celtics. Aldridge was reasonably aggressive looking for his perimeter shots. Overall, he was more active. The bad: Defensively, he was in I-hate-playing-center mode when guarding Jonas Valanciunas. Aldridge rarely fought for position and didn't appear willing to get his hands dirty. That passiveness extended to the boards and when trying to defend pick-and-rolls. On offense, he rarely took it upon himself to enter the trenches and work for his points. The bottom line: I mean, it was better but Aldridge still has a lot of room for improvement on offense, defense and his approach to the game.
Grade: C-
DeMar DeRozan
The good: DeMar DeRozan did some quality playmaking and he was less sloppy than usual. On defense, not many points were scored on his watch, although that was mostly because he was guarding the least dangerous players on the Grizzlies. The bad: Let's start with the end. DeRozan had a bad fourth quarter, as he went scoreless while missing all four field goal attempts and an important technical free throw late in the game. Memphis was sagging way off him and he didn't come close to making them pay. He also was lacking his usual aggression level, as he never got to the line on his own volition. The bottom line: It wasn't a terrible game by DeRozan but he lacked the drive, focus and competitiveness the Spurs needed from him. 
Grade: C-
Dejounte Murray
Hopefully Dejounte Murray learns from this game. On defense, he was way too jumpy and gambled too often. As a result, his teammates were forced to scramble. Considering this team is defensively challenged as it is, they don't need difficulty added to the equation. Murray had some moments on D but he has to pick his spots better. Offensively, he was a walking miscue. He had a couple good passes but didn't look to shoot or score enough. Murray finished with four turnovers but was close to having double that number. The common thread on both ends is Murray needs to settle down and play smarter. He has good natural instincts but the Spurs need more from their point guard than a walking whirlwind of aimless energy. 
Grade: D
Bryn Forbes
Offensively, I didn't have a bone to pick with Bryn Forbes. He was willing and able to take and make big shots. His shot-selection was fine and he was one of the few players who appeared to know what he was doing on that end. Defensively, though, it wasn't pretty. Forbes was playing so softly against Dillon Brooks that it made Brooks look like Charles Barkley whenever he put his head down and attacked the rim. Forbes is at a size and athleticism disadvantage at shooting guard so he can't afford to compound the issues by being soft.
Grade: C
Trey Lyles
Pretty good. Not great … but pretty good. Trey Lyles is starting to turn the corner a little bit, it seems. He drilled another three-pointer, continued his excellent rebounding, had a couple sneaky passes and flashed advanced dribbling skills. Lyles' shortcomings tonight were on the defensive end. He allowed Jaren Jackson Jr. to get too deep of post position too often. His rotations were a step slow and he didn't do a good job of protecting the rim. That said, Lyles is looking more and more like a legit starer. Let's hope it keeps trending in that direction. 
Grade: B
Derrick White
Still riding the bike to keep his glute loose, I was mostly pleased with Derrick White. Offensively, he could have shot even more but successfully turned on his aggression after passing up a few shots early. When the Spurs were going good, it was usually White leading the charge. In the fourth quarter, his playmaking came alive. He had three consecutive assists to fuel a 7-0 run that pulled the Spurs from down two to up five points. Defensively, he was the best thing the Spurs had going tonight. His feet were quick, he was in the right position consistently and he competed with vigor. 
Grade: A-
Rudy Gay
Another bright spot was Rudy Gay. He was the team's best rebounder (he pulled down a few hotly contested boards) and most efficient scorer. His threes were dropping, he limited his turnovers and made a few nice passes. Gay was the one to unclog the toilet multiple times when things looked like they were going to go from stinky to utterly disgusting. Defensively, he was nearly as effective but his work rebounding-wise and hustle-wise helped the Spurs. 
Grade: A-
Patty Mills
Like Forbes, Patty Mills looked entirely overmatched on defense. The Grizzlies aren't overly talented but their perimeter players are either speedy or burly, which is bad news for players like Forbes and Mills. Offensively, Mills was 4-for-4 on twos but 0-for-3 on threes. The Spurs could have used a larger spark from the Australian on offense but Memphis was specifically keying on him when they went into their rotations on the perimeter. 
Grade: C+
Marco Belinelli
Marco Belinelli has successfully driven his expected-level-of-play bar into the ground, so tonight's performance was actually better than expected. His field goal percentage is on the rise after his 2-for-7 performance, plus he hit multiple three-pointers for the second straight game. Belinelli's defense was mostly forgettable and he's far from escaping his overall slump but, then again, being the only player on the team to post a positive plus-minus has to count for something, right?
Grade: B
Jakob Poeltl
There were moments — a nice pass here, a good play in transition there, a hustle play on defense here, a strong rebound there — but all told it was another disappointing outing for Jakob Poeltl. With the Grizzlies dominating the paint, Poeltl didn't offer much resistance at all. His defense was mostly feeble and his work on the boards wasn't anything to write to Vienna about. Hopefully Poeltl can find his rhythm soon because right now he's gone from a top tier backup center to someone who is barely justifying his spot in the rotation. 
Grade: C
Pop
This is a difficult game to settle on a grade for Pop. On one hand, he was probably too harsh in pulling Murray repeatedly after errors. Then again, Murray needs to learn ASAP what winning basketball consists of at this level. Plus, White was playing well. (But, I don't know, what about the crazy idea of playing them together?) In retrospect, Pop should have played DeRozan less and should have maybe given Lyles a longer leash. Ultimately, the Spurs looked unprepared and unfocused and it's fair to put some of that blame on their head coach. 
Grade: C
Next Up for the Spurs
After a disappointing 1-2 homestand, it doesn't get any easier. A two-game road trip begins with a Wednesday night game in Minnesota. The Timberwolves, who are 6-4 on the season, will rightfully be the favorites to win that one and send the Spurs south of .500. Hopefully the Spurs can figure some things out between now and then, as the status quo is not a pretty sight.