Grades: San Antonio Spurs vs. Miami Heat – Game #57
Another home game, another letdown. The San Antonio Spurs (28-29) have now lost five consecutive games at the AT&T after they were defeated by the Miami Heat (31-28) by a final score of 107-87.
The Spurs actually played solid defense for the most part. The other side of the court is where the good guys struggled. The Heat went to a pressure, trapping zone in the second half and the Spurs wilted. It didn't take long for a competitive contest to turn into another forgettable home game.
Key Stretch
The Spurs hit three three-pointers coming out of halftime to take a 62-55 lead. Over the course of the next seven and a half minutes, the Heat went on a 18-4 run to grab control of the game. San Antonio never found their way back on track and Miami was able to cruise to victory.
Key Statistic
After the three threes the Spurs hit to begin the third quarter, they were only 8-for-34 (23.4%) the rest of the game. From three-point territory, they were only 1-for-13 during that stretch.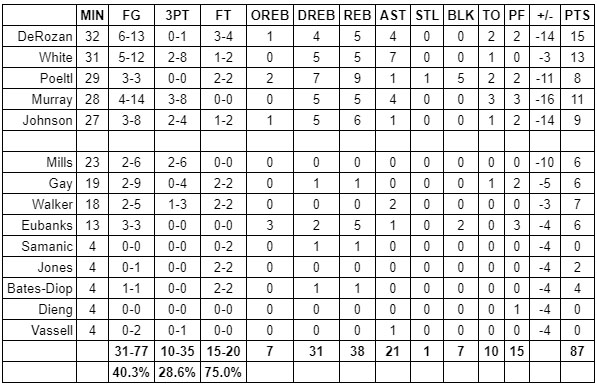 Spurs vs. Heat: Final Grades
DeMar DeRozan
DeRozan wasn't terrible — he just didn't do enough. He could have attacked more on offense. Instead, he spent a lot of his time looking for fouls. On defense, he wasn't nearly as good as he was against the Indiana Pacers.
Grade: C
Derrick White
The good: White passed the ball well and also limited his mistakes. He hit 3-of-4 two-pointers and was mostly strong on the defensive end. The bad: White didn't shoot straight from three-point land and, even worse, he began to hesitate after the misses piled up. Defensively, he had a few uncharacteristic mistakes.
Grade: C+
Jakob Poeltl
Can't complain too much about Poeltl's play. He blocked five shots and was stout on the glass. When he was forced to switch onto smaller players on defense, Poeltl held up remarkably well. Offensively, he moved well and finished well.
Grade: A-
Dejounte Murray
San Antonio's inability to deal with the aforementioned pressure, trapping zone was mostly due to Murray getting overwhelmed. He didn't know what to do and was completely flustered by it. Throughout the game, his sloppiness was an issue. Two silver linings: his three-point stroke looked good and he did okay on the defensive end.
Grade: D
Keldon Johnson
The good: Johnson hit a pair of three-pointers and made a couple heady passes. His defense was better than average. He was competitive on the boards. The bad: Johnson passed up a few three-pointers. He drove without forethought too often.
Grade: C+
Patty Mills
Mills didn't do much other than launch threes — sometimes from way far out. In fact, according to the box score, he did nothing but launch threes. To be fair, he had a solid play or two on defense. But, yeah, overall, the Spurs need more production from Mills.
Grade: D+
Rudy Gay
Another unproductive member of the bench unit, Gay missed all four of his three-pointers. He compounded his offensive problems by never looking to pass and by being listless on the defensive end.
Grade: D
Lonnie Walker IV
The good: Walker offered a few slick passes; his passing on the move is getting better and better. He had a handful of positive plays in transition. The bad: His aggression on offense wasn't dialed to a high enough setting. With so much struggling going on around him, Walker could have been a lot more assertive. Defensively, he had some mind-numbingly poor decisions.
Grade: C
Drew Eubanks
Eubanks was on the short list of the players on the Spurs who played with the requisite amount of energy. On offense, he finished with brawn, his hands were extra supple and his liveliness on the backboard was felt. Defensively, he was protecting the rim and playing with the right amount of physicality.
Grade: B+
Pop
Nothing surprised with Pop's rotations. This is the group he's going with, apparently. In terms of Xs and Os, he had no answer to the Heat's second half defense. In all the disarray and disheveledness, it was difficult to even figure out what Pop was trying to do to combat that zone. I'd say that none of the buttons he pushed worked … but I couldn't even tell which buttons he was trying to push.
Grade: D+
Next Up
If the Spurs are going to win another home game this season, their next shot is their best shot. Tomorrow, San Antonio hosts the Detroit Pistons, the owners of the most road losses in the NBA. If the Spurs can't win that game, it may be time to board up the AT&T Center and try again next season.