Grades: San Antonio Spurs at Miami Heat – Game #61
The San Antonio Spurs (31-30) saw their three-game winning streak come to an end against the Miami Heat (33-30) on Wednesday night by a final score of 116-111. The Spurs scratched and clawed but they couldn't quite get over the hump in the fourth quarter. San Antonio is now 5-2 in their last seven games, with the only losses coming against Miami.
Playing without Derrick White, who Pop expects to miss the rest of the season due to a sprained ankle, the good guys gave a good effort. They struggled to sustain momentum tonight but it wasn't for a lack of effort.
Key Stretch
Trailing by ten points, 109-99, with four minutes remaining, the Spurs made one final push. A layup by Dejounte Murray with 1:46 left in the fourth quarter capped a 7-0 run to bring San Antonio within three points. Unfortunately, the Heat made enough plays down the stretch to keep the Spurs from getting any closer.
Key Statistic
The Spurs turned the ball over only nine times, which is a big reason why they were able to stay within striking distance. On the season, San Antonio is the second least turnover-prone team in the league.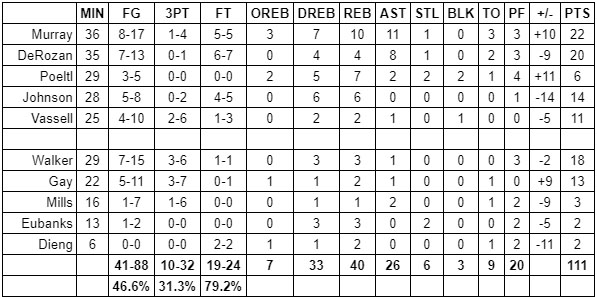 Spurs at Heat: Final Grades
Dejounte Murray
Murray was fantastic tonight. He led the team in points, rebounds and assists and he was as dominant as his triple-double suggests. Defensively, he was hustling and pestering all evening long. When it was time to rebound, Murray could be found in the middle of the fray. Offensively, his passing was great, he ran the team extremely well, he wisely picked his spots to call his own number and he was more physical than usual on his drives. If this wasn't Murray's best game of the season, it was up there.
Grade: A+
DeMar DeRozan
This was a tale of two sides of the court for DeRozan. On offense, he was pretty good. He converted a few tough finishes, involved his teammates and played within the sets. Defense, though, was a different story. His effort level was decent but he struggled mightily on that end. His rotations were slow, he had trouble staying with his man and the Heat were successfully targeting him. When DeRozan was on the court, the Spurs really had a difficult time getting stops. 
Grade: C
Jakob Poeltl
Following a subpar outing against the Washington Wizards, Poeltl bounced back with a solid performance. Defensively, he was active in the paint and effective outside of the paint. He was better on the boards and ran the court harder. That said, he had a couple of bad fouls on D. Offensively, he was alert and rarely got in the way. 
Grade: B
Keldon Johnson
The good: Johnson drove the ball with a combination of smarts and power. In the last two games, he now has zero turnovers over a span of 66 minutes. He's doing a good job of not forcing the issue when he doesn't have an advantage. He's also exhibiting an intriguing mid-range shot. The bad: Defensively, Johnson lacked energy. He wasn't as ferocious as usual when it came to corralling contested rebounds and loose balls. He passed up a couple three-pointers he needed to take. 
Grade: B-
Devin Vassell
Pop named Vassell as the starter with White out for the season. In his first 15 minutes of playing time, the rookie was having a very rough time of it on the offensive end. He was 0-for-4 from the field, including 0-for-3 from three-point range. His passing and decision-making were also lacking. Thankfully, Vassell eventually found his footing on offense and settled in nicely. Defensively, to his credit, he remained stout throughout the affair — even when things weren't going his way on offense. Both individually and team-wise, he was better than average on D. 
Grade: B
Lonnie Walker IV
With White sidelined, the Spurs needed more players to produce on offense. Tonight, Walker was up for the challenge. He attacked relentlessly. The results weren't always good (or aesthetically-pleasing) but Walker wasn't bashful about trying to make things happen — which is what the coaching staff wants to see. Defensively, I also thought he did well. He pressured his man and was aware of his team-defense responsibilities. 
Grade: A-
Rudy Gay
When the bench needed Gay to be the focal point, he was able to do just that. He bailed the Spurs out of a few possessions that appeared to be heading south. Defensively, he was invisible on the glass but otherwise he aided the cause. He even illustrated a decent amount of quickness on the perimeter. 
Grade: B+
Patty Mills
Oof. Mills has fallen off since the All-Star break … and his decline continued on Wednesday night. He was asked to handle the ball more with White out and the results were disastrous. Instead of running offense, he was trying to chuck as much as possible. Once upon a time, Mills was having a very good season — perhaps the best of his career. But these days, he's a liability just about every game. 
Grade: F
Drew Eubanks
Eubanks was okay-ish. He roamed his way out of position a few times on defense and appeared to play with too much excitement at times on offense. Overall, though, his physicality and fearlessness is making him someone the Spurs can rely on for a boost. 
Grade: B-
Gorgui Dieng
Pop mixed things up and gave Dieng some playing time … and the needle didn't move much at all. He flashed some rim protection on defense. On offense, I thought he was too passive and failed to shoot a couple shots he should have let fly. 
Grade: B-
Pop
Well, at least Pop did a better job than the last time the Spurs played the Heat. This time, the Spurs weren't defeated by a sophomoric zone defense. The good: I loved the decision to start Vassell. Leaning on Walker more than usual was the right call. Pop had his troops playing hard all night long. The bad: Calling plays for an ice-cold Mills isn't enjoyable to witness. After Vassell got going in the second half, I thought he should have been given a chance to close the game. Going with a three-headed monster at center didn't pay dividends on this night. 
Grade: B
Next Up
The final stop on their four-game road trip is in Boston on Friday night. The Celtics haven't been consistent lately so this is an opportunity for the Spurs to grab another notable road win.