Grades: San Antonio Spurs vs. Miami Heat – Game #41
The San Antonio Spurs (18-23) got a much-needed win on Sunday afternoon in the AT&T Center over the Miami Heat (29-13). The Spurs needed the victory to get over the disappointment of losing to the lowly Atlanta Hawks on Friday. This was also a revenge game for San Antonio, as Miami won the previous matchup on Wednesday.
The Spurs got off to a poor start in the first quarter. Seven and a half minutes into the game, the Silver and Black were down 11 points, 23-12. Thankfully, the good guys rallied by the end of the period to make it 31-28 going into the second quarter.
The second was the opposite story. A three-pointer by Dejounte Murray put the Spurs up by 12 points, 58-46, with three minutes remaining in the half. But this time it was the Heat who were able to make a run. Going into halftime, the Spurs were up 60-54.
The third quarter was a hotly contested stanza. Neither team got much separation at all. At the quarter's end, the Spurs were up 86-84.
A Derrick White layup with nine minutes left in regulation gave the Spurs a 5-point advantage, 95-90. The Heat responded with eight straight points to take a 98-95 lead with four minutes left to go. But instead of crumbling in another fourth quarter, the Spurs fought back. San Antonio scored the game's next seven points to take a four-point lead that they wouldn't relinquish. While the Heat had a couple three-point attempts that could have tied the game, the shots missed and the Spurs were able to ice it with free throws.
The 107-102 victory was a good one for the Spurs. The Heat are a strong team who have played very well as of late. San Antonio had a couple chances to fold up their tent and drive home but they decided to stick around, execute down the stretch and pull out a W.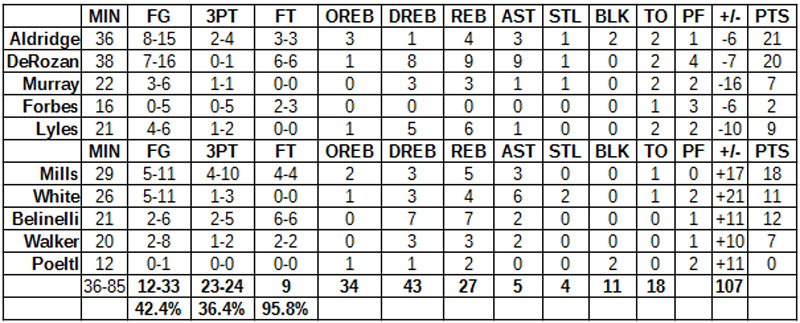 Spurs vs. Heat: Final Grades
LaMarcus Aldridge
The good: LaMarcus Aldridge did a good job of mixing the inside and the outside. He was 2-for-4 from three-point range and spent quite a bit of time behind the arc, which opened up space for everyone else. He also passed well and was active on the offensive glass. Defensively, he got better as the game progressed. His rim protection was solid and his pick-and-roll defense was better than usual. The bad: Aldridge's aggression waned at times and he passed up a few more potential three-pointers. He didn't go up for many defensive rebounds, although his boxing out was adequate. His defense in the first quarter was weak but, as previously mentioned, he got better later in the game. 
Grade: B+
DeMar DeRozan
DeMar DeRozan's touch wasn't as surgical this afternoon as it's been during his recent stretch of fantastic play. He missed a few chippies and a few runners that he has been making lately. But other than that, I don't have many issues with his play. While he could have played at a faster pace, his playmaking was solid, he kept his mistakes to a minimum and made smart decisions. Defensively, he was decent enough. His individual defense and help were a bit below average for him but he made up for it by doing really good work on the boards. 
Grade: B+
Dejounte Murray
Dejounte Murray running the offense was difficult to watch. Any rhythm and cohesion died the moment he tried to orchestrate the proceedings. Part of the problem was the Heat weren't respecting his jumper so his presence alone was gumming up the offense. His decisions of when to pass and where to pass were severely lacking, with a few notable exceptions. Defensively, Murray had a couple deflections but that was about the extent of his positives on that end. He was slow around screens and the Heat had little trouble dislodging Murray from his man. The caveat to Murray's poor game is that he was questionable to play at all due to an illness, so it's difficult to be too mad with him.  
Grade: D
Bryn Forbes
Bryn Forbes' Make-A-Wish Foundation starting job and his corresponding minutes are getting more and more difficult to stomach. Truth be told, it's been obvious for a long time now that he's not starting material. To salvage any of his value, the coaching staff needs to bring Forbes off the bench. Against the Heat, Forbes made matters worse by forcing three-pointers over the top of defenders. When Forbes wasn't missing threes, he was busy totaling a combined zero rebounds, assists, steals and blocks. 
Grade: F+
Trey Lyles
Better. Trey Lyles came out of the gates with some confidence on the offensive end, which was great to see. He knocked down a contested three-pointer and scored off the dribble multiple times. Once the Heat had to actual defend him, Lyles' underrated playmaking ability was able to make an appearance. Rebounding-wise, Lyles was solid. On defense, he was a little bit better than he's been recently and wasn't as easily pushed around. 
Grade: B+
Patty Mills
The Spurs were celebrating Indigenous Night and Patty Mills seemed extra fired up. His energy, hustle and overall electricity were maniacal. His hustle alone turned the tables on a handful of possessions. Mills also searched out three-pointers — both off the dribble and around screens away from the ball — and knocked them down at a quality clip. Add in some playmaking it was a strong night at the office for San Antonio's most famous Indigenous Australian.
Grade: A-
Derrick White
Derrick White played really well against the Heat, especially when he was in attack mode. Offensively, he attacked the basket hard, took advantage of gaps in Miami's defense, displayed impressive court vision and successfully made plays in tight situations. Defensively, he was more aggressive than usual and his feet looked quicker. White was in the game at the end he came up with momentous plays on both ends with a combination of headiness and moxiness. 
Grade: A-
Marco Belinelli
With Rudy Gay out with an illness, his minutes once again went to Marco Belinelli. To give credit to the Italian, he did a lot better than last time out. His shooting wasn't amazing but his shot-selection was improved and he stayed within the offense. He also knocked down some big shots from the field and converted all six of his freebies. Factor in his seven rebounds and defense that wasn't too blatantly horrible and Belinelli deserves a tip of the coppola cap.
Grade: B
Lonnie Walker IV
The good: Lonnie Walker IV played good defense and is starting to learn what to do within a zone. Overall on that end, he picked his man up early in transition and was really good about going after every possible defensive board — which caused the Spurs to rebound a lot better when Walker was in the game. Offensively, his three-point jumper looked smooth and he had a buttery finish in the lane. His passing was also a bit above average and he limited his mistakes. The bad: His inefficiency on offense stands out as his biggest negative. At first he was second-guessing his attempts and then made matters worse by passing up a few other potential attempts. Walker will be better once he's comfortable enough to just rely on instincts on offense. As it is, he's basically all or nothing at this point. 
Grade: B-
Jakob Poeltl
Jakob Poeltl only played 12 minutes but he was solid. His defense really stood out, particularly his mobility on the perimeter. He got caught flat-footed a couple times on rebounds and when he could have contested even more shots in the lane — but, all in all, his defense was a definite plus. Offensively, his awareness, passing and screen-setting were all helpful attributes. 
Grade: B
Pop
The good: Pop limited Forbes to only 16 minutes. He gave Walker 20 minutes, including minutes in the fourth quarter. Finishing the game with White was the right call. He also did well to pull Murray at moments when he was doing too much more harm than good. The bad: Belinelli in Gay's spot is still strange — but I guess it worked today. Using Belinelli down the stretch is scary but, again, it worked. DeRozan and Aldridge played a lot of minutes, which was questionable since the bench played well in their minutes.
Grade: B
Up Next for the Spurs
The Spurs play the Suns in Phoenix on Monday in what won't be an easy back-to-back affair. That said, let's hope San Antonio arrives ready to play because it's a very important game in terms of playoff positioning. As it stands, the Spurs and the Suns are basically tied for the ninth spot in the Western Conference. The Spurs will have a difficult enough time chasing down the Grizzlies. Falling behind the Suns too would really add to the difficulty of making the playoffs for a 23rd straight time.