Grades: San Antonio Spurs at Milwaukee Bucks – Game #39
The San Antonio Spurs fought well against the heavily favored Milwaukee Bucks but ultimately lost by a final score of 120-113. The Spurs were playing their fifth game in seven nights and were without the resting Dejounte Murray and Patty Mills, yet they were able to keep the contest competitive against a Bucks team that has now won 11 of their last 12 games. 
Key Stretch
The Spurs actually led by 14 points in the second quarter. Unfortunately, they let their lead slip away too easily, as the Bucks went on a 15-0 run to jump back in front.
In the fourth quarter, the Spurs never led but they remained within striking distance until the final couple minutes
Key Statistic
Derrick White was 0-for-8 from three-point range. Everyone else on the team was 12-for-25 for 48%.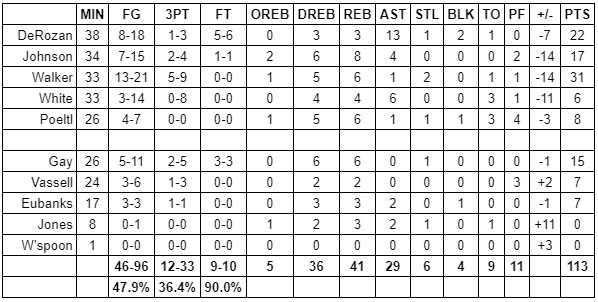 Spurs at Bucks: Final Grades
DeMar DeRozan
DeRozan did well against a team that was packing the paint on him. His passing was very impressive and his decision-making was reliable, as evidenced by his 13-to-1 assist-to-turnover ratio. He could have shot a few more open jumpers but otherwise he did about as well as could have been expected given the defense he faced. Defensively, he was more aggressive than usual and made some plays. 
Grade: A-
Keldon Johnson
Johnson backed up his monstrous effort against the Cavs with another strong effort. He hit a pair of three-pointers, drove with physicality to the rim, made a few smart passes and finished without a turnover despite a lot of congestion in the lane. Defensively, he guarded Giannis Antetokounmpo quite a bit and should be proud of what he accomplished on that end. Johnson's burliness was bothering the Greek Freak at times. 
Grade: A-
Lonnie Walker IV
Walker poured in a career-high 31 points, with 23 of the points coming in the second half. He didn't get any cheap buckets; he had to work hard for those points. From dizzying drives to the hoop to self-created three-pointers, Walker had it going. I loved his fearlessness. He could have done even more in the second half if his teammates did a better job of finding him more often. Defensively, he was more aware than usual and was making plays away from the ball. Good stuff all around.
Grade: A+
Derrick White
Ouch. With Murray and Mills sidelined, the door was open for White to take advantage. Instead, he stumbled, bumbled and fell on his face. His outside jumper looked flat all night long. Eventually, he obviously had lost confidence in it but kept on flinging. His playmaking and decision-making were poor. He wasn't getting the ball to his teammates in the right spots, didn't push the pace well and was second-guessing his every move. Defensively, he wasn't impacting the game on or off the ball. I think it's too early to sound the alarm on White's play this season but he needs to find some sort of rhythm ASAP. 
Grade: F
Jakob Poeltl
Poeltl struggled to have his usual impact on the defensive end. He wasn't offering timely help on pick-and-rolls and wasn't consistent about quickly retreating to the paint to defend the rim. Offensively, he flashed a bit more versatility than usual but was also in the way a lot of the time. 
Grade: C-
Rudy Gay
Gay actually played really well. Defensively, his strength and length made him useful against the Greek Freak. He also rebounded well and was scrappy in the lane. Offensively, he picked his spots better than usual. He was the focal point of the bench unit and kept that squadron afloat for minutes at a time. Other than a few ugly misses, Gay was rock solid. 
Grade: A-
Devin Vassell
On one hand, Vassell had a couple bad fouls and authored a few costly mistakes. He has been such a mistake-free rookie that it was surprising to see him commit such errors. On the other hand, I thought he showed a lot of moxie by keeping his head up. He didn't sulk or feel sorry for himself, Vassell just kept playing and was able to chip in here and there with positive plays. 
Grade: C
Drew Eubanks
Hey, pretty good. Eubanks was playing with confidence on offense — to the point that he took and made a three-pointer. He was rolling with purpose, passing with purpose and generally just looked like a guy who had a plan. Defensively, he was sturdy in the paint and appeared competent when he needed to swim in the deep water far out on the perimeter. 
Grade: B+
Tre Jones
Jones got minutes with Murray and Mills out and did pretty well. He clearly is a natural-born point guard who understands spacing and passing angles. Jones was also alert on the defensive and never shied away from the spotlight. For a rookie point guard, that's good to see. 
Grade: B+
Pop
This would have been an easy game for the Spurs to write off before the game even started but Pop got a good effort from his guys. Going with an 8.5-man rotation in the fifth game in seven nights could certainly be classified as reckless but it looks like everyone will make it back home in one piece. Xs and Os-wise, Pop went deep into his bag of tricks and there were some interesting plays the Spurs used to get open looks. Rotations-wise, I liked that he didn't lose confidence in Vassell. In retrospect, Pop should have given more of White's minutes to Jones — but that's the type of decision that would only make sense with hindsight. 
Grade: B
Next Up
Given the frequency of the games, going 3-2 on this road trip is a win. The Spurs now head home for a nine-game homestand. Yes, nine games. At home. The time is now to make hay.