Grades: San Antonio Spurs at Milwaukee Bucks – Game #34
Despite a good effort and a smart gameplan, the San Antonio Spurs (14-20) weren't able to pull a major upset on the road against the Milwaukee Bucks (32-5). The Spurs got off to a great start but couldn't hold on. It wasn't for a lack of trying, though.
With Dejounte Murray out for personal reasons, Pop decided it was time to shake up the starting five. Against the Bucks, the Spurs started Derrick White in place of Murray alongside LaMarcus Aldridge, DeMar DeRozan, Trey Lyles and … Lonnie Walker IV (!) in place of Bryn Forbes. 
The starting five looked really good coming out of the gates. They stuck to the gameplan on defense and were knocking down shots at the other end of the court. In the first quarter, the Spurs got up by as many as 12 points. Unfortunately, the Bucks ended the period on a 12-2 run to cut San Antonio's lead to two points, 31-29.
In the second quarter, the Spurs were able to stop the dam from bursting for the first half of the stanza. Unfortunately, Milwaukee started pulling away as the quarter went along and led 71-66 at halftime. 
The third quarter saw the starters bring the Spurs back; the game was tied 79-79 five minutes into the second half. When the bench came in, the floodgates opened for the Bucks. Heading into the fourth, Milwaukee had a 103-91 advantage.
The Bucks scored the first seven points of the fourth quarter and the Spurs never seriously challenged again. The end of San Antonio's bench finished the game on an 11-2 run to make the final score appear more competitive than the game actually was in reality.
While the league-leading Bucks ran away with it, I was pretty impressed with how hard the Spurs played. Seeing Walker in the starting lineup (and Forbes out of the starting lineup) was obviously a sight for sore eyes. It was also reassuring to see the coaches formulate a gameplan that made sense and for the players to follow through with it — especially after last game that saw poor scouting by the Spurs contribute directly to a loss.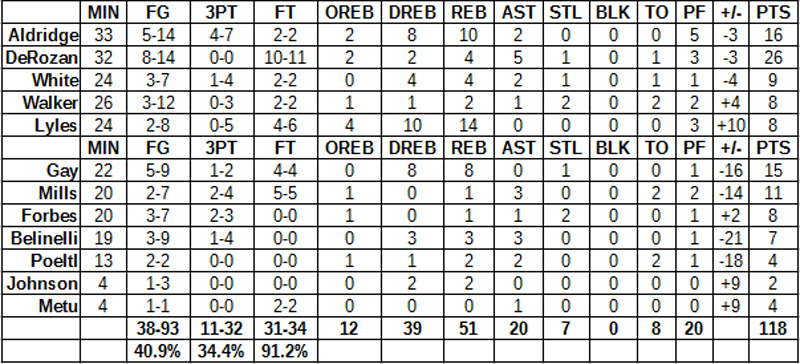 Spurs at Bucks – Final Grades
LaMarcus Aldridge
LaMarcus Aldridge shot 4-for-7 on threes to raise his three-point percentage on the season to a spicy 45.1% and continue his trend of launching threes at an increased rate as of late. All four of Aldridge's threes came in the first quarter, as the Bucks were slow to rotate on his pick-and-pop looks. Unfortunately, Milwaukee eventually started switching his pick-and-pops, which dried up his looks from deep. That especially hurt tonight because Aldridge was an icy 1-for-7 from two-point range. As great as it is to see him nail three-pointers, the University of Texas product still needs to do good work within the arc, as well. Defensively, Aldridge had the job of defending Giannis Antetokounmpo — and he did pretty well. He sagged off of him and bodied him when he drove to the hoop in hopes of keeping him out of the paint. He was also strong on the boards. That said, his pick-and-roll coverage was too soft and he was sometimes slow to offer help.
Grade: B
DeMar DeRozan
The Spurs couldn't have expected much more from DeMar DeRozan. The Bucks have the best defensive team in the NBA by a mile and yet DeRozan successfully carved them up. Twenty-six points on 14 field goal attempts? Five assists to only one turnover? Yeah, that's a job well done. DeRozan was mean attacking the rim and didn't let hard fouls deter him from charging headlong into the paint the next time up the court. Playmaking-wise, he was solid. Defensively, he was more attentive than usual. Well done, DeRozan.
Grade: A
Derrick White
Derrick White had a chance to shine with Murray out — and fumbled the opportunity. Offensively, he continues to fire away from three-point land but isn't attacking the rim like we saw him do last season. His playmaking was also completely missing in action. Offensively, he looked slow, tired and tentative for the most part. He was better — and more lively — defensively but still well below average. Getting handily outplayed by Eric Bledsoe really hurt San Antonio's chances of pulling out a stunner.
Grade: D+
Lonnie Walker IV
Lonnie Walker IV, starting guard for the San Antonio Spurs — that's something I could get used to. Then again, we'll have to wait and see if this was a one-time adjustment by Pop with Murray out of the lineup or if Walker has indeed supplanted Forbes in the starting lineup. Against the Bucks, I thought Walker's performance was better than his stats suggest. Defensively, he was really strong. He kept mistakes to a minimum, kept his head up and made the needed rotation countless times. Walker was also good in isolation situations on D. Offensively, he had a poor shooting night — but that was mostly due to Brook Lopez blocking him three times at the rim and forcing Walker to adjust a couple other times. Walker needs to go up strong and use more body contact, especially when going against shot blockers. Other than those attempts at the rim that could have been fiercer, Walker took good shots and flashed a modicum of playmaking ability.
Grade: B-
Trey Lyles
If Trey Lyles could have knocked down one or two of his three-pointers, he would have had a fine evening. He was 0-for-5 from deep but otherwise scored eight points on three shots, pulled down 14 rebounds, helped out with his ball-handling and passing, limited his mistakes and had his moments on the defensive end. Lyles was a bit weak at times on D but the effort was there and he exhibited innate instincts rebounding-wise. All in all, Lyles played smart and played well — outside of his three-point jumper betraying him. 
Grade: B
Rudy Gay
Rudy Gay sometimes dribbled too much and sometimes bit off more deer meat than he could comfortably chew but with the bench unit struggling around him, Gay's production kept the second unit from completely dying on the court. He was physical going to the rim, hit another three-pointer, rebounded well and was throwing around his brawn in the paint. Add in his zero turnovers in 22 minutes and the Spurs got enough from Gay to win this game. 
Grade: B+
Patty Mills
Patty Mills had to play backup point guard with Murray out — and didn't have his best game. Offensively, his efficiency was decent on paper but he struggled to get San Antonio into their sets consistently, as his lack of elite ball-handling was a factor. Defensively, Mills wasn't good. Going up against George Hill, Hill was the much more impactful player tonight. Additionally, Mills had blunders on offense, defense and in transition that seemed to send the bench unit spiraling. 
Grade: C–
Bryn Forbes
In his first game off the bench this season, Bryn Forbes was okay-ish. He didn't let the demotion take away from his shooting aggression, which was good to see. Forbes was still out there hunting down shots like usual. Unfortunately, the demotion also didn't really make him less of a liability on defense, either. That said, it would be unfair to judge him in that department based on one game in which the Spurs didn't have Murray and were going against the best team in the NBA. Going forward, if Forbes stays on the bench, he should be able to guard other team's reserves — one would hope, at least.
Grade: C+
Marco Belinelli
Marco Belinelli is now venturing within the arc more frequently in order to find more shots to hoist. Given his shooting percentages, I can't fathom how that's a good thing. In Milwaukee, Belinelli missed some more wide open three-pointers, played sub par defense (even for him) and didn't reward Pop for giving him fourth quarter minutes. Belinelli did have a couple good passes, though, and I can't fault his effort. He was hustling as much as his body will let him. 
Grade: C-
Jakob Poeltl
The good: Jakob Poeltl hit both of his shots, passed the ball really well, boxed out well on the boards and ran hard both ways. The bad: Poeltl didn't hold down the fort defensively when Aldridge went to the bench. To put it bluntly, he was just way too soft at the point of contact and also wasn't rotating out to the perimeter in a timely manner. It should be noted, however, that Poeltl was teamed with a few horrendously poor defensive lineups around him so that surely played a role in him being a sieve tonight. He could have played much better on defense but he was dealt a really difficult hand. 
Grade: C-
Keldon Johnson
I liked Keldon Johnson's physicality and competitiveness in garbage time. I didn't like the fact that he looked small and relatively unathletic when going up for defensive rebounds in traffic. 
Grade: Inc.
Chimezie Metu
Chimezie Metu continues to pass the eye-test in terms of being a fluid, NBA-level athlete. I don't know if his basketball IQ has surpassed his shoe size yet but here's hoping. 
Grade: Inc.
Pop
If Pop is starting Walker permanently, that will raise ceiling for this team. I hope he sticks with it. I loved Pop's defensive gameplan of forcing the Greek Freak to do his work outside of the paint. They let him shoot and fouled him hard whenever he got a lane to the basket. Unfortunately, he hit 3-of-7 three-pointers and the sub-60% free throw shooter hit 15-of-18 from the line. If Antetokounmpo doesn't shoot so well, the Spurs could have had a chance to steal one. (I especially loved Pop's gameplan because, honestly, it's one of the few times this season where it was apparent the Spurs coaches did any advanced scouting at all. Hopefully it's a sign of things to come.) Obviously, Pop loses some points for going with the trio of Mills, Forbes and Belinelli in the same lineup. That was … pretty dumb — I don't know how else to say it. You can't play those three players together in an NBA game. Going forward, I'm hoping Walker stays in the starting lineup and the return of Murray naturally balances out the lineups on the defensive end. That's a lot to hope for; my fingers are crossed.
Grade: B+
Next Up for the Spurs
Next on the menu is a rematch with the Bucks. This time in San Antonio. And this time with Murray. It'll be fascinating to see what Pop sticks with for the next game and what things he will change.