Grades: San Antonio Spurs vs. Milwaukee Bucks – Game #35
The San Antonio Spurs (15-20) put together arguably their best game of the season, defeating the Milwaukee Bucks (32-6). The Bucks entered this game with the best record in the league, a 14-3 road record and an undefeated record against teams below .500. The Spurs were able to get the upset victory with some productive individual play, marksmanship from the perimeter and a very good gameplan from the coaching staff.
To begin the ballgame, the Bucks got off to a hot start. Then, the Spurs got it going from three-point territory and their defense stiffened, which allowed San Antonio to take a 27-22 lead into the second quarter.
Milwaukee hit a pair of three-pointers to begin the second quarter to quickly give the Bucks the lead. But instead of folding, the Spurs punched right back. They relentlessly attacked while playing a confident brand of basketball to grow their first half lead to as much as 18 points. Going into halftime, the good guys led 65-52.
The beginning of the third quarter once again saw the Bucks make a run, this time 9-0 in less than two minutes. But, again, the Spurs didn't get bashful. Instead, their offense loosened up enough and the defense got stingy enough to keep the Bucks at bay. Milwaukee pushed hard to get back into it but San Antonio went to the fourth quarter up ten points, 91-81.
A minute into the fourth, the Spurs went on a 7-0 run to go up 16 points. From then on, whenever the Bucks made any sort of rally, the Spurs were ready to deliver a timely basket to keep a double-digit cushion. With three minutes remaining, the Bucks waved the white flag and the celebration was on in the AT&T Center.
Obviously, blowing out the Bucks is a great win for the Spurs. San Antonio hitting 19-of-35 three-pointers certainly helped the cause. They also did great work on the defensive boards by being as physical as they've been in the paint all season. The Spurs had a great gameplan that revolved around the hope that Giannis Antetokounmpo would miss perimeter shots — and the Greek Freak obliged by missing all of his shots that weren't within two feet of the hoop. Well done, Spurs.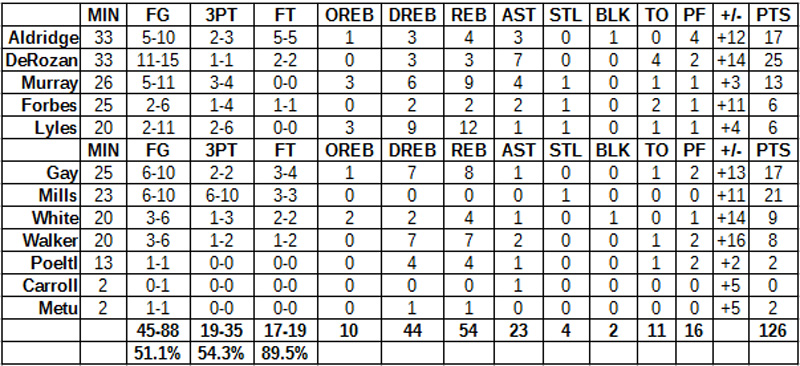 Spurs vs. Bucks – Final Grades
LaMarcus Aldridge
He wasn't spectacular but LaMarcus Aldridge had a rock solid game. Offensively, he buried a couple more three-pointers, improving his three-point percentage on the season to 45.9%. He was also physical when he caught smaller players guarding him. While he didn't do a whole lot of scoring in the post, he drew double-teams and eventually the Spurs started cashing in threes when the Bucks tilted their defense too far toward Aldridge. Defensively, I thought he was even better. He defended Antetokounmpo and I don't think he could have done much better. He hustled back, stayed in front of him and forced him to shoot moderately contested jumpers. Aldridge didn't get a lot of boards but he boxed out well and didn't allow anyone to nudge him out of position. All in all, this was a very smart, very focused, well-played game from Aldridge.
Grade: A-
DeMar DeRozan
The Bucks dared DeMar DeRozan to beat them from the mid-range. DeRozan did just that. Instead of forcing shots in the paint or hoisting threes, the 30-year-old took what the defense was giving him and feasted on their offerings. All told, DeRozan was 7-for-9 from the field from between 10 and 18 feet from the basket. For good measure, he added a pair of makes at the rim and a three-pointer. When DeRozan wasn't exploiting Milwaukee's gameplan, he was finding his shooters, as all seven of his assists resulted in three-pointers. Defensively, this had to be one of his better games of the season. He was physical, attentive and hustling. The Spurs can't ask for much more from DeRozan on defense than that. 
Grade: A
Dejounte Murray
The good: Dejounte Murray was 3-for-4 from three-point range. After a slow start to the season from beyond the arc, Murray is 10-for-15 on threes in his last eight games. In his first 23 games of the season, he was 5-for-28 from three-point land. Quite an improvement. In addition to his long range sniping, Murray knocked down a couple more mid-range jumpers, made a handful of quality passes and only turned the ball over once. Defensively, he was stout. He stayed in front of his man, didn't allow Eric Bledsoe to dominate like he did at times last game, provided quality help and was a major aid rebounding-wise. The bad: His running of the offense was a struggle at times, as his decision-making is still a work in progress. Defensively, he could have been better in transition and he sometimes didn't follow the gameplan to a T. The bottom line: It was a really good outing for Murray. After missing last game, his presence made a notable — and positive — difference. 
Grade: A-
Bryn Forbes
Back in the starting lineup (sigh), Bryn Forbes did some good. I thought he was a lot better defensively than usual. That's not saying a whole lot but Forbes stuck his nose in the middle of the action multiple times to disrupt the Bucks. He was also another member of the team who brought an extra dosage of physicality to the table. Offensively, he had a four-point play and a couple good reads on passes. His shot-selection was iffy and it'd be difficult to make the case that Forbes was a positive force out there for the Spurs — but he did enough to not be a glaring liability. 
Grade: B
Trey Lyles
It was a similar story for Trey Lyles against the Bucks. Last game, he was 0-for-5 from three-point range. This game, Lyles was 0-for-5 from two-point range. If he could have converted a couple of those twos, he would have put together a fine outing. Instead, he didn't always attack the rim with the necessary level of testosterone. Lyles double-pumping or looking over his shoulder for a shot blocker made him inept when calling his own number inside the arc. Otherwise, though, I liked how Lyles played. He rebounded extremely well; his instincts in that department are impressive. His ball-handling and passing were assets. Defensively, he followed the gameplan well by helping when the Greek Freak drove the ball but also being ready to contest Brook Lopez's jumpers if the ball got swung to him. 
Grade: C+
Rudy Gay
This was the type of game Rudy Gay provided a lot last season. The Spurs used him as the focal point of the bench unit to lubricate the spacing for the rest of the reserves. By scoring or drawing fouls in isolations, he made the Bucks react. That allowed the other bench players to work off of his action. In addition to his 17 points in 25 minutes, Gay also had good passes, limited his mistakes and was stout on the boards. He's another player who has started to heat up from three-point range. Over his last eight games, Gay is 15-for-26 (57.7%) on threes. Before that, he was 23-for-86 (26.7%) in his first 27 games of the season. 
Grade: A-
Patty Mills
The Bucks like to drop their bigs when defending pick-and-rolls. The coaches tried to take advantage of that this game and it was Patty Mills who made the Bucks pay. Running a plethora of high pick-and-rolls, Mills was able to get plenty of open looks with Milwaukee's bigs falling into the paint. Thankfully, the Australian was able to take advantage to the tune of six made three-pointers and three more points after getting fouled on another attempt from deep. While Mills didn't do much else other than pour in those 21 points — though he did hustle on defense and pushed the pace on offense — his scoring was a must if the Spurs had hopes of winning this game. 
Grade: A-
Derrick White
This was a pretty typical Derrick White performance than we've become accustomed to this season. He tiptoed around on offense, picking his spots judiciously — too judiciously, if you ask me. His playmaking wasn't anything special but he did get the Spurs into their sets consistently. Defensively, I thought he was quite a bit better than usual and certainly much improved from last game. The Spurs are still waiting for White to find a groove but this version of him is still a valuable cog. But, obviously, the Spurs want White to be more than a cog at some point.
Grade: B
Lonnie Walker IV
Back to the bench, Lonnie Walker IV played pretty well. He was active defensively, played rugged one-on-one defense out on the perimeter, got his hands dirty by pulling down contested boards and exhibited a lot of chutzpah by being physical and competitive at all times. Offensively, Walker was muted most of the night — although he did nail an important three-pointer in the fourth quarter. While he wasn't looking for his own shot a lot, Walker helped out by breaking down the defense off the dribble and making the right passes. Two buckets in garbage time inflated his stats but Walker did have a solid outing, all things considered. 
Grade: B
Jakob Poeltl
Jakob Poeltl did a much better job of holding the fort this game. He was tougher, didn't cower from contact and protected the basket pretty well. Poeltl didn't do much that made the statsheet but by holding his ground, rebounding well and running the court, it was a rather large improvement over what the Spurs got from him in Milwaukee. 
Grade: B-
DeMarre Carroll
Ah, yes, DeMarre Carroll is on the Spurs. That's easy to forget. 
Grade: Inc.
Chimezie Metu
Sure, it's all been in garbage time but this season Chimezie Metu has 30 points, 17 rebounds, three assists, three blocks and one turnover on 13-for-22 shooting from the field in 41 minutes of action. That's garbage time efficiency that could make even Boban Marjanovic jealous.
Grade: Inc.
Pop
Once again, I loved the gameplan by Pop. He basically had the Spurs form a three-man wall whenever Antetokounmpo had the ball at the top of the key. The Spurs did their best to defend against the Greek Freak driving all the way to the rim or making a pass for a corner three-pointer. San Antonio wanted him to either shoot a moderately contested jumper or pass to a three-point shooter on the arc for a moderately contested shot. The plan worked, as Antetokounmpo didn't hit a perimeter shot and the Bucks were only 11-for-33 on non-corner three-pointers. Offensively, the coaches took advantage of the Bucks dropping their big into the paint on pick-and-rolls. With DeRozan hitting from mid-range and Mills splashing threes, the Bucks (who have the league's best defensive rating) struggled to adapt. While I wish Pop kept Walker in the starting lineup, at least Marco Belinelli got a DNP-CD and Walker got fourth quarter minutes. I can live with that. The only frustrating part of this game: this proves that Pop and the coaches are capable of formulating great gameplans. Hopefully we see this more often. For a large majority of the games this season, the coaches haven't used any type of opponent-specific gameplan. That might have worked in the Big Three era but this team needs more attentive coaching and isn't good enough to thrive with a one-size-fits-all approach. 
Grade: A-
Up Next for the Spurs
The Spurs get to be happy about this win for a while before heading out for a difficult four-game road trip that begins in Boston on Wednesday. Let's hope this victory produces some momentum, as even a 2-2 road trip would be wonderful.