Grades: San Antonio Spurs vs. Minnesota Timberwolves – Game #22
Disaster averted. After a pair of demoralizing losses, the San Antonio Spurs found their footing right in the nick of time to defeat the Minnesota Timberwolves by a final score of 111-108. For the vast majority of the evening, it appeared as if the Spurs were headed toward a third straight discouraging loss — but, thankfully, they had one last run. 
I wouldn't exactly classify this as a good win. The Timberwolves were without their best player in Karl-Anthony Towns and the Spurs struggled mightily on both ends for long stretches of the game. But, then again, a win is a win and San Antonio is now 12-10 on the season. Minnesota, on the other hand, dropped to 5-16.
Key Stretch
The Spurs trailed by 16 points, 97-81, with approximately ten minutes remaining. That's when the defense finally stiffened and the offense began to operate with purpose. Over the next six minutes, the Spurs went on a 20-2 run to take a two-point lead. From then on, the good guys never trailed again. 
Key Statistic
Pop finally found a cohesive defensive lineup in the fourth quarter and it paid dividends immediately. The Timberwolves scored only 18 points in the final period after scoring 90 points in the first three quarters.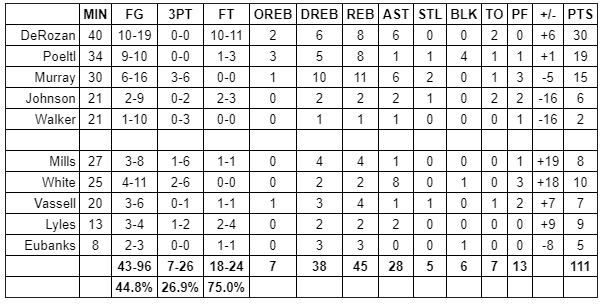 Spurs vs. Timberwolves: Final Grades
DeMar DeRozan
Until the beginning of the fourth quarter, DeRozan wasn't doing anything too notable. He was trying to create but he wasn't having a ton of success. Defensively, his engagement ebbed and flowed. But in the fourth, DeRozan's will to win was palpable. He put the team on his shoulders and carried them to victory. He finished the quarter with 14 points and two assists, as his physicality and smarts on offense were too much for the young Timberwolves to handle. DeRozan also picked up his intensity on the other end. 
Grade: A-
Jakob Poeltl
Starting in place of an injured LaMarcus Aldridge, Poeltl did really well. On offense, he was assertive, exhibited great hands, and was finishing with a mix of quickness and strength. Defensively, he might have been even better. He protected the paint really well, as evidenced by his four blocks. He also defended pick-and-rolls with brainy expertise, which was arguably the main reason why the team's defense in the fourth quarter was so successful. 
Grade: A-
Dejounte Murray
It was a mostly positive night for Murray. The good: He launched three-pointers with confidence oozing from his pores. He took care of the ball and authored a few slick passes. He was a beast on the defensive glass. Murray might have been the only Spurs player who was adequately aggressive all not long. The bad: His effectiveness on defense was lacking. He was trying but it was more bad than good in that aspect of the game. Offensively, his shot-selection was a bit too liberal. A few times he looked off open teammates to call his own number. 
Grade: B
Keldon Johnson
Not a game to remember for Johnson. However, to his credit, he got slightly better as the game progressed. He was a disastrous at first but eventually upgraded to become a minor inconvenience by his final stint. Offensively, he didn't have confidence in his jumper and resorted to dribbling the ball into traffic. Defensively, he wasn't staying in front of his man and he was uncharacteristically lackluster on the backboard. 
Grade: D-
Lonnie Walker IV
Yeah, no, that wasn't a performance for Walker to write home about. In all aspects, he was just too tentative. Defensively, he wasn't offering much resistance at all and his rotations weren't timely. Offensively, he was second-guessing his every move and was too eager to settle for low percentage looks. Walker needs to up his aggression and intensity if he wants to retain a leading role on this team. 
Grade: F+
Patty Mills
Typically, Mills isn't worth much if he misses 5-of-6 three-pointers. But tonight, his tenacity on both ends was very much needed. On offense, he kept moving, kept probing and played the role as the bench unit's pressure release valve, which was vital with Rudy Gay sidelined. Defensively, he was feisty and limited his mistakes. He got caught in a few unfortunate switches but did well to survive. 
Grade: B+
Derrick White
White is still searching for a rhythm but he's looking sharper and sharper. Passing-wise, he was really good against Minnesota. He entered the game and immediately started picking the T'Wolves apart. His passing on the move was particularly impressive. I also liked that he was shooting threes whenever given daylight and wasn't bashful about taking the ball to the basket. Defensively, he made some plays help-wise like we've become accustomed to seeing. Individually, he's still working his way back into shape on that end. 
Grade: B+
Devin Vassell
It was a bit of an up and down night for the rookie. Vassell hit his first three shots from the field, only to miss his next three attempts. On defense, he was usually in the right place but a lot of points were scored right over the top of him. He had some highlight hustle plays and a few unforced errors. All in all, Vassell was able to do a good amount of learning tonight. 
Grade: C+
Trey Lyles
It's safe to say this was the best game for Lyles this season. He could have been better defensively, especially on the boards and guarding pick-and-rolls. That said, he was moving his feet well on that end, which was extremely important against the fleet-footed Timberwolves. Offensively, Lyles' ball-handling and awareness were valuable attributes. He hit a big three-pointer and his forays to the rim were surprisingly nimble and purposeful. 
Grade: B+
Drew Eubanks
Eubanks was initially given the job as the team's backup center. Statistically, it looks like he played well. But in terms of his actual impact, he was much less impressive. Offensively, he had some positive moments but there were also plenty of possessions where his hesitancy in knowing what he wanted to do caused him to get in the way. Defensively, he was good at the rim but was a fish out of water when it was time to leave the paint. 
Grade: C+
Pop
Pop's team was lethargic from the opening tip, which is obviously not a sign of great coaching. The spacing with the starters on the floor was horrendous but the coaching staff didn't do much to help matters. The rotations seemed to be helter-skelter for much of the game. But, thankfully, Pop discovered a fourth quarter lineup that worked and stuck with it. His coaching in the first three quarters wasn't too impressive but I agreed with just about everything he did in the fourth. 
Grade: B
Next Up
The Spurs get two days off before traveling to Houston to play the Rockets. Let's hope that the Spurs can bottle how they played in the fourth quarter tonight and carry that forward.