Grades: San Antonio Spurs at Minnesota Timberwolves – Game #80
The San Antonio Spurs saw their three-game winning streak end against the Minnesota Timberwolves on Thursday night by a final score of 127-121. The game wasn't as close as the final score indicates, as the Timberwolves led by 15 points heading into the fourth quarter and held a double-digit lead for a majority of the period. The contest only tightened at the end when Anthony Edwards went out of his way to try to score 50 points (he finished the night with 49 points).
Overall, the Spurs played okay, especially considering that they were without both Dejounte Murray and Lonnie Walker IV. After clinching a play-in spot with their big win over the Denver Nuggets last game, there was a noticeable drop in energy tonight — particularly in the first half. The loss drops San Antonio to 34-46 on the season, while Minnesota improved to 46-35.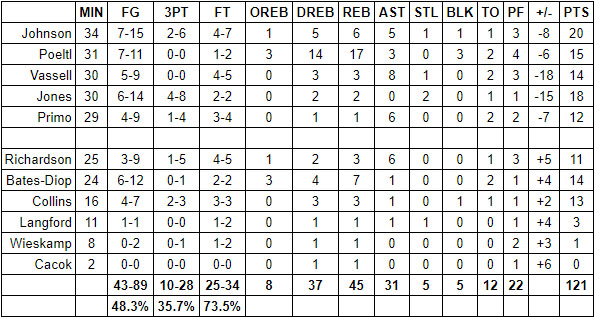 Spurs at Timberwolves: Final Grades
Keldon Johnson
Johnson scored at least 20 points for the eighth straight game. However, that feat comes with an asterisk because he only scored only five points in a listless first half effort. Most of his points came after the game was all but decided. The brightest spot for Johnson on this night was his passing. He missed some passing opportunities but did better than usual in that regard.
Grade: C+
Jakob Poeltl
Defensively, Poeltl did a lot better job on Karl-Anthony Towns than he did the last time these two teams met. Then again, considering that KAT poured in 60 points last meeting, that wasn't a huge accomplishment. Poeltl wasn't especially spry out on the perimeter but he was really strong on the glass and held up well in the paint. Offensively, he remained aggressive and was consistently a threat.
Grade: B
Tre Jones
Jones continues to look comfortable as a starter. In his last four outings, he's averaging 13.8 points and 8.5 assists per game. Tonight, though, he hurt the team at times by refusing to take outside jumpers. The Timberwolves were backing off of him and Jones still wouldn't let it fly. A point guard who won't shoot has a limited amount of value in today's NBA.
Grade: B-
Devin Vassell
Vassell nailed 4-of-8 three-pointers and I love that he was taking shots with confidence. Unfortunately, the rest of his game wasn't much to write home about. His defense was uncharacteristically lackluster and he wasn't finding open teammates.
Grade: B-
Josh Primo
Primo played smart defense, authored a handful of slick passes and flashed some scoring ability. His game is still in its infancy but you can see flashes here and there.
Grade: B-
Josh Richardson
Other than shooting three-pointers (1-for-5), Richardson had another solid outing. His ability to play point guard really helps the second unit. He's also a stout defender and an unselfish offensive player who keeps things humming.
Grade: B
Keita Bates-Diop
Early on, seemingly the only player on the team who was playing with the appropriate amount of energy was Bates-Diop. He was energetic on defense, attacking on offense and playing with force on a possession to possession basis. That vigor remained for each of his 24 minutes on the court.
Grade: A-
Zach Collins
Collins has never been much of a scorer in the NBA but he has been in a groove lately. Tonight in Minnesota, he poured in 13 more points in only 16 minutes. He connected on 2-of-3 three-pointers. Rebounding-wise and passing-wise, though, we've seen him do a lot better.
Grade: B
Romeo Langford
Langford had a smooth banker on his first trip up the court … but then did very little else after that. It looks like he has talent but he was too laidback tonight to show much of it.
Grade: C
Joe Wieskamp
Wieskamp got some first half minutes but passed up a few open looks that he needs to let fly. If he makes it in the league, it'll be as a designated shooter — so he has to shoot.
Grade: C-