Grades: San Antonio Spurs at Minnesota Timberwolves – Game #11
The San Antonio Spurs dropped their third straight game on Wednesday night to drop to 5-6 on the season. Their latest defeat was at the hands of the Minnesota Timberwolves. The Wolves scored 40 points in both the second quarter and third quarter on their way to delivering the Spurs a 129-114 loss. 
The Spurs fell behind early but took a couple brief leads in the second period before a poor finish to the half had San Antonio trailing 66-59 at halftime. Powered by eight straight points by Bryn Forbes, the Spurs started the second half playing really well. Less than three minutes into the third, a jumper by LaMarcus Aldridge put the Spurs up by four points, 72-68. Unfortunately, San Antonio's momentum was short-lived. 
Eventually, the Spurs saw their defense fall apart in the third and the Timberwolves roared to a double-digit lead by the end of the period. The game was put to bed in the fourth quarter when San Antonio failed to make a field goal in the period's first six minutes. By the time they hit a shot, the Silver and Black trailed by 16 points and it was about time for garbage time to commence. 
Overall, it wasn't a good game for the good guys. They got quality performances out of their two leading scorers but otherwise the bright spots were few and far between. The role players shot poorly and just about everyone defended poorly. That's not a winning formula, to say the least.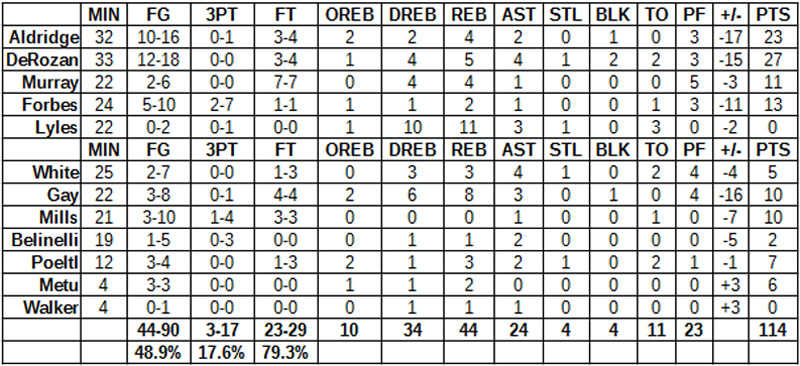 Spurs at Magic – Final Grades
LaMarcus Aldridge
The good: Scoring-wise, I can't complain. LaMarcus Aldridge shot 10-for-16 from the field and was adequately aggressive on the offensive end. He even passed well and finished the game without a turnover. The bad: Aldridge's individual defense was weak and he didn't seem to care about his team-defense responsibilities. He was also timid on the glass. The bottom line: We've come to expect middling defense from Aldridge this season; it's been his offensive effectiveness that has varied. Tonight, he had it going on offense. Usually that's enough for the Spurs to be competitive. Not tonight, though.
Grade: B+
DeMar DeRozan
I can't complain with DeMar DeRozan's offense. He shot well (12-for-18), played at a good pace, shared the ball and limited his mistakes. He also wasn't exploited much on the defensive end. In fact, compared to his teammates, he was alright on that end. All that said, his mini tantrum in the third quarter played a part in San Antonio's collapse. The Spurs were down by two points when DeRozan intentionally fouled after a non-call and was then hit with a technical foul. Minnesota went up by five points after the smoke cleared, the Spurs' momentum was stifled and the T-Wolves never looked back. DeRozan has to keep his composure, especially when the Spurs are in the middle of a rally.
Grade: A-
Dejounte Murray
It was another bad game by Dejounte Murray. He wasn't effective on defense — he gambled too much and got caught with his head turned multiple times. Offensively, he never got going and never got his teammates going. He did okay pushing the pace and he didn't turn the ball over but it's hard to point to a single stretch where he had a positive impact on the game for the Spurs.
Grade: D+
Bryn Forbes
Offensively, it was another solid showing. He didn't hesitate to shoot and let go of his shots with confidence. He inspired the third quarter run almost single-handedly. But, man, was his defense a liability. Andrew Wiggins (30 points, eight rebounds and seven assists) got going by overpowering Forbes and making him look like munchkin. At no point was Forbes less than a sieve on defense.
Grade: C+
Trey Lyles
The good: Trey Lyles rebounded well, although he let a few more caroms tumble off the end of his fingertips. He authored a handful of smart passes and ran the court well. The bad: Lyles didn't look comfortable picking his spots on offense. Some further indecision led to a team-high three turnovers. On defense, he wasn't good. His post defense, particularly, needs a lot of work. As it is, he allows deep post defense and it's almost an automatic two points for the opposition. 
Grade: C+
Derrick White
Offensively, Derrick White hit his first shot — and usually that's a great sign. Unfortunately, White never found a rhythm on that end. He seemed to be second-guessing his shots and made a couple ill-advised passes. That said, I could live with his offensive shortcomings but it was defense where White really dropped the ball. The Spurs tried to slow Wiggins by putting White on him and it was a total failure. Wiggins scored and created easily even though he was being guarded by one of San Antonio's best defenders. Not a good look for White.
Grade: D+
Rudy Gay
A few things I liked about Rudy Gay tonight: He played really hard, he played with vinegar flowing through his veins and he looked extra athletic. In fact, it was probably the best Gay has looked physically this season, as he was running and jumping with ease. He also passed the ball well, grabbed contested rebounds and went without a turnover in 22 minutes. On the other side of the equation, Gay did hold onto the ball too much at times and was too happy to break the offense for no good reason.
Grade: B
Patty Mills
The regression to the mean is alive and well with Patty Mills. After a hot start to the season, he's been pedestrian the last two outings. He didn't shoot well enough to help out offensively and his size made him a liability on defense. 
Grade: C
Marco Belinelli
What's worrisome about Marco Belinelli is that his shooting struggles aren't due to poor shot-selection. He's taking good shots, especially when judging on a Belinelli scale, and he can't hit anything. Add in the lack of defense or mobility and it's getting to the point that it's questionable if he's an NBA player, much less a rotational player. 
Grade: D+
Jakob Poeltl
The good: Jakob Poeltl was more involved offensively; his hands were better and his finishing was quicker. He also was more aware than he's been for much of the season. Poeltl passed it well, too. The bad: The Austrian was pretty pathetic on the defensive glass. He wasn't boxing out well or grabbing boards. His defense of the rim wasn't too good, either. The bottom line: This might have been a step in the right direction for Poeltl but that's more of a statement about the slump he's in. 
Grade: C
Chimezie Metu
Chimezie Metu played four minutes in garbage time — and he was pretty impressive. He looks big, fast, athletic and coordinated. Over his last two stints in garbage time, Metu has 13 points, ten rebounds, two assists, two blocks and zero turnovers in 13 minutes. Obviously, it doesn't mean a whole lot but it might be time to give him a chance by giving him a few real minutes to see if it translates. 
Grade: Inc.
Lonnie Walker IV
Lonnie Walker IV didn't really dent the scoresheet too much in his garbage time minutes but he looked pretty good. On defense, he was focused and guarded his man tightly. On offense, he handled the ball with ease and exhibited some explosion off the dribble. 
Grade: Inc.
Pop
The good: Pop challenged a foul — and kinda won (the call wasn't overturned but Pop got the Spurs a point when the refs issued a technical foul after reviewing the play). His rotation made sense for some of the night. The bad: Belinelli getting minutes is becoming indefensible — especially with Walker and DeMarre Carroll collecting dust on the sidelines. To start the fourth quarter, Pop rolled with a lineup of Mills, Forbes, Belinelli, Gay and Poeltl despite only being down 11 points. Huh? Mills, Forbes and Belinelli at the same time after giving up 80 points in the previous two quarters. That's suicidal. I don't even know what to type to convey how questionable that decision was by Pop. The bottom line: Pop has two young point guards that need minutes. I realize Pop is one of the best coaches ever at developing young talent but as it stands it's almost like he's trying to find ways and excuses not to play them. 
Grade: D+
Next Up for the Spurs
The Spurs will try to avoid losing their fourth straight on Friday night against the Magic in Orlando. The Spurs only have one road win this season — and that was against the inept Golden State Warriors. Let's hope the players show some life and the coaches improve their strategy in that one.