Grades: San Antonio Spurs at New York Knicks – Game #70
The San Antonio Spurs were rolling in the second half against the New York Knicks on Thursday night. Unfortunately, the wheels fell off before the finish line and the good guys ended up losing the game by a final count of 102-98 to fall to a record of 33-37.
Despite the loss, the Spurs ended up clinching the tenth seed in the play-in tournament, which means San Antonio's playoff hopes live on. If they can win two consecutive games in the tournament, they'll advance to the NBA postseason. Before then, the Spurs have two more regular season games — both at home and both versus the Phoenix Suns. 
Key Stretch
Coming out of halftime, the Spurs connected on their first 11 shots of the second half. That sizzling stretch allowed San Antonio's lead to swell to as much as 17 points. But in the final three and a half minutes of the third quarter, the Spurs derailed. The Knicks finished the period on a 15-2 run and that momentum carried into the fourth quarter. The Spurs never fully got back on track again.
Key Statistic
Across the board, the numbers are very similar for both teams. The most glaring difference was, once again, three-point shooting. The Spurs were 6-for-21 (28.6%) from deep, while the Knicks were 14-for-35 (40.0%) from deep.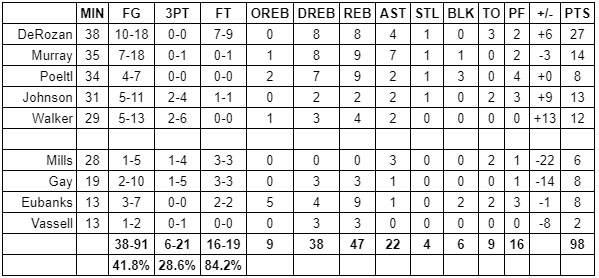 Spurs at Knicks: Final Grades
DeMar DeRozan
DeRozan held up his end of the bargain. He scored efficiently via hard-nosed, pull-up jumpers and free throws. He passed the ball well. When the Spurs needed him down the stretch, DeRozan was ready and willing to carry the torch. Defensively, he was more aggressive than we've witnessed recently. 
Grade: A-
Dejounte Murray
The good: Murray's defense was pesky and he finished up possession by grabbing contested rebounds. His decision-making and playmaking were better, as evidenced by his seven assists and zero turnovers. The bad: His scoring was inefficient. His shot-selection left a lot to be desired, as he was too eager to settle for difficult mid-range looks. After he missed a three-pointer by a couple feet, he never looked to shoot another three again. 
Grade: B
Jakob Poeltl
I can't poke holes in anything Poeltl did tonight. Defensively, he was stout in the interior and rotated well on the perimeter. His rebounding was very good. Offensively, he had a couple of difficult finishes, set mean screens and successfully stayed out of the way most of the time. 
Grade: B+
Keldon Johnson
I thought Johnson was quietly pretty darn good after a slow start. In the first quarter, he missed all four of his field goal attempts. But instead of folding up his tent, Johnson remained aggressive and clawed his way back to respectability on the offensive end. Where he really shined was on the defensive end. He took the challenge against Knicks All-Star Julius Randle and helped hold the burly forward to 7-of-21 shooting. Johnson played smart and strong position defense all night long. 
Grade: A-
Lonnie Walker IV
Walker provided sporadic glimpses of excellence. He began the game with a dunk and a three-pointer … but it was difficult for him to string multiple positive possessions in a row from that point on. That said, his speed and athleticism unquestionably helped on the offensive end. Defensively, Walker was more locked in than usual. 
Grade: B
Patty Mills
After two successful outings, Mills reverted back to his post-All-Star break doldrums. His movement with and without the ball was muted, which resulted in him not getting many clean looks. He tried to salvage some of his value by playmaking — but there were just as many lowlights as highlights when doing so. Defensively, he was poor on the ball and even worse away from the ball. 
Grade: D-
Rudy Gay
Gay has been playing well for a while — but slipped up against the Knicks. Offensively, he was uncharacteristically thinking too much. He passed up some shots he should have fired and fired some shots he should have passed up. Defensively, he wasn't sturdy enough to hold his ground in the paint and also couldn't stay in front of anyone on the perimeter. 
Grade: D+
Drew Eubanks
Eubanks had a night that featured a lot of sound and fury — but the commotion wasn't always signifying something positive. Defensively, he was loudly blocking shots and rebounding. At the same time, his rotations weren't always timely and the angles he took weren't always the right ones. Offensively, he scored eight points in 13 minutes and was a monster on the glass. Simultaneously, he didn't always know where to be, his hands failed him a couple times and he suffered through some bouts of sloppiness. All in all, Eubanks probably had more positive moments than negative moments — but it was closer than his stats would otherwise indicate. 
Grade: B
Devin Vassell
Eh, not much good to report out of Vassell against the Knicks. Offensively, he was too passive and rarely looked at the rim. Instead, he was usually playing hot potato whenever the ball hit his hands. Defensively, he was okay-ish compared to other perimeter defenders on the team but subpar compared to his standards. 
Grade: D+
Pop
Ugh. Pop playing Mills 28 minutes was completely nonsensical. How he decided to play Mills and Walker virtually the same number of minutes I'll never understand. Switching to a zone late in the game might have even made less sense than playing Mills 28 minutes. The Spurs defense was doing a good job, particularly inside of the three-point arc. But for much of the fourth, Pop switched to a zone — and the Knicks instantly took advantage by hitting a barrage of three-pointers. What was he thinking? 
Grade: F+
Next Up
The Spurs and Suns play on Saturday and Sunday afternoon. While the Spurs are locked into the 10th seed, the Suns could still claim the top spot in the West or could fall to the third seed — so expect Phoenix to go all out in both games.