Grades: San Antonio Spurs at New York Knicks – Game #17
It's over. It's finally over. After eight consecutive losses, the San Antonio Spurs (6-11) were able to get back on the winning track with a 111-104 victory over the New York Knicks (4-12) on Saturday night.
The Spurs came out of the gates with a purpose. They scored the first seven points of the game and didn't let up. By the end of the first quarter, San Antonio was doubling up New York by a count of 32-16. 
Things got even better for the Spurs in the second quarter. Thanks to a free-flowing offense and an active defense, the good guys pushed their lead to 25 points by halftime, 68-43.
To begin the third, the Spurs led by as many as 28 points. Unfortunately, that's when San Antonio let their foot off the gas. The Knicks cut their deficit to 18 points heading into the fourth and actually got within single-digits with four minutes left. Thankfully, mercifully, the Spurs were able to hang on and end their losing streak.
All in all, the Spurs played well in the first half. The second half? Not so much. But, hey, at this point, any win is a good win for the Silver and Black.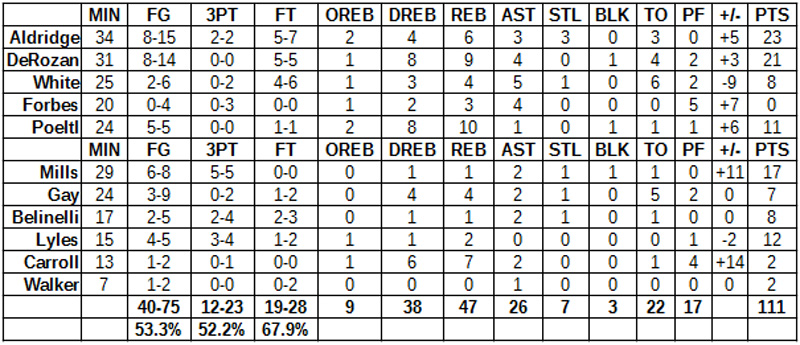 Spurs at Knicks – Final Grades
LaMarcus Aldridge
LaMarcus Aldridge did well across the board. Offensively, he had his jumper going, which helped him find a rhythm. He hit both of his three-point attempts and even mixed things up in the paint a few times. His passing was above average and I thought his effort level was more consistent than usual. Aldridge wasn't amazing on defense but he was alert and talkative, which wasn't always the case in the losing streak.
Grade: B+
DeMar DeRozan
I was mostly pleased with DeMar DeRozan's performance. He played a heady, steady style for most of the night. When it was needed, DeRozan also didn't hesitate to get physical. He made good decisions regarding when to pass and when to shoot. His defense was about average — team-wise better than usual, individually worse than usual, rebounding-wise he was helpful. DeRozan did struggle down the stretch as the Spurs were trying to put the Knicks away, which is worrisome given his crunch time woes this season. 
Grade: B+
Derrick White
After missing two games with a foot injury, Derrick White was back in the lineup and starting at point guard. Unfortunately, it doesn't look like he's healed from his foot injury. White spent most of the night hobbling around and obviously favoring his left foot. He had a few really nice passes, a couple good defensive plays but otherwise it was painful to watch him limp around out there. His six turnovers made his night even more forgettable, although a couple of those weren't his fault (teammates not catching catchable passes and the refs blowing an out of bounds call).
Grade: D
Bryn Forbes
Yikes. The Knicks put length on Bryn Forbes and he couldn't get anything going on offense. His shot didn't look good and he looked unsure of himself. Although, I do have to give him credit for passing the ball better than he typically does. Defensively, he was bad. Really bad. His rotations were poor and he struggled to keep players in front of him. To make matters worse, he was hacking. Five fouls in 20 minutes and an 0-fer from the field? Ouch.
Grade: D-
Jakob Poeltl
This very well could have been Jakob Poeltl best game of the season. His movement when off the ball was really strong and his overall activity on offense helped spur San Antonio to their big first half lead. He was much better on the defensive boards than last time out and his overall defense was mostly solid. He was a step slow a bit too often on D but otherwise Poeltl bounced back well from a negative outing. 
Grade: B+
Patty Mills
With White limping around and Dejounte Murray sitting out the second night of a back-to-back, the Spurs needed Patty Mills to step up. And he delivered. He was 5-for-5 on three-pointers and only had one turnover despite the Knicks pressuring him all night long. Mills' didn't do a whole lot of playmaking but he played it safe and hit shots — a combination Spurs fans can live with. Defensively, he held up relatively well thanks to an abundance of energy on that side of the floor.
Grade: A-
Rudy Gay
Looking at the stats, it appears as if Rudy Gay really struggled — 5 turnovers, 3-for-9 shooting and not many positives to be found. However, I thought he was better than the numbers indicate. The Spurs were using him to key the bench unit and he did well in that role. He had a pair of gorgeous passes in the first half and his aggression helped put the Knicks on their heels. Defensively, Gay didn't do a whole lot but at least he was physical in the paint, which helped.
Grade: C-
Marco Belinelli
Marco Belinelli appears to finally be emerging from his shooting slump. Over his last six games, he's 7-for-15 on three-pointers. He's getting just a tiny bit more arc on his shot, which is helping him find the bottom of the net once again. Belinelli had a couple good passes in this game, as well. Oh, and his defense was okay-ish. At the very least, he battled to the end of possessions instead of leaking out as he had been doing recently.
Grade: B+
Trey Lyles
Welcome back, Trey Lyles. After being removed from the rotation for the first time all season last game against the Philadelphia 76ers, Lyles got another chance and he took advantage. Most notably, he calmly sank his first three three-point attempts to help the Spurs build their lead. He was more aggressive than usual looking for his shot and more assertive in his overall decision-making. Defensively and rebounding-wise Lyles wasn't anything special, although he did guard the post decently well.
Grade: A-
DeMarre Carroll
DeMarre Carroll was a key cog in the wheel that grinded the Knicks to a pulp in the first half. His defense was really strong — both out on the perimeter and when the Knicks tried to post him up. Carroll added to his usefulness by pulling down seven rebounds in his 11 first half minutes. Offensively, he ran the court well and added some much needed ball-handling to the bench unit. 
Grade: B+
Lonnie Walker IV
After Forbes picked up his fifth foul in the third quarter, Gregg Popovich looked down his bench and decided to put in the kid with the tall hair. Lonnie Walker IV did well for himself in the seven minutes he received. Defensively, he was better than normal and appeared to be extremely focused. Offensively, Walker had a dunk off of dribble penetration and a fantastic baseline pass that led to a Mills three-pointer. The kid is exciting, I have to admit. 
Grade: B
Pop
The good: Giving Carroll and Lyles first half minutes really worked well. Playing DeRozan and Forbes less also worked out, although it was probably by accident (DeRozan got poked in the eye at one point and Forbes battled foul trouble). Starting Poeltl and leaning on Mills off the bench were both positives. Giving Walker some air was nice to see. The bad: Why play White so much when he's gimpy out there? It looked dangerous. After Carroll's big first half, Pop only give him two minutes in the second half. Why? I have no idea, as the Knicks really struggled to score when Carroll was in the game. (Maybe Pop will realize at some point this year that he has to play defenders in order for the Spurs to play good defense. Shocking concept, I know.) Playing Forbes even less would have been helpful.
Grade: C-
Next Up for the Spurs
Free at last. Free at last. Thank Pop almighty, the Spurs are free from that losing streak at last. Their reward is a date with the Los Angeles Lakers (14-2) on Monday night. The Lakers sport the best record in the NBA, have won seven straight and haven't lost outside of Los Angeles. It goes without saying that the Spurs beating the Lakers in their return to the AT&T Center after a four-game road trip would be momentous.