Grades: San Antonio Spurs at Oklahoma City Thunder – Game #56
The San Antonio Spurs saw their two-game winning streak go down in flames on Sunday night in Oklahoma City, as the Thunder won by a final count of 131-103. The Spurs end the Rodeo Road Trip with a record of 2-6. The loss also drops San Antonio to the 11th seed in the Western Conference.
Early on, things were actually looking pretty good for the Spurs. In the first quarter, the good guys were playing well enough on both ends of the court and the period ended at a 29-29 tie. In the second quarter, the Spurs turned up the volume and actually took control of the game for a bit. A three-pointer by Trey Lyles gave San Antonio a 45-36 lead with 7:21 to go in the half.
That's when the wheels fell off.
Over the next three and a half minutes, Oklahoma City went on a 16-0 run to take control of the game. At intermission, the Thunder had a 61-55 lead. Early in the third quarter, the Thunder took a double-digit lead. Not much longer after that, their lead was expanded to 20 points. Heading into the fourth quarter, OKC was up 98-73. The fourth ended up just being 12 minutes of garbage time.
Obviously, this was a disappointing result for the Spurs. After two consecutive wins, whatever momentum they had was halted in Oklahoma. However, I don't think there's much to take out of this game other than too many players on San Antonio played poorly to compete against a playoff team like the Thunder. These Spurs can't have this many players perform at a sub par capacity and expect to win … against any team in the league, really.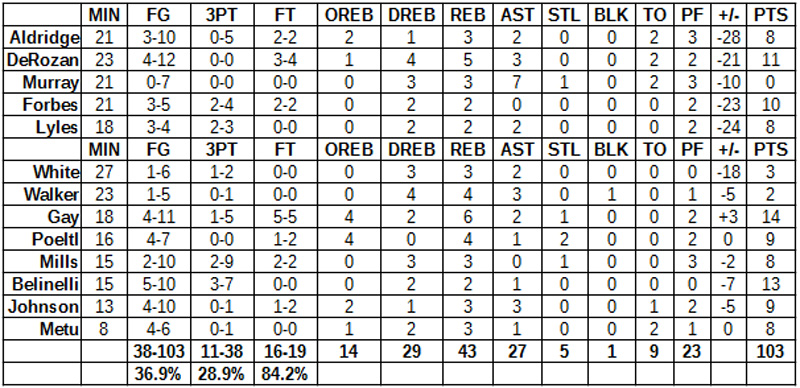 Spurs at Thunder – Final Grades
LaMarcus Aldridge
The good: Last game, LaMarcus Aldridge was hesitating too much on threes. This game, he wasn't hesitating. The bad: While he wasn't hesitating when shooting three-pointers, he was 0-for-5 from deep. Aldridge was handily outplayed by Steven Adams on both ends of the court. His defense and rebounding were both weak and he never really established himself on the offensive end.  
Grade: D
DeMar DeRozan
Demar DeRozan hit three of his first four shots from the field in the first half of the first quarter. It was all downhill from there, though. He went 1-for-8 the rest of the game and he didn't appear to be moving too well physically. I thought his passing was okay and he had a couple positive defensive possessions but everything else was a negative. The Spurs needed a leader to stand up when the team started spiraling down the drain but DeRozan wasn't up to the task. 
Grade: D+
Dejounte Murray
After playing very well in his last four games, Dejounte Murray came crashing back down to earth tonight. He missed all seven of his shots from the field, the vast majority of which were shots he usually makes. He was also sloppier with the ball than he has been of late. That said, I still thought Murray ran the offense relatively well and his passing was good. His defense was also strong at times. It should be noted that Murray picked up two early fouls in the opening minutes and that seemed to throw his rhythm off completely.  
Grade: C-
Bryn Forbes
Bryn Forbes did well enough on the offensive end. He took good shots and hit a good percentage. Defensively, though, he was a wreck. The Thunder looked to attack him and had no problem going right at him. 
Grade: C-
Trey Lyes
Offensively, Trey Lyles was pretty good. He hit two three-pointers, moved well with and without the ball, and made some slick passes. On defense, he wasn't nearly as sharp. He was too pliable in the lane and wasn't sturdy enough on the glass. Lyles did move his feet decently well out on the perimeter, however. 
Grade: C+
Derrick White
Derrick White did a whole lot of nothing on this night. It was back to the tip-toeing, feet-shuffling, head-bowing, unconfident version of White that we've seen from time to time who is wholly ineffective. He had a few decent to good moments on defense but the Spurs need him to play with much more purpose than he did tonight. 
Grade: D
Lonnie Walker IV
It looks like Lonnie Walker IV has hit some sort of rookie wall. He's not making much of an impact in any facet of the game. Even when it was garbage time, he couldn't get anything going. Offensively, he's struggling to create for himself. Defensively, he's okay in isolations but continues to struggle with team concepts. All that said, he had a couple really nice passes tonight — which is something, I guess. 
Grade: D
Rudy Gay
Rudy Gay was 0-for-5 in the first quarter and appeared to be heading to a horrendous evening. Thankfully, his joints eventually loosened enough to provide a handful of strong minutes. His scoring was helpful at times and when he was willing to pass, he did it impressively. But Gay held the ball too often and wasn't providing much at all on the defensive end. 
Grade: C-
Jakob Poeltl
I liked Jakob Poeltl on the offensive end. He was being more assertive with his movements and his rolls to the rim were better timed than usual. However, he missed a couple shots he needs to make. On defense, I wasn't nearly as happy. No defensive rebounds and no blocked shots won't get it done. He had a couple impressive steals but he wasn't the presence in the lane the Spurs needed. 
Grade: C+
Patty Mills
Patty Mills was super aggressive. Too aggressive, actually. He was firing away whenever there was even a glimmer of a glimpse of the orange rim in his field of vision. The Spurs need Mills to be aggressive but he went overboard in Oklahoma City. He did no playmaking to speak of. His overall energy was pretty good and he had a couple plays on defense but I wouldn't label him a defensive asset. 
Grade: D+
Marco Belinelli
Marco Belinelli fired away early and often in garbage time. He missed horribly on a few open looks but his shooting percentages ended up being good at the end of the night. I do wish he would have let the youngsters have more touches in garbage time. We already know what Belinelli can and can't do at this point. 
Grade: C
Keldon Johnson
Hey, pretty good. Keldon Johnson got his first extended run in the NBA and I was pretty impressed. His big body passed the eye-test on the NBA level, as he was able to muscle his way to the rim and make defenders bounce off of him. It looks like Johnson has definite potential as a driver and finisher on this level, which is exciting. His footspeed also looked to be good enough and he looked quick enough on defense, too. What stands out most is his tenacity, which is off the charts. He's a dog, in the best sense of the word. Obviously, he has no idea of what to do when it comes to the team-defense philosophies but, all in all, it was an encouraging debut of sorts for Johnson. 
Grade: B+
Chimezie Metu
Chimezie Metu also looked pretty good. His jumper looks smooth, his athleticism is impressive and his mobility is promising. That said, his lack of feel is apparent and Metu still not knowing what to do on the defensive end is worrisome. He should be further along than he is when it comes to the mental aspect of the game. 
Grade: B-
Pop
Pop was pushing a lot of buttons but none of it worked. He tried yelling, mass substitutions, multiple timeouts and more yet he couldn't stop the bleeding. The good news is Pop kept trying and didn't immediately wave the white flag when things got grimy. 
Grade: C-
Next Up for the Spurs
Home sweet home. The 2020 Rodeo Road Trip is over. The Spurs return to San Antonio for a three-game homestand that begins on Wednesday against the Dallas Mavericks.